Learning objectives
Explain why we include the study of parasitic worms within the discipline of microbiology
Compare the basic morphology of the major groups of parasitic helminthes
Describe the characteristics of parasitic nematodes, and give an example of infective eggs and infective larvae
Describe the characteristics of parasitic trematodes and cestodes, and give examples of each
Identify examples of the primary causes of infections due to nematodes, trematodes, and cestodes
Classify parasitic worms according to major groups
Parasitic helminths are animals that are often included within the study of microbiology because many species of these worms are identified by their microscopic eggs and larvae. There are two major groups of parasitic helminths : the roundworms (Nematoda) and flatworms (Platyhelminthes). Of the many species that exist in these groups, about half are parasitic and some are important human pathogens. As animals, they are multicellular and have organ systems. However, the parasitic species often have limited digestive tracts, nervous systems, and locomotor abilities. Parasitic forms may have complex reproductive cycles with several different life stages and more than one type of host. Some are monoecious , having both male and female reproductive organs in a single individual, while others are dioecious , each having either male or female reproductive organs.
Nematoda (roundworms)
Phylum Nematoda (the roundworms ) is a diverse group containing more than 15,000 species, of which several are important human parasites ( [link] ). These unsegmented worms have a full digestive system even when parasitic. Some are common intestinal parasites, and their eggs can sometimes be identified in feces or around the anus of infected individuals. Ascaris lumbricoides is the largest nematode intestinal parasite found in humans; females may reach lengths greater than 1 meter. A. lumbricoides is also very widespread, even in developed nations, although it is now a relatively uncommon problem in the United States. It may cause symptoms ranging from relatively mild (such as a cough and mild abdominal pain) to severe (such as intestinal blockage and impaired growth).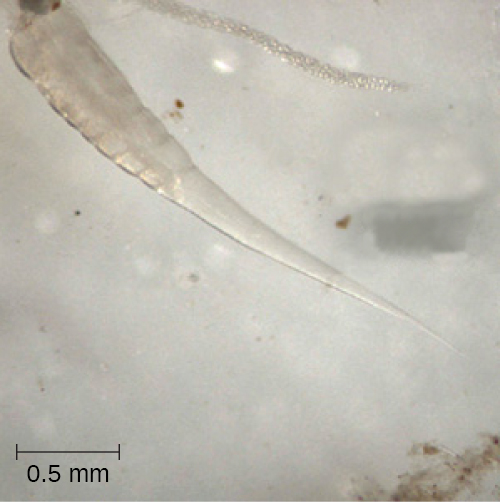 Of all nematode infections in the United States, pinworm (caused by Enterobius vermicularis ) is the most common. Pinworm causes sleeplessness and itching around the anus, where the female worms lay their eggs during the night. Toxocara canis and T. cati are nematodes found in dogs and cats, respectively, that can be transmitted to humans, causing toxocariasis . Antibodies to these parasites have been found in approximately 13.9% of the U.S. population, suggesting that exposure is common. Infection can cause larval migrans, which can result in vision loss and eye inflammation, or fever, fatigue, coughing, and abdominal pain, depending on whether the organism infects the eye or the viscera. Another common nematode infection is hookworm , which is caused by Necator americanus (the New World or North American hookworm) and Ancylostoma duodenale (the Old World hookworm). Symptoms of hookworm infection can include abdominal pain, diarrhea, loss of appetite, weight loss, fatigue, and anemia.