Rna interference technology
In Structure and Function of RNA , we described the function of mRNA, rRNA, and tRNA. In addition to these types of RNA, cells also produce several types of small noncoding RNA molecules that are involved in the regulation of gene expression. These include antisense RNA molecules, which are complementary to regions of specific mRNA molecules found in both prokaryotes and eukaryotic cells. Non-coding RNA molecules play a major role in RNA interference (RNAi) , a natural regulatory mechanism by which mRNA molecules are prevented from guiding the synthesis of proteins. RNA interference of specific genes results from the base pairing of short, single-stranded antisense RNA molecules to regions within complementary mRNA molecules, preventing protein synthesis. Cells use RNA interference to protect themselves from viral invasion, which may introduce double-stranded RNA molecules as part of the viral replication process ( [link] ).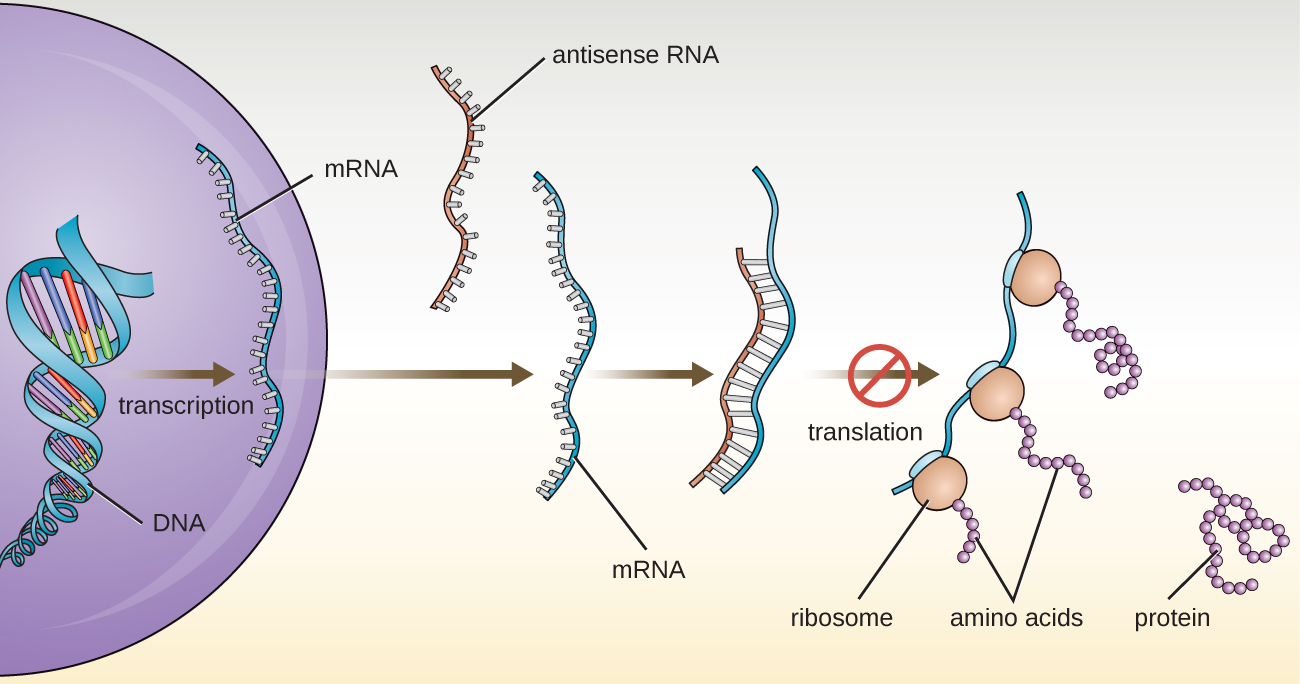 Researchers are currently developing techniques to mimic the natural process of RNA interference as a way to treat viral infections in eukaryotic cells. RNA interference technology involves using small interfering RNAs (siRNAs) or microRNAs (miRNAs) ( [link] ). siRNAs are completely complementary to the mRNA transcript of a specific gene of interest while miRNAs are mostly complementary. These double-stranded RNAs are bound to DICER, an endonuclease that cleaves the RNA into short molecules (approximately 20 nucleotides long). The RNAs are then bound to RNA-induced silencing complex (RISC), a ribonucleoprotein. The siRNA-RISC complex binds to mRNA and cleaves it. For miRNA, only one of the two strands binds to RISC. The miRNA-RISC complex then binds to mRNA, inhibiting translation. If the miRNA is completely complementary to the target gene, then the mRNA can be cleaved. Taken together, these mechanisms are known as gene silencing .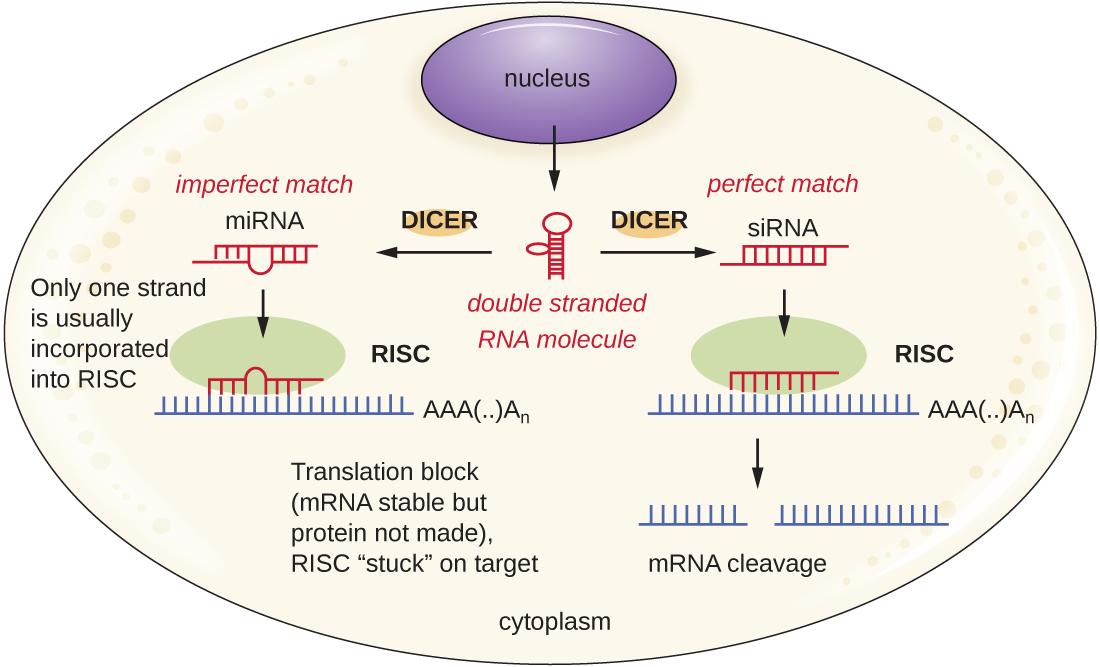 Key concepts and summary
The science of genomics allows researchers to study organisms on a holistic level and has many applications of medical relevance.
Transcriptomics and proteomics allow researchers to compare gene expression patterns between different cells and shows great promise in better understanding global responses to various conditions.
The various –omics technologies complement each other and together provide a more complete picture of an organism's or microbial community's ( metagenomics ) state.
The analysis required for large data sets produced through genomics, transcriptomics, and proteomics has led to the emergence of bioinformatics .
Reporter genes encoding easily observable characteristics are commonly used to track gene expression patterns of genes of unknown function.
The use of recombinant DNA technology has revolutionized the pharmaceutical industry, allowing for the rapid production of high-quality recombinant DNA pharmaceuticals used to treat a wide variety of human conditions.
RNA interference technology has great promise as a method of treating viral infections by silencing the expression of specific genes
Fill in the blank
True/false
Short answer