Fifth disease (also known as erythema infectiosum ) is another common, highly contagious illness that causes a distinct rash that is critical to diagnosis. Fifth disease is caused by parvovirus B19 , and is transmitted by contact with respiratory secretions from an infected individual. Infection is more common in children than adults. While approximately 20% of individuals will be asymptomatic during infection, others will exhibit cold-like symptoms (headache, fever, and upset stomach) during the early stages when the illness is most infectious. Several days later, a distinct red facial rash appears, often called "slapped cheek" rash ( [link] ). Within a few days, a second rash may appear on the arms, legs, chest, back, or buttocks. The rash may come and go for several weeks, but usually disappears within seven to twenty-one days, gradually becoming lacy in appearance as it recedes.
In children, the disease usually resolves on its own without medical treatment beyond symptom relief as needed. Adults may experience different and possibly more serious symptoms. Many adults with fifth disease do not develop any rash, but may experience joint pain and swelling that lasts several weeks or months. Immunocompromised individuals can develop severe anemia and may need blood transfusions or immune globulin injections. While the rash is the most important component of diagnosis (especially in children), the symptoms of fifth disease are not always consistent. Serological testing can be conducted for confirmation.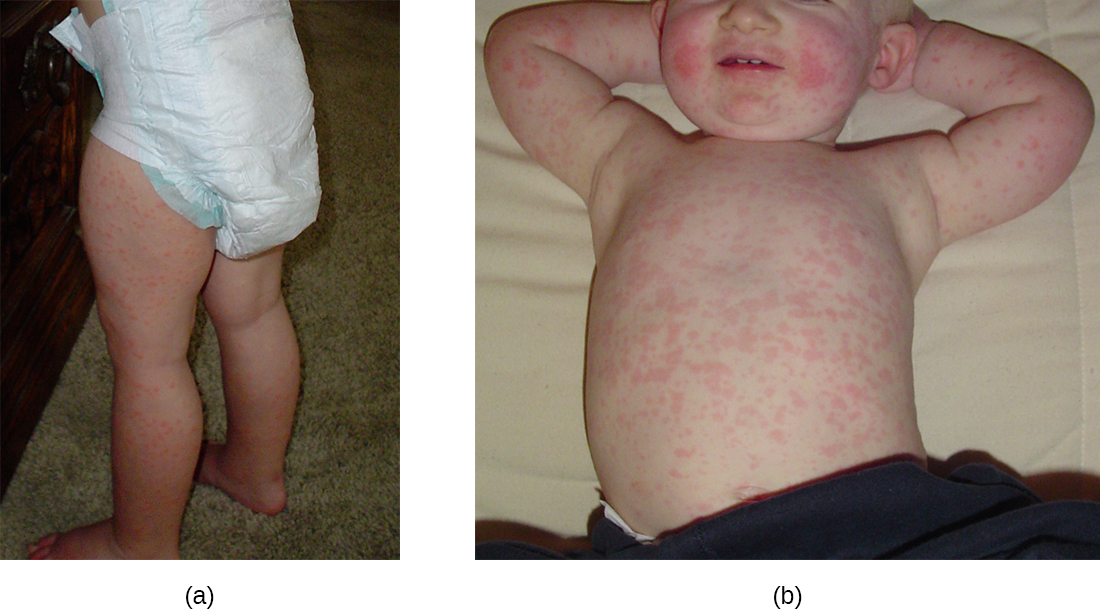 Identify at least one similarity and one difference between roseola and fifth disease.
Viral conjunctivitis
Like bacterial conjunctivitis viral infections of the eye can cause inflammation of the conjunctiva and discharge from the eye. However, viral conjunctivitis tends to produce a discharge that is more watery than the thick discharge associated with bacterial conjunctivitis. The infection is contagious and can easily spread from one eye to the other or to other individuals through contact with eye discharge.
Viral conjunctivitis is commonly associated with colds caused by adenoviruses; however, other viruses can also cause conjunctivitis. If the causative agent is uncertain, eye discharge can be tested to aid in diagnosis. Antibiotic treatment of viral conjunctivitis is ineffective, and symptoms usually resolve without treatment within a week or two.
Herpes keratitis
Herpes infections caused by HSV-1 can sometimes spread to the eye from other areas of the body, which may result in keratoconjunctivitis . This condition, generally called herpes keratitis or herpetic keratitis , affects the conjunctiva and cornea, causing irritation, excess tears, and sensitivity to light. Deep lesions in the cornea may eventually form, leading to blindness. Because keratitis can have numerous causes, laboratory testing is necessary to confirm the diagnosis when HSV-1 is suspected; once confirmed, antiviral medications may be prescribed.
Viral infections of the skin and eyes
A number of viruses can cause infections via direct contact with skin and eyes, causing signs and symptoms ranging from rashes and lesions to warts and conjunctivitis. All of these viral diseases are contagious, and while some are more common in children (fifth disease and roseola), others are prevalent in people of all ages (oral herpes, viral conjunctivitis, papillomas). In general, the best means of prevention is avoiding contact with infected individuals. Treatment may require antiviral medications; however, several of these conditions are mild and typically resolve without treatment. [link] summarizes the characteristics of some common viral infections of the skin and eyes.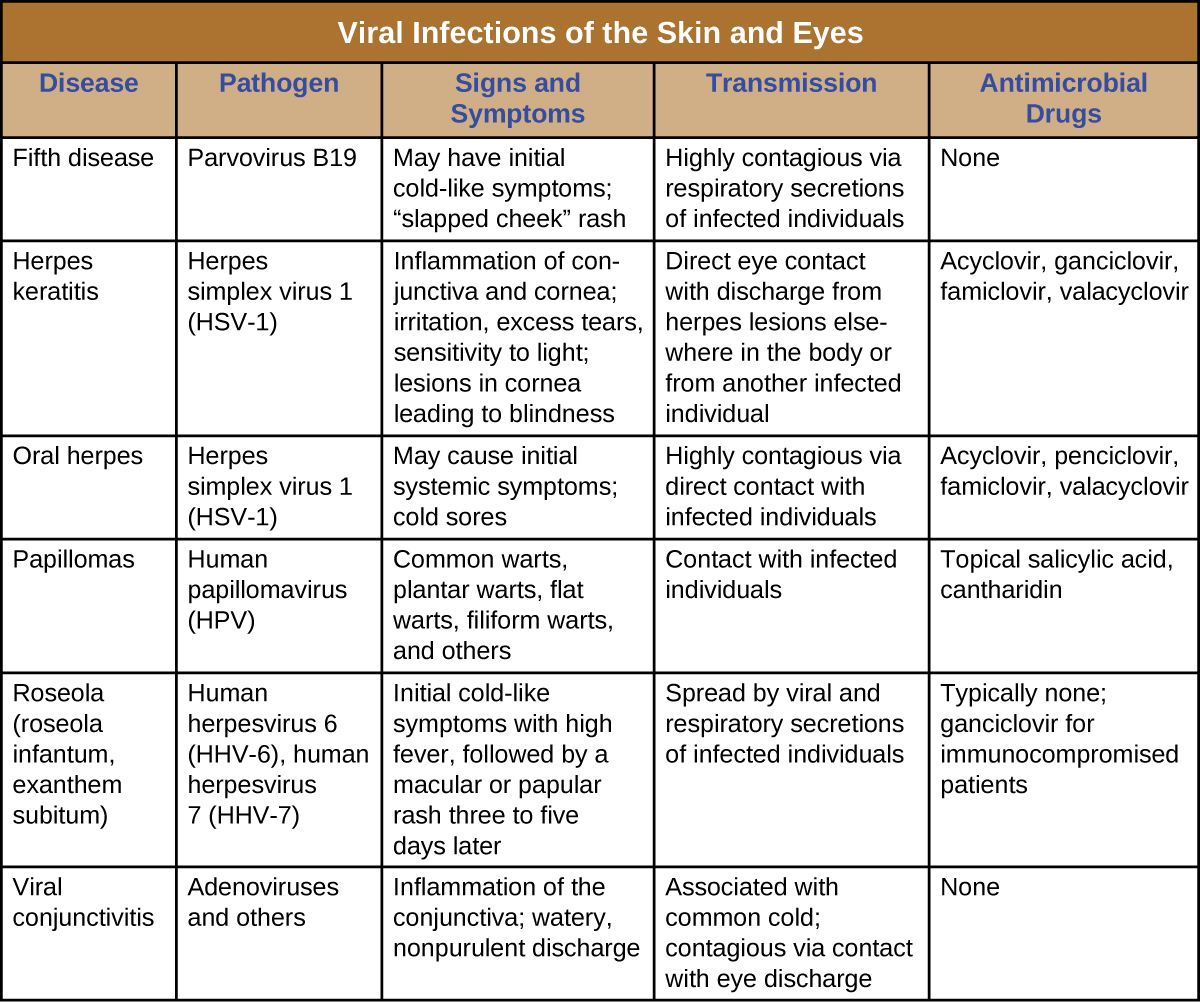 Key concepts and summary
Papillomas (warts) are caused by human papillomaviruses.
Herpes simplex virus (especially HSV-1) mainly causes oral herpes , but lesions can appear on other areas of the skin and mucous membranes.
Roseola and fifth disease are common viral illnesses that cause skin rashes; roseola is caused by HHV-6 and HHV-7 while fifth disease is caused by parvovirus 19.
Viral conjunctivitis is often caused by adenoviruses and may be associated with the common cold. Herpes keratitis is caused by herpesviruses that spread to the eye.
Fill in the blank
Short answer