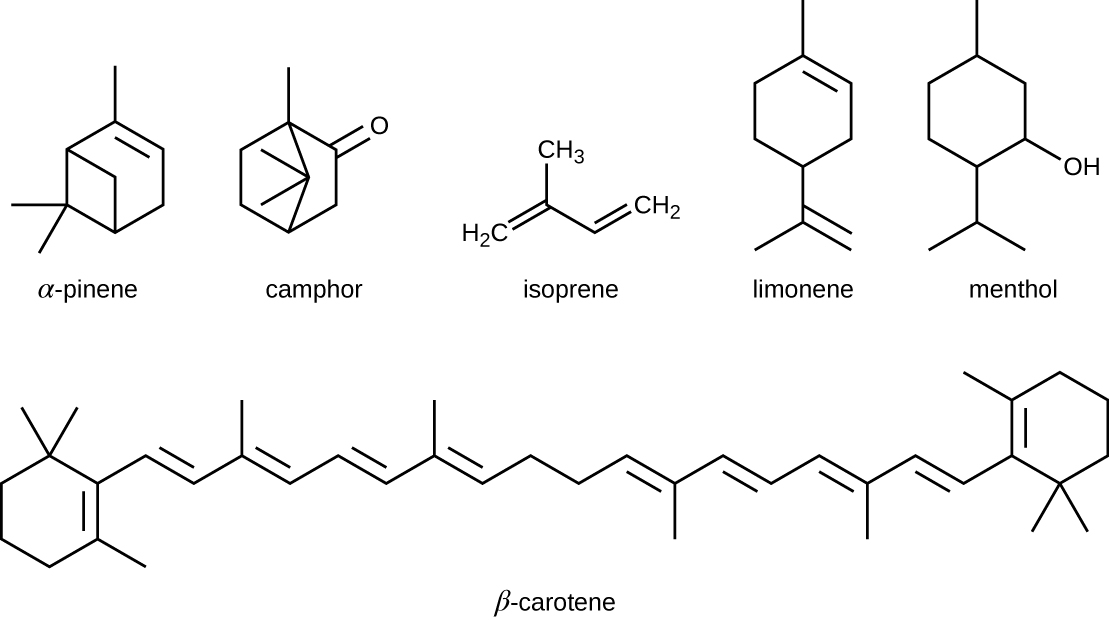 Another type of lipids are steroid s , complex, ringed structures that are found in cell membranes; some function as hormones. The most common types of steroids are sterol s , which are steroids containing an OH group. These are mainly hydrophobic molecules, but also have hydrophilic hydroxyl group s. The most common sterol found in animal tissues is cholesterol . Its structure consists of four rings with a double bond in one of the rings, and a hydroxyl group at the sterol-defining position. The function of cholesterol is to strengthen cell membranes in eukaryotes and in bacteria without cell walls, such as Mycoplasma . Prokaryotes generally do not produce cholesterol, although bacteria produce similar compounds called hopanoids , which are also multiringed structures that strengthen bacterial membranes ( [link] ). Fungi and some protozoa produce a similar compound called ergosterol , which strengthens the cell membranes of these organisms.

Liposomes
This video provides additional information about phospholipids and liposomes.
How are isoprenoids used in technology?
Part 2
The moisturizing cream prescribed by Penny's doctor was a topical corticosteroid cream containing hydrocortisone. Hydrocortisone is a synthetic form of cortisol, a corticosteroid hormone produced in the adrenal glands, from cholesterol. When applied directly to the skin, it can reduce inflammation and temporarily relieve minor skin irritations, itching, and rashes by reducing the secretion of histamine, a compound produced by cells of the immune system in response to the presence of pathogens or other foreign substances. Because histamine triggers the body's inflammatory response, the ability of hydrocortisone to reduce the local production of histamine in the skin effectively suppresses the immune system and helps limit inflammation and accompanying symptoms such as pruritus (itching) and rashes.
Does the corticosteroid cream treat the cause of Penny's rash, or just the symptoms?
Jump to the next Clinical Focus box. Go back to the previous Clinical Focus box.
Key concepts and summary
Lipids are composed mainly of carbon and hydrogen, but they can also contain oxygen, nitrogen, sulfur, and phosphorous. They provide nutrients for organisms, store carbon and energy, play structural roles in membranes, and function as hormones, pharmaceuticals, fragrances, and pigments.
Fatty acids are long-chain hydrocarbons with a carboxylic acid functional group. Their relatively long nonpolar hydrocarbon chains make them hydrophobic . Fatty acids with no double bonds are saturated ; those with double bonds are unsaturated .
Fatty acids chemically bond to glycerol to form structurally essential lipids such as triglycerides and phospholipids. Triglycerides comprise three fatty acids bonded to glycerol, yielding a hydrophobic molecule. Phospholipids contain both hydrophobic hydrocarbon chains and polar head groups, making them amphipathic and capable of forming uniquely functional large scale structures.
Biological membranes are large-scale structures based on phospholipid bilayers that provide hydrophilic exterior and interior surfaces suitable for aqueous environments, separated by an intervening hydrophobic layer. These bilayers are the structural basis for cell membranes in most organisms, as well as subcellular components such as vesicles.
Isoprenoids are lipids derived from isoprene molecules that have many physiological roles and a variety of commercial applications.
A wax is a long-chain isoprenoid that is typically water resistant; an example of a wax-containing substance is sebum, produced by sebaceous glands in the skin. Steroids are lipids with complex, ringed structures that function as structural components of cell membranes and as hormones. Sterols are a subclass of steroids containing a hydroxyl group at a specific location on one of the molecule's rings; one example is cholesterol.
Bacteria produce hopanoids, structurally similar to cholesterol, to strengthen bacterial membranes. Fungi and protozoa produce a strengthening agent called ergosterol.
True/false
Fill in the blank
Cholesterol is the most common member of the __________ group, found in animal tissues; it has a tetracyclic carbon ring system with a __________ bond in one of the rings and one free __________group.
steroid; double; hydroxyl
Got questions? Get instant answers now!
Short answer
Questions & Answers
Receive real-time job alerts and never miss the right job again
Source:  OpenStax, Microbiology. OpenStax CNX. Nov 01, 2016 Download for free at http://cnx.org/content/col12087/1.4
Google Play and the Google Play logo are trademarks of Google Inc.
Notification Switch
Would you like to follow the 'Microbiology' conversation and receive update notifications?