Because biofilms vary in composition and are difficult to replicate in the lab, they are still not thoroughly understood. The extracellular matrix of a biofilm consists of polymers such as polysaccharides, extracellular DNA, proteins, and lipids, but the exact makeup varies. The organisms living within the extracellular matrix may include familiar pathogens as well as other bacteria that do not grow well in cultures (such as numerous obligate anaerobes). This presents challenges when culturing samples from infections that involve a biofilm. Because only some species grow in vitro , the culture may contain only a subset of the bacterial species involved in the infection.
Biofilms confer many advantages to the resident bacteria. For example, biofilms can facilitate attachment to surfaces on or in the host organism (such as wounds), inhibit phagocytosis, prevent the invasion of neutrophils, and sequester host antibodies. Additionally, biofilms can provide a level of antibiotic resistance not found in the isolated cells and colonies that are typical of laboratory cultures. The extracellular matrix provides a physical barrier to antibiotics, shielding the target cells from exposure. Moreover, cells within a biofilm may differentiate to create subpopulations of dormant cells called persister cells. Nutrient limitations deep within a biofilm add another level of resistance, as stress responses can slow metabolism and increase drug resistance.
Bacterial infections of the eyes
A number of bacteria are able to cause infection when introduced to the mucosa of the eye. In general, bacterial eye infections can lead to inflammation, irritation, and discharge, but they vary in severity. Some are typically short-lived, and others can become chronic and lead to permanent eye damage. Prevention requires limiting exposure to contagious pathogens. When infections do occur, prompt treatment with antibiotics can often limit or prevent permanent damage. [link] summarizes the characteristics of some common bacterial infections of the eyes.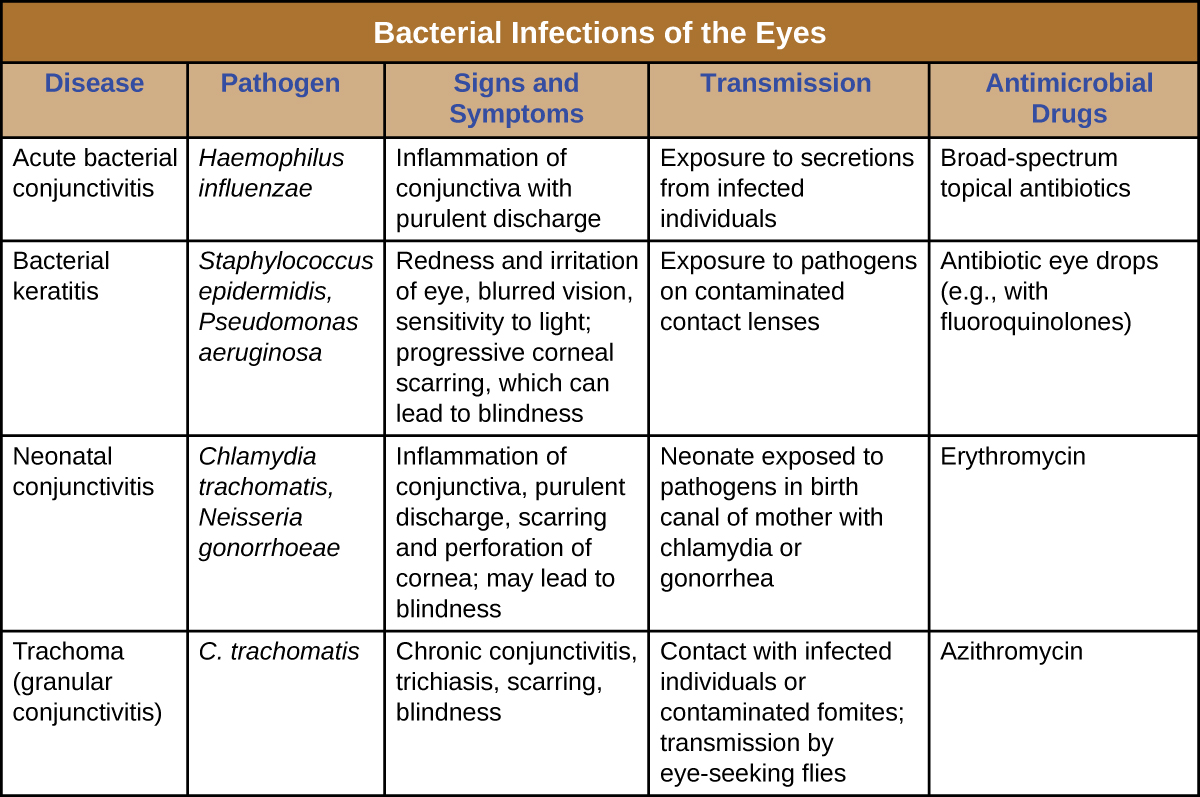 Key concepts and summary
Staphylococcus and Streptococcus cause many different types of skin infections, many of which occur when bacteria breach the skin barrier through a cut or wound.
S. aureus are frequently associated with purulent skin infections that manifest as folliculitis , furuncles , or carbuncles . S. aureus is also a leading cause of staphylococcal scalded skin syndrome (SSSS).
S. aureus is generally drug resistant and current MRSA strains are resistant to a wide range of antibiotics.
Community-acquired and hospital-acquired staphyloccocal infections are an ongoing problem because many people are asymptomatic carriers.
Group A streptococci (GAS) , S. pyogenes , is often responsible for cases of cellulitis , erysipelas , and erythema nosodum . GAS are also one of many possible causes of necrotizing fasciitis .
P. aeruginosa is often responsible for infections of the skin and eyes, including wound and burn infections, hot tub rash , otitis externa , and bacterial keratitis .
Acne is a common skin condition that can become more inflammatory when Propionibacterium acnes infects hair follicles and pores clogged with dead skin cells and sebum.
Cutaneous anthrax occurs when Bacillus anthracis breaches the skin barrier. The infection results in a localized black eschar on skin. Anthrax can be fatal if B. anthracis spreads to the bloodstream.
Common bacterial conjunctivitis is often caused by Haemophilus influenzae and usually resolves on its own in a few days. More serious forms of conjunctivitis include gonococcal ophthalmia neonatorum , inclusion conjunctivitis (chlamydial), and trachoma , all of which can lead to blindness if untreated.
Keratitis is frequently caused by Staphylococcus epidermidis and/or Pseudomonas aeruginosa , especially among contact lens users, and can lead to blindness.
Biofilms complicate the treatment of wound and eye infections because pathogens living in biofilms can be difficult to treat and eliminate.
Fill in the blank
Short answer