The process by which a polypeptide chain assumes a large-scale, three-dimensional shape is called protein folding . Folded proteins that are fully functional in their normal biological role are said to possess a native structure . When a protein loses its three-dimensional shape, it may no longer be functional. These unfolded proteins are denatured . Denaturation implies the loss of the secondary structure and tertiary structure (and, if present, the quaternary structure) without the loss of the primary structure.
Some proteins are assemblies of several separate polypeptide s, also known as protein subunit s. These proteins function adequately only when all subunits are present and appropriately configured. The interactions that hold these subunits together constitute the quaternary structure of the protein. The overall quaternary structure is stabilized by relatively weak interactions. Hemoglobin, for example, has a quaternary structure of four globular protein subunits: two α and two β polypeptides, each one containing an iron-based heme ( [link] ).
Another important class of proteins is the conjugated proteins that have a nonprotein portion. If the conjugated protein has a carbohydrate attached, it is called a glycoprotein . If it has a lipid attached, it is called a lipoprotein . These proteins are important components of membranes. [link] summarizes the four levels of protein structure.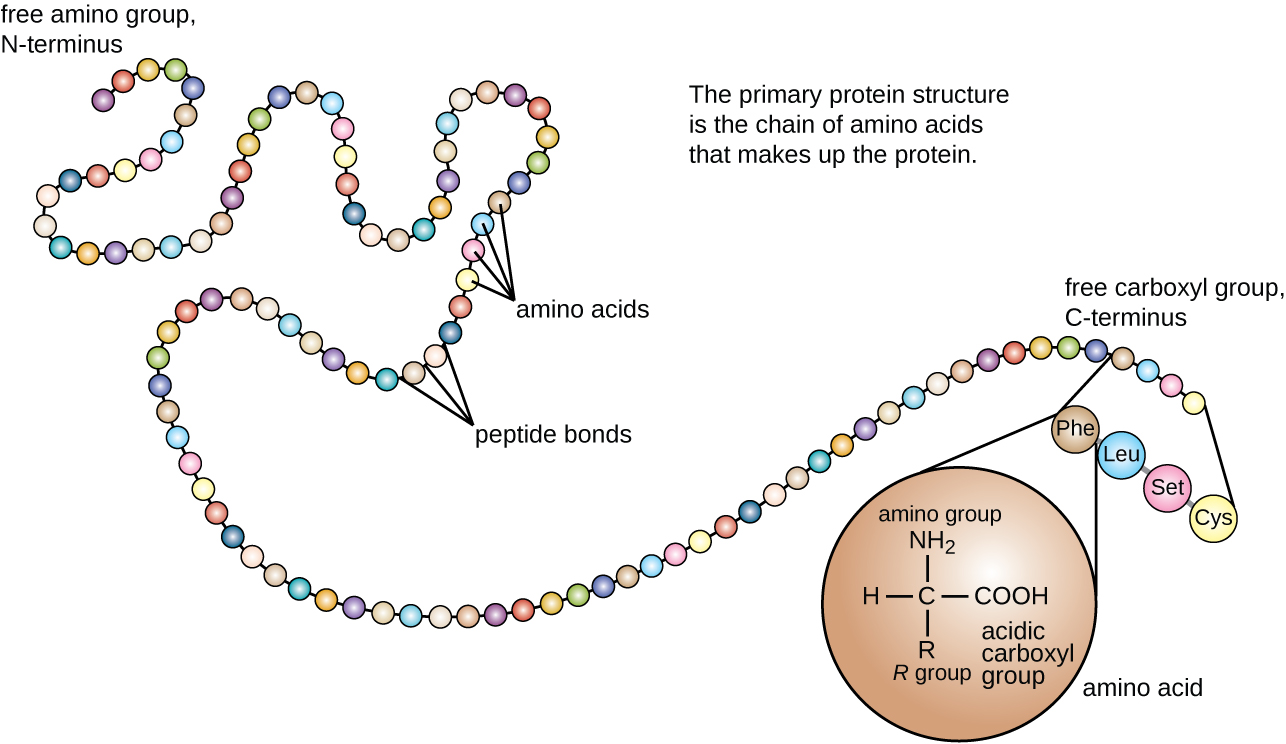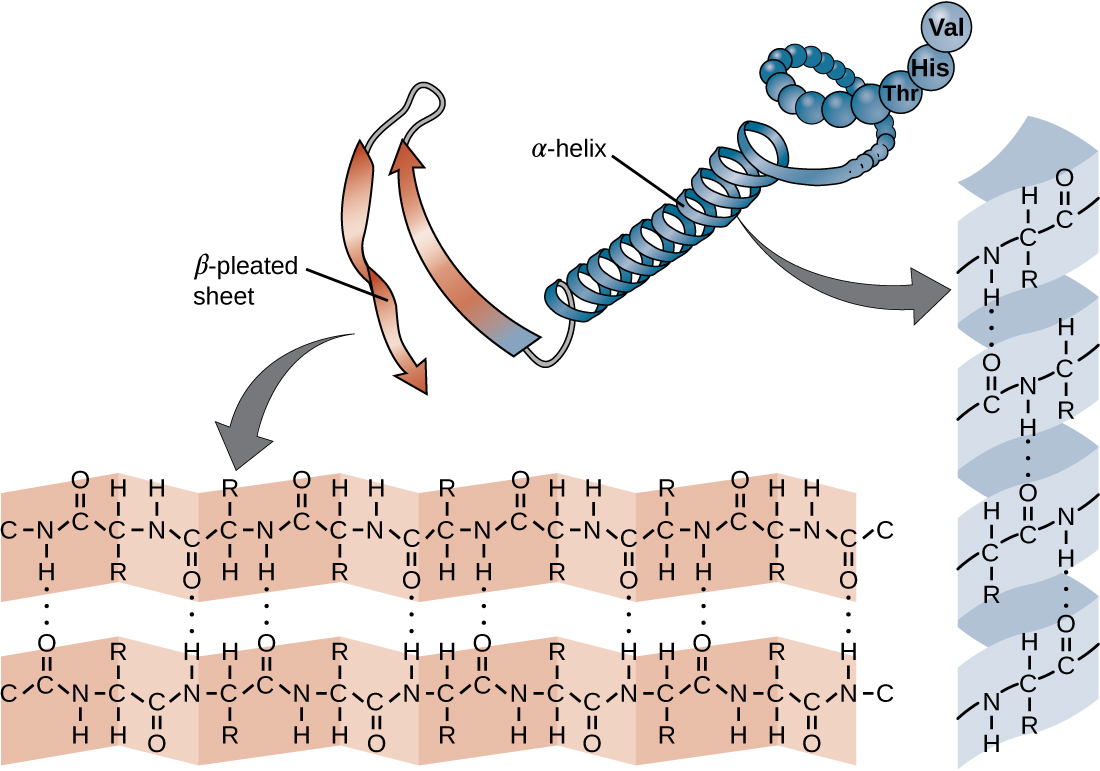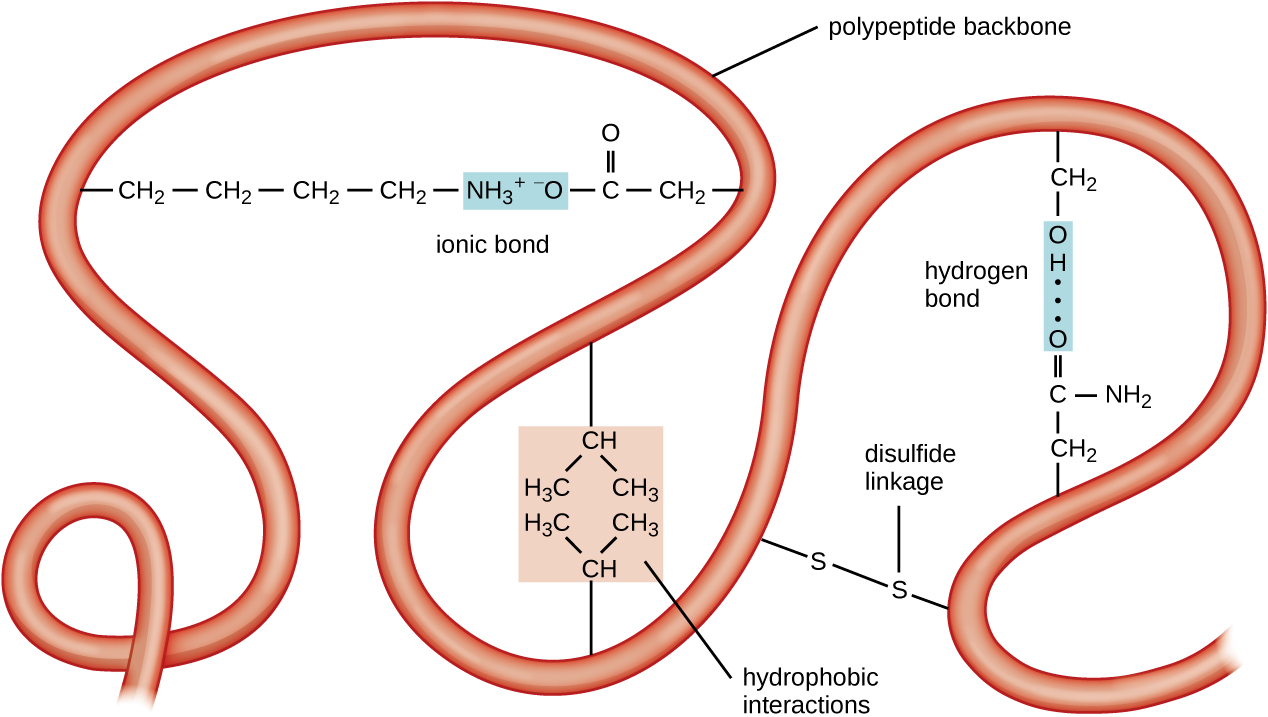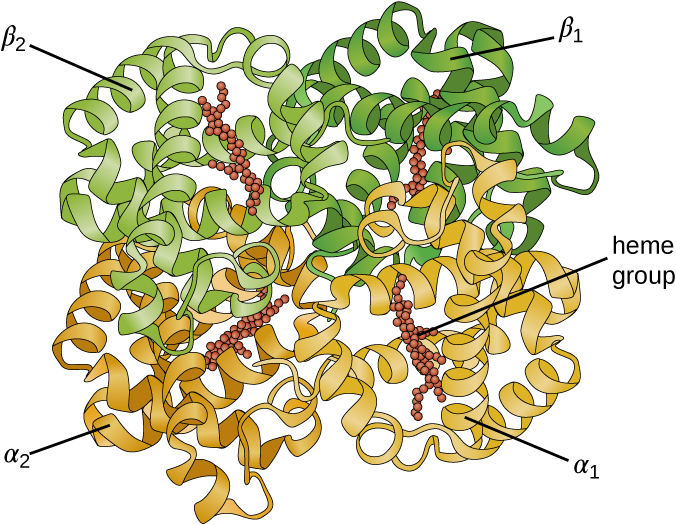 What can happen if a protein's primary, secondary, tertiary, or quaternary structure is changed?
Primary structure, dysfunctional proteins, and cystic fibrosis
Proteins associated with biological membranes are classified as extrinsic or intrinsic. Extrinsic proteins, also called peripheral proteins, are loosely associated with one side of the membrane. Intrinsic proteins, or integral proteins, are embedded in the membrane and often function as part of transport systems as transmembrane proteins. Cystic fibrosis (CF) is a human genetic disorder caused by a change in the transmembrane protein. It affects mostly the lungs but may also affect the pancreas, liver, kidneys, and intestine. CF is caused by a loss of the amino acid phenylalanine in a cystic fibrosis transmembrane protein (CFTR). The loss of one amino acid changes the primary structure of a protein that normally helps transport salt and water in and out of cells ( [link] ).
The change in the primary structure prevents the protein from functioning properly, which causes the body to produce unusually thick mucus that clogs the lungs and leads to the accumulation of sticky mucus. The mucus obstructs the pancreas and stops natural enzymes from helping the body break down food and absorb vital nutrients.
In the lungs of individuals with cystic fibrosis, the altered mucus provides an environment where bacteria can thrive. This colonization leads to the formation of biofilms in the small airways of the lungs. The most common pathogens found in the lungs of patients with cystic fibrosis are Pseudomonas aeruginosa ( [link] ) and Burkholderia cepacia . Pseudomonas differentiates within the biofilm in the lung and forms large colonies, called "mucoid" Pseudomonas . The colonies have a unique pigmentation that shows up in laboratory tests ( [link] ) and provides physicians with the first clue that the patient has CF (such colonies are rare in healthy individuals).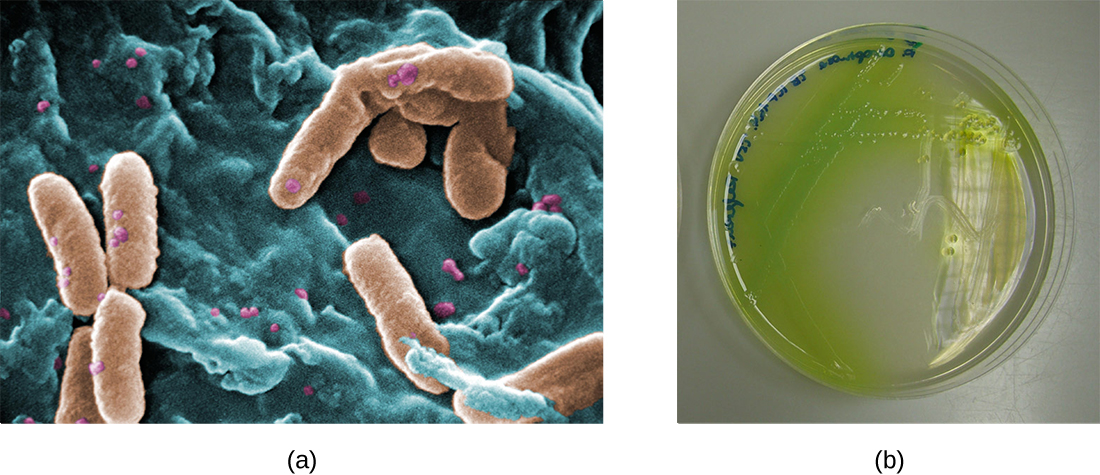 Key concepts and summary
Amino acids are small molecules essential to all life. Each has an α carbon to which a hydrogen atom, carboxyl group, and amine group are bonded. The fourth bonded group, represented by R, varies in chemical composition, size, polarity, and charge among different amino acids, providing variation in properties.
Peptides are polymers formed by the linkage of amino acids via dehydration synthesis. The bonds between the linked amino acids are called peptide bonds. The number of amino acids linked together may vary from a few to many.
Proteins are polymers formed by the linkage of a very large number of amino acids. They perform many important functions in a cell, serving as nutrients and enzymes; storage molecules for carbon, nitrogen, and energy; and structural components.
The structure of a protein is a critical determinant of its function and is described by a graduated classification: primary , secondary , tertiary , and quaternary . The native structure of a protein may be disrupted by denaturation , resulting in loss of its higher-order structure and its biological function.
Some proteins are formed by several separate protein subunits, the interaction of these subunits composing the quaternary structure of the protein complex.
Conjugated proteins have a nonpolypeptide portion that can be a carbohydrate (forming a glycoprotein ) or a lipid fraction (forming a lipoprotein ). These proteins are important components of membranes.
Fill in the blank
True/false