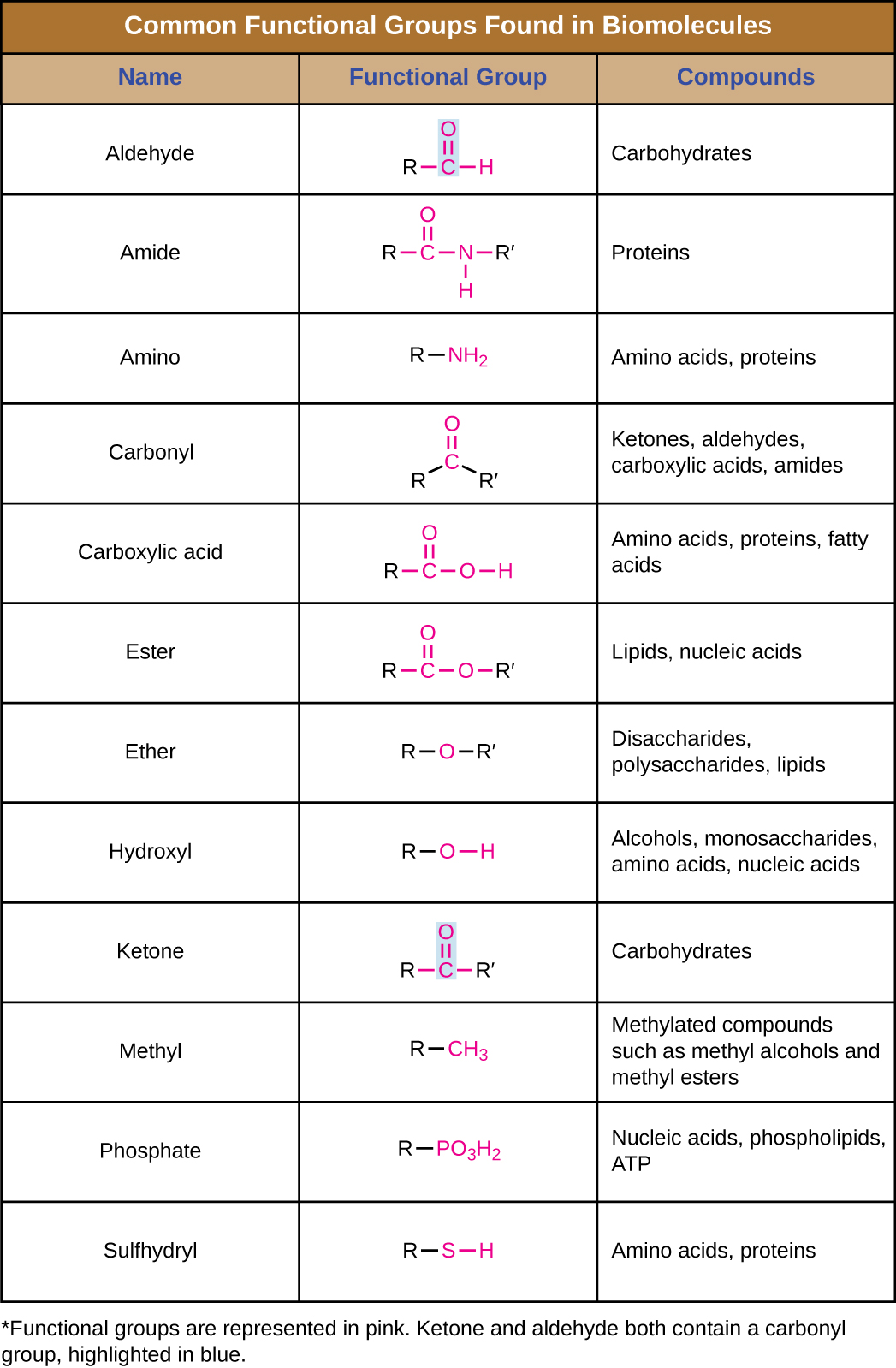 Macromolecules
Carbon chains form the skeletons of most organic molecules. Functional groups combine with the chain to form biomolecules. Because these biomolecules are typically large, we call them macromolecule s. Many biologically relevant macromolecules are formed by linking together a great number of identical, or very similar, smaller organic molecules. The smaller molecules act as building blocks and are called monomer s , and the macromolecules that result from their linkage are called polymer s . Cells and cell structures include four main groups of carbon-containing macromolecules: polysaccharides , proteins , lipids , and nucleic acids . The first three groups of molecules will be studied throughout this chapter. The biochemistry of nucleic acids will be discussed in Biochemistry of the Genome .
Of the many possible ways that monomers may be combined to yield polymers, one common approach encountered in the formation of biological macromolecules is dehydration synthesis . In this chemical reaction, monomer molecules bind end to end in a process that results in the formation of water molecules as a byproduct:
[link] shows dehydration synthesis of glucose binding together to form maltose and a water molecule. [link] summarizes macromolecules and some of their functions.

Some Functions of Macromolecules
Macromolecule
Functions
Carbohydrates
Energy storage, receptors, food, structural role in plants, fungal cell walls, exoskeletons of insects
Lipids
Energy storage, membrane structure, insulation, hormones, pigments
Nucleic acids
Storage and transfer of genetic information
Proteins
Enzymes, structure, receptors, transport, structural role in the cytoskeleton of a cell and the extracellular matrix
What is the byproduct of a dehydration synthesis reaction?
Key concepts and summary
The most abundant elements in cells are hydrogen, carbon, oxygen, nitrogen, phosphorus, and sulfur.
Life is carbon based. Each carbon atom can bind to another one producing a carbon skeleton that can be straight, branched, or ring shaped.
The same numbers and types of atoms may bond together in different ways to yield different molecules called isomers . Isomers may differ in the bonding sequence of their atoms ( structural isomers ) or in the spatial arrangement of atoms whose bonding sequences are the same ( stereoisomers ), and their physical and chemical properties may vary slightly or drastically.
Functional groups confer specific chemical properties to molecules bearing them. Common functional groups in biomolecules are hydroxyl, methyl, carbonyl, carboxyl, amino, phosphate, and sulfhydryl.
Macromolecules are polymers assembled from individual units, the monomers , which bind together like building blocks. Many biologically significant macromolecules are formed by dehydration synthesis , a process in which monomers bind together by combining their functional groups and generating water molecules as byproducts.
True/false
Short answer
Identify the functional group in each of the depicted structural formulas.

Got questions? Get instant answers now!