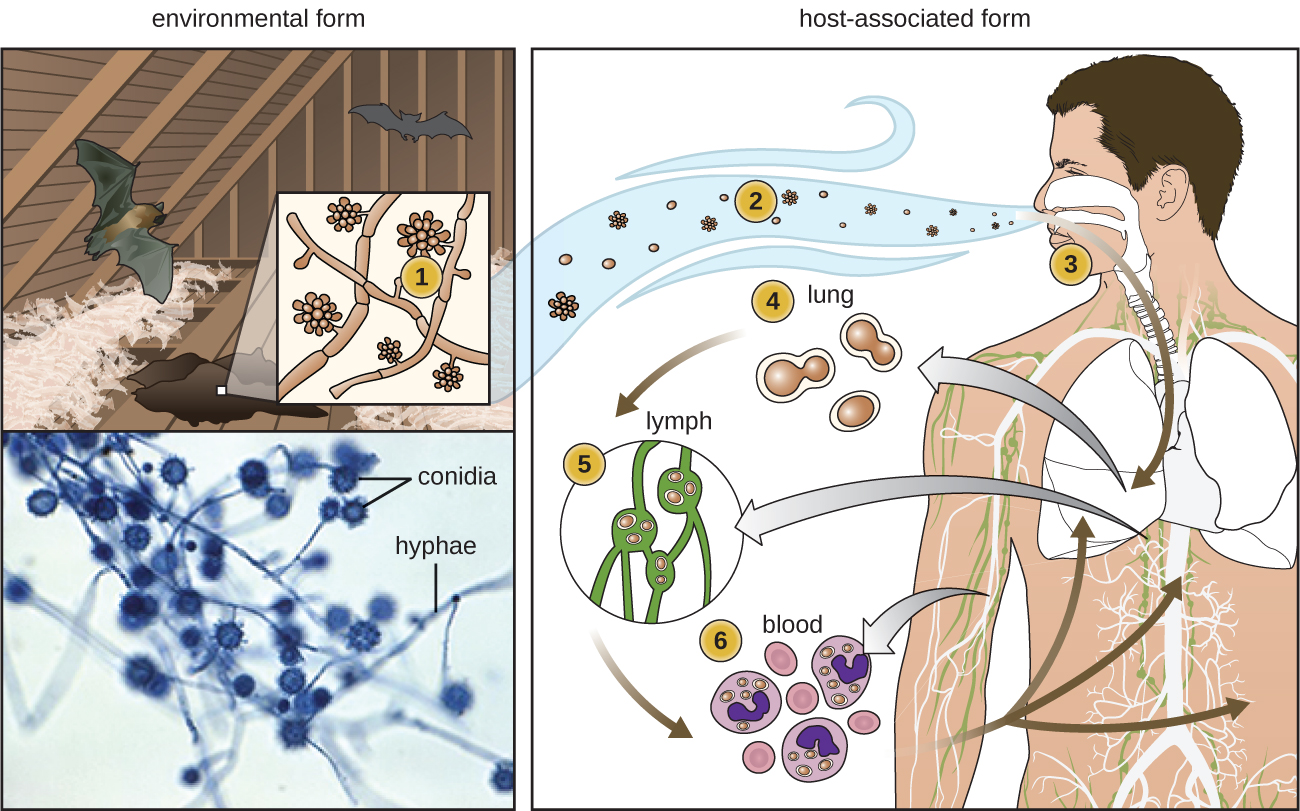 There are notable unique features in fungal cell walls and membranes. Fungal cell walls contain chitin , as opposed to the cellulose found in the cell walls of plants and many protists. Additionally, whereas animals have cholesterol in their cell membranes, fungal cell membranes have different sterols called ergosterols . Ergosterols are often exploited as targets for antifungal drugs.
Fungal life cycles are unique and complex. Fungi reproduce sexually either through cross- or self-fertilization. Haploid fungi form hyphae that have gametes at the tips. Two different mating types (represented as "+ type" and "– type") are involved. The cytoplasms of the + and – type gametes fuse (in an event called plasmogamy), producing a cell with two distinct nuclei (a dikaryotic cell). Later, the nuclei fuse (in an event called karyogamy ) to create a diploid zygote. The zygote undergoes meiosis to form spores that germinate to start the haploid stage, which eventually creates more haploid mycelia ( [link] ). Depending on the taxonomic group, these sexually produced spores are known as zygospores (in Zygomycota), ascospores (in Ascomycota), or basidiospores (in Basidiomycota) ( [link] ).
Fungi may also exhibit asexual reproduction by mitosis, mitosis with budding, fragmentation of hyphae, and formation of asexual spores by mitosis. These spores are specialized cells that, depending on the organism, may have unique characteristics for survival, reproduction, and dispersal. Fungi exhibit several types of asexual spores and these can be important in classification.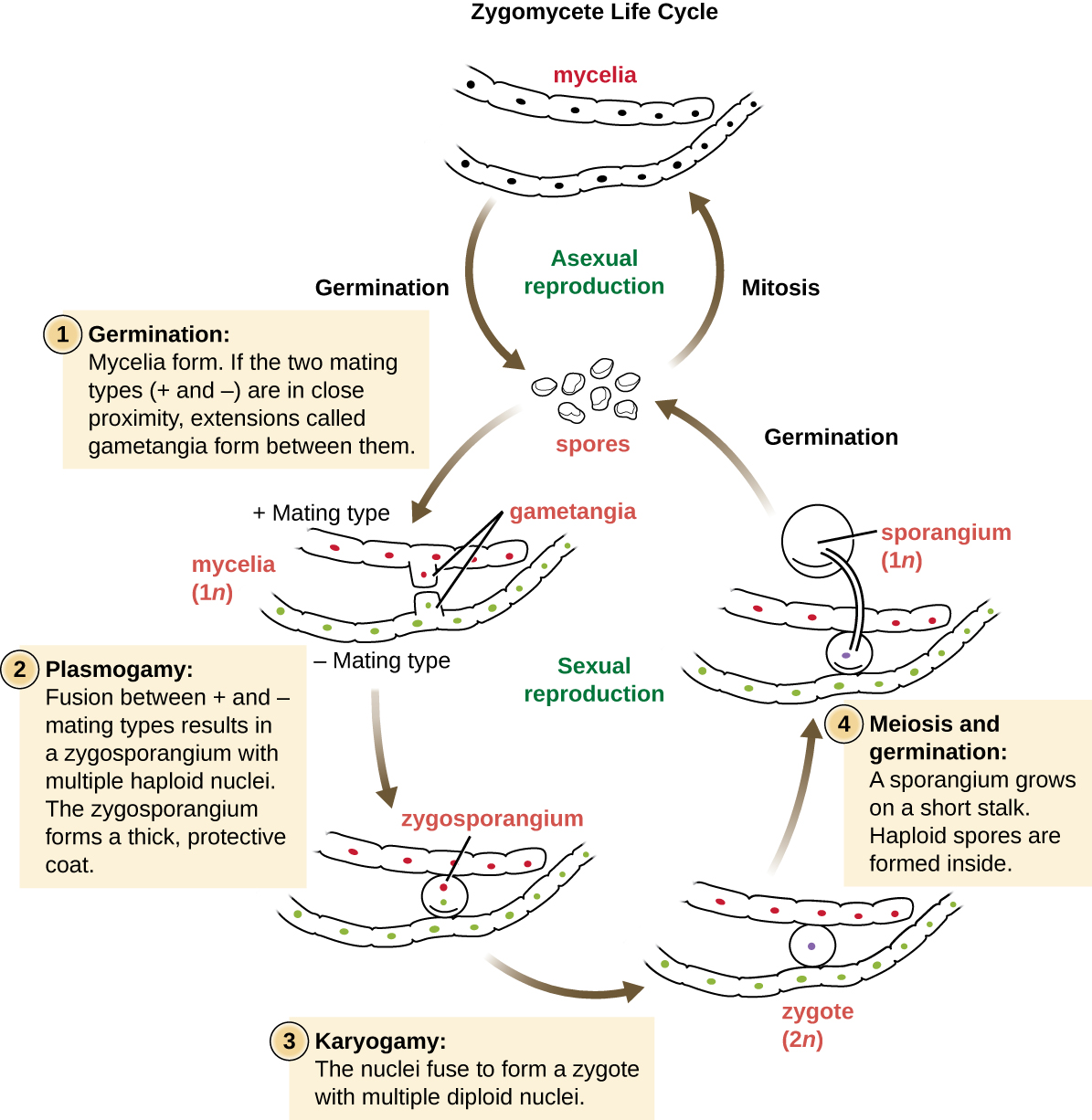 Is a dimorphic fungus a yeast or a mold? Explain.
Fungal diversity
The fungi are very diverse, comprising seven major groups. Not all of the seven groups contain pathogens. Some of these groups are generally associated with plants and include plant pathogens. For example, Urediniomycetes and Ustilagomycetes include the plant rusts and smuts , respectively. These form reddish or dark masses, respectively, on plants as rusts (red) or smuts (dark). Some species have substantial economic impact because of their ability to reduce crop yields. Glomeromycota includes the mycorrhizal fungi , important symbionts with plant roots that can promote plant growth by acting like an extended root system. The Glomeromycota are obligate symbionts, meaning that they can only survive when associated with plant roots; the fungi receive carbohydrates from the plant and the plant benefits from the increased ability to take up nutrients and minerals from the soil. The Chytridiomycetes ( chytrids ) are small fungi, but are extremely ecologically important. Chytrids are generally aquatic and have flagellated, motile gametes; specific types are implicated in amphibian declines around the world. Because of their medical importance, we will focus on Zygomycota, Ascomycota, Basidiomycota, and Microsporidia. [link] summarizes the characteristics of these medically important groups of fungi.