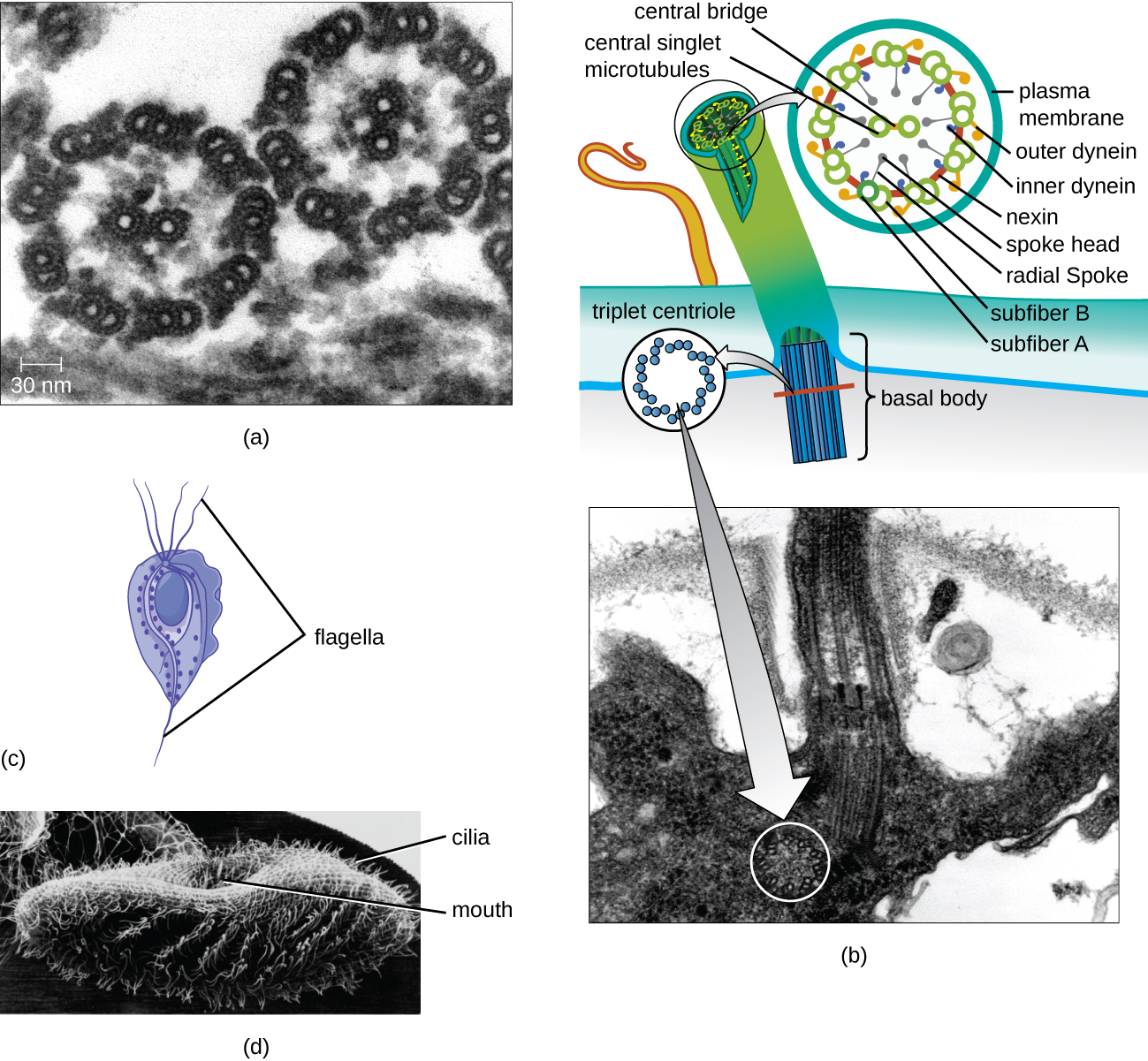 Explain how the cellular envelope of eukaryotic cells compares to that of prokaryotic cells.
Explain the difference between eukaryotic and prokaryotic flagella.
Resolution
Since amoxicillin has not resolved Barbara's case of pneumonia, the PA prescribes another antibiotic, azithromycin, which targets bacterial ribosomes rather than peptidoglycan. After taking the azithromycin as directed, Barbara's symptoms resolve and she finally begins to feel like herself again. Presuming no drug resistance to amoxicillin was involved, and given the effectiveness of azithromycin, the causative agent of Barbara's pneumonia is most likely Mycoplasma pneumoniae . Even though this bacterium is a prokaryotic cell, it is not inhibited by amoxicillin because it does not have a cell wall and, therefore, does not make peptidoglycan.
Go back to the previous Clinical Focus box.
Key concepts and summary
Eukaryotic cells are defined by the presence of a nucleus containing the DNA genome and bound by a nuclear membrane (or nuclear envelope ) composed of two lipid bilayers that regulate transport of materials into and out of the nucleus through nuclear pores.
Eukaryotic cell morphologies vary greatly and may be maintained by various structures, including the cytoskeleton, the cell membrane, and/or the cell wall
The nucleolus , located in the nucleus of eukaryotic cells, is the site of ribosomal synthesis and the first stages of ribosome assembly.
Eukaryotic cells contain 80S ribosomes in the rough endoplasmic reticulum ( membrane bound-ribosomes ) and cytoplasm ( free ribosomes ). They contain 70s ribosomes in mitochondria and chloroplasts.
Eukaryotic cells have evolved an endomembrane system, containing membrane-bound organelles involved in transport. These include vesicles, the endoplasmic reticulum, and the Golgi apparatus.
The smooth endoplasmic reticulum plays a role in lipid biosynthesis, carbohydrate metabolism, and detoxification of toxic compounds. The rough endoplasmic reticulum contains membrane-bound 80S ribosomes that synthesize proteins destined for the cell membrane
The Golgi apparatus processes proteins and lipids, typically through the addition of sugar molecules, producing glycoproteins or glycolipids, components of the plasma membrane that are used in cell-to-cell communication.
Lysosomes contain digestive enzymes that break down small particles ingested by endocytosis , large particles or cells ingested by phagocytosis , and damaged intracellular components.
The cytoskeleton , composed of microfilaments , intermediate filaments , and microtubules , provides structural support in eukaryotic cells and serves as a network for transport of intracellular materials.
Centrosomes are microtubule-organizing centers important in the formation of the mitotic spindle in mitosis.
Mitochondria are the site of cellular respiration. They have two membranes: an outer membrane and an inner membrane with cristae. The mitochondrial matrix, within the inner membrane, contains the mitochondrial DNA, 70S ribosomes, and metabolic enzymes.
The plasma membrane of eukaryotic cells is structurally similar to that found in prokaryotic cells, and membrane components move according to the fluid mosaic model. However, eukaryotic membranes contain sterols, which alter membrane fluidity, as well as glycoproteins and glycolipids, which help the cell recognize other cells and infectious particles.
In addition to active transport and passive transport, eukaryotic cell membranes can take material into the cell via endocytosis , or expel matter from the cell via exocytosis.
Cells of fungi, algae, plants, and some protists have a cell wall, whereas cells of animals and some protozoans have a sticky extracellular matrix that provides structural support and mediates cellular signaling.
Eukaryotic flagella are structurally distinct from prokaryotic flagella but serve a similar purpose (locomotion). Cilia are structurally similar to eukaryotic flagella, but shorter; they may be used for locomotion, feeding, or movement of extracellular particles.
True/false
Fill in the blank
Short answer
Questions & Answers
Receive real-time job alerts and never miss the right job again
Source:  OpenStax, Microbiology. OpenStax CNX. Nov 01, 2016 Download for free at http://cnx.org/content/col12087/1.4
Google Play and the Google Play logo are trademarks of Google Inc.
Notification Switch
Would you like to follow the 'Microbiology' conversation and receive update notifications?