Learning objectives
Explain the distinguishing characteristics of eukaryotic cells
Describe internal and external structures of prokaryotic cells in terms of their physical structure, chemical structure, and function
Identify and describe structures and organelles unique to eukaryotic cells
Compare and contrast similar structures found in prokaryotic and eukaryotic cells
Eukaryotic organisms include protozoans, algae, fungi, plants, and animals. Some eukaryotic cells are independent, single-celled microorganisms, whereas others are part of multicellular organisms. The cells of eukaryotic organisms have several distinguishing characteristics. Above all, eukaryotic cells are defined by the presence of a nucleus surrounded by a complex nuclear membrane. Also, eukaryotic cells are characterized by the presence of membrane-bound organelles in the cytoplasm. Organelles such as mitochondria, the endoplasmic reticulum (ER), Golgi apparatus, lysosomes, and peroxisomes are held in place by the cytoskeleton , an internal network that supports transport of intracellular components and helps maintain cell shape ( [link] ). The genome of eukaryotic cells is packaged in multiple, rod-shaped chromosomes as opposed to the single, circular-shaped chromosome that characterizes most prokaryotic cells. [link] compares the characteristics of eukaryotic cell structures with those of bacteria and archaea.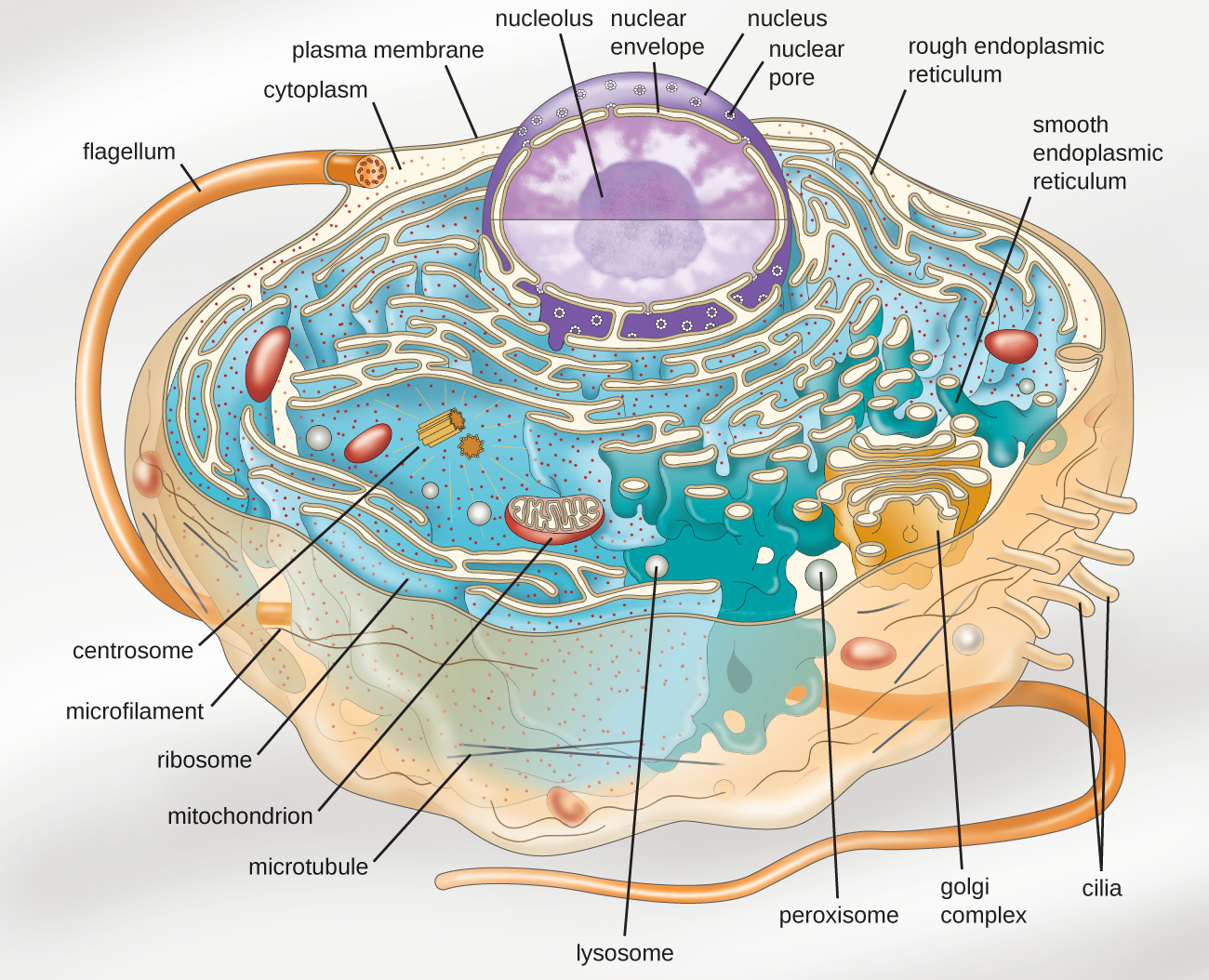 Summary of Cell Structures
Cell Structure
Prokaryotes
Eukaryotes
Bacteria
Archaea
Size
~0.5–1 μM
~0.5–1 μM
~5–20 μM
Surface area-to-volume ratio
High
High
Low
Nucleus
No
No
Yes
Genome characteristics

Single chromosome
Circular
Haploid
Lacks histones

Single chromosome
Circular
Haploid
Contains histones

Multiple chromosomes
Linear
Haploid or diploid
Contains histones

Cell division
Binary fission
Binary fission
Mitosis, meiosis
Membrane lipid composition

Ester-linked
Straight-chain fatty acids
Bilayer

Ether-linked
Branched isoprenoids
Bilayer or monolayer

Ester-linked
Straight-chain fatty acids
Sterols
Bilayer

Cell wall composition

Pseudopeptidoglycan, or
Glycopeptide, or
Polysaccharide, or
Protein (S-layer), or
None

Cellulose (plants, some algae)
Chitin (molluscs, insects, crustaceans, and fungi)
Silica (some algae)
Most others lack cell walls

Motility structures
Rigid spiral flagella composed of flagellin
Rigid spiral flagella composed of archaeal flagellins
Flexible flagella and cilia composed of microtubules
Membrane-bound organelles
No
No
Yes
Endomembrane system
No
No
Yes (ER, Golgi, lysosomes)
Ribosomes
70S
70S

80S in cytoplasm and rough ER
70S in mitochondria, chloroplasts
Cell morphologies
Eukaryotic cells display a wide variety of different cell morphologies . Possible shapes include spheroid, ovoid, cuboidal, cylindrical, flat, lenticular, fusiform, discoidal, crescent, ring stellate, and polygonal ( [link] ). Some eukaryotic cells are irregular in shape, and some are capable of changing shape. The shape of a particular type of eukaryotic cell may be influenced by factors such as its primary function, the organization of its cytoskeleton, the viscosity of its cytoplasm, the rigidity of its cell membrane or cell wall (if it has one), and the physical pressure exerted on it by the surrounding environment and/or adjoining cells.