Diagnosis of schistosomiasis is made by the microscopic observation of eggs in feces or urine, intestine or bladder tissue specimens, or serologic tests. The drug praziquantel is effective for the treatment of all schistosome infections. Improving wastewater management and educating at-risk populations to limit exposure to contaminated water can help control the spread of the disease.
Cercarial dermatitis
The cercaria of some species of Schistosoma can only transform into adult worms and complete their life cycle in animal hosts such as migratory birds and mammals. The cercaria of these worms are still capable of penetrating human skin, but they are unable to establish a productive infection in human tissue. Still, the presence of the cercaria in small blood vessels triggers an immune response, resulting in itchy raised bumps called cercarial dermatitis (also known as swimmer's itch or clam digger's itch). Although it is uncomfortable, cercarial dermatitis is typically self-limiting and rarely serious. Antihistamines and antipruritics can be used to limit inflammation and itching, respectively.
How do schistosome infections in humans occur?
Common eukaryotic pathogens of the human circulatory system
Protozoan and helminthic infections are prevalent in the developing world. A few of the more important parasitic infections are summarized in [link] .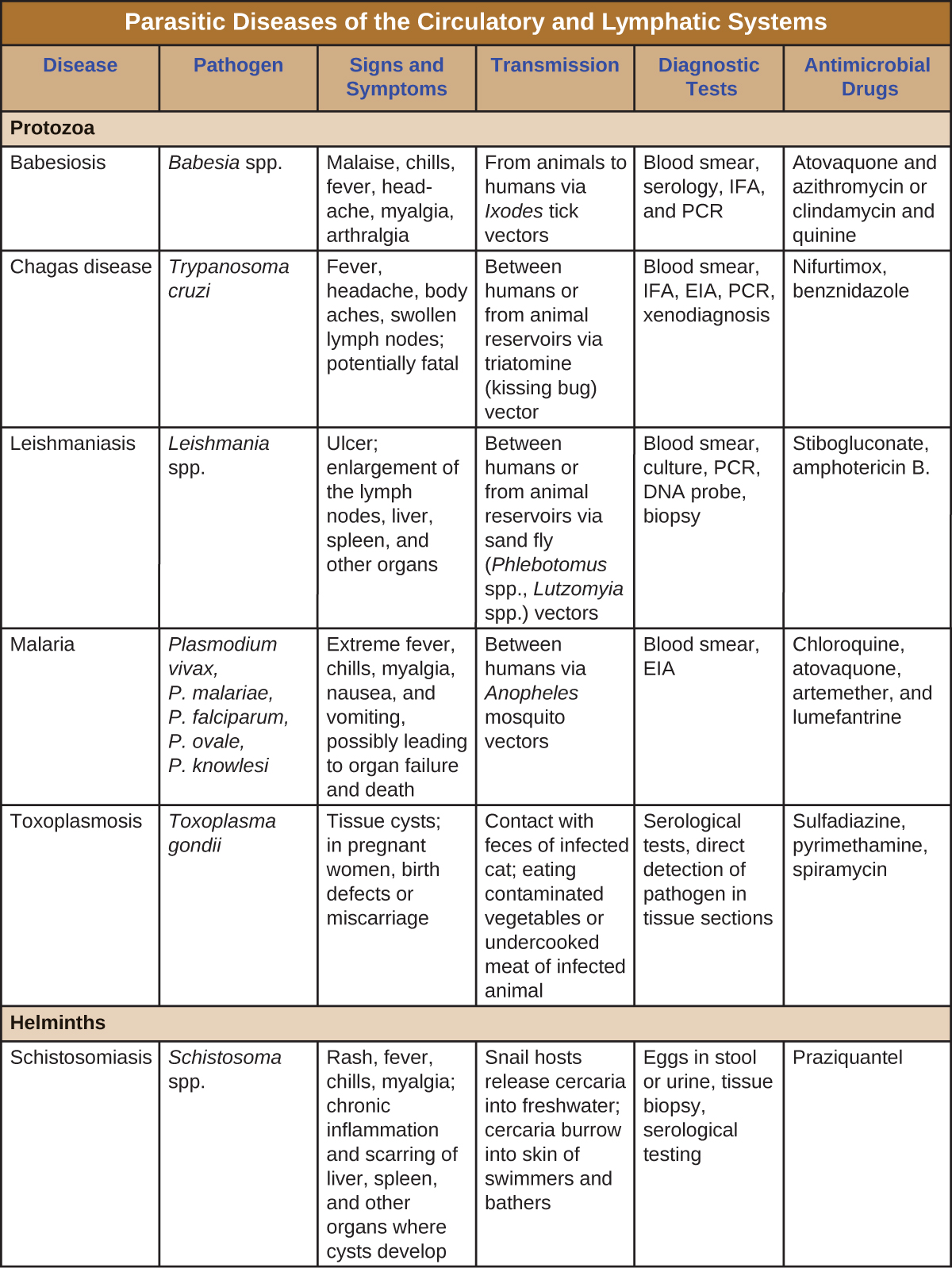 Resolution
Despite continued antibiotic treatment and the removal of the venous catheter, Barbara's condition further declined. She began to show signs of shock and her blood pressure dropped to 77/50 mmHg. Anti-inflammatory drugs and drotrecogin-α were administered to combat sepsis . However, by the seventh day of hospitalization, Barbara experienced hepatic and renal failure and died.
Staphylococcus aureus most likely formed a biofilm on the surface of Barbara's catheter. From there, the bacteria were chronically shed into her circulation and produced the initial clinical symptoms. The chemotherapeutic therapies failed in large part because of the drug-resistant MRSA isolate. Virulence factors like leukocidin and hemolysins also interfered with her immune response. Barbara's ultimate decline may have been a consequence of the production of enterotoxin s and toxic shock syndrome toxin (TSST) , which can initiate toxic shock.
Venous catheters are common life-saving interventions for many patients requiring long-term administration of medication or fluids. However, they are also common sites of bloodstream infections. The World Health Organization estimates that there are up to 80,000 catheter-related bloodstream infection s each year in the US, resulting in about 20,000 deaths.
Go back to the previous Clinical Focus box.
Key concepts and summary
Malaria is a protozoan parasite that remains an important cause of death primarily in the tropics. Several species in the genus Plasmodium are responsible for malaria and all are transmitted by Anopheles mosquitoes. Plasmodium infects and destroys human red blood cells, leading to organ damage, anemia, blood vessel necrosis, and death. Malaria can be treated with various antimalarial drugs and prevented through vector control.
Toxoplasmosis is a widespread protozoal infection that can cause serious infections in the immunocompromised and in developing fetuses. Domestic cats are the definitive host.
Babesiosis is a generally asymptomatic infection of red blood cells that can causes malaria-like symptoms in elderly, immunocompromised, or asplenic patients.
Chagas disease is a tropical disease transmitted by triatomine bugs. The trypanosome infects heart, neural tissues, monocytes, and phagocytes, often remaining latent for many years before causing serious and sometimes fatal damage to the digestive system and heart.
Leishmaniasis is caused by the protozoan Leishmania and is transmitted by sand flies. Symptoms are generally mild, but serious cases may cause organ damage, anemia, and loss of immune competence.
Schistosomiasis is caused by a fluke transmitted by snails. The fluke moves throughout the body in the blood stream and chronically infects various tissues, leading to organ damage.
Fill in the blank
Short answer
Questions & Answers
Receive real-time job alerts and never miss the right job again
Source:  OpenStax, Microbiology. OpenStax CNX. Nov 01, 2016 Download for free at http://cnx.org/content/col12087/1.4
Google Play and the Google Play logo are trademarks of Google Inc.
Notification Switch
Would you like to follow the 'Microbiology' conversation and receive update notifications?