In addition, some trophozoites alternatively develop into male and female gametocytes. The gametocytes are taken up when the mosquito takes a blood meal from an infected individual. Sexual sporogony occurs in the gut of the mosquito. The gametocytes fuse to form zygotes in the insect gut. The zygotes become motile and elongate into an ookinete. This form penetrates the midgut wall and develops into an oocyst. Finally, the oocyst releases new sporozoites that migrate to the mosquito salivary glands to complete the life cycle.
Diagnosis of malaria is by microscopic observation of developmental forms of Plasmodium in blood smears and rapid EIA assays that detect Plasmodium antigens or enzymes ( [link] ). Drugs such as chloroquine , atovaquone , artemether , and lumefantrine may be prescribed for both acute and prophylactic therapy, although some Plasmodium spp. have shown resistance to antimalarial drugs. Use of insecticides and insecticide-treated bed nets can limit the spread of malaria. Despite efforts to develop a vaccine for malaria, none is currently available.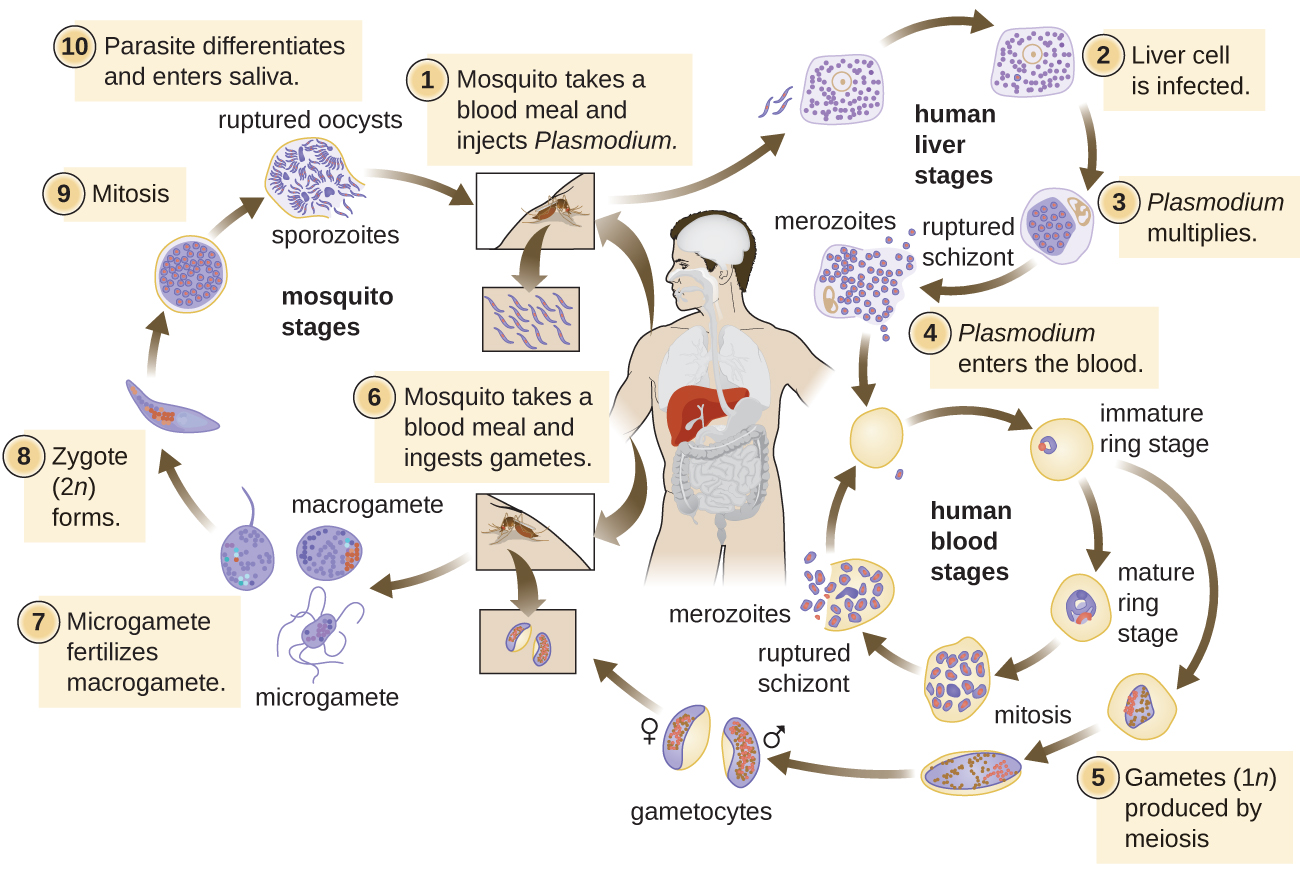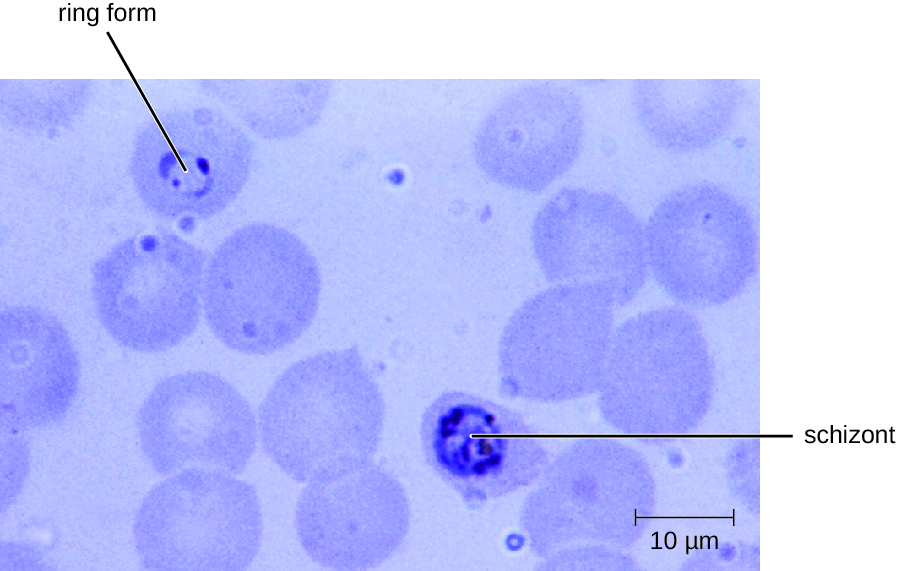 Visit this site to learn how the parasite Plasmodium infects red blood cells.
The Nothing But Nets campaign , an initiative of the United Nations Foundation, has partnered with the Bill and Melinda Gates Foundation to make mosquito bed nets available in developing countries in Africa. Visit their website to learn more about their efforts to prevent malaria.
Why is malaria one of the most important infectious diseases?
Toxoplasmosis
The disease toxoplasmosis is caused by the protozoan Toxoplasma gondii . T. gondii is found in a wide variety of birds and mammals, and human infections are common. The Centers for Disease Control and Prevention (CDC) estimates that 22.5% of the population 12 years and older has been infected with T. gondii ; but immunocompetent individuals are typically asymptomatic, however. Domestic cats are the only known definitive hosts for the sexual stages of T. gondii and, thus, are the main reservoirs of infection. Infected cats shed T. gondii oocysts in their feces, and these oocysts typically spread to humans through contact with fecal matter on cats' bodies, in litter boxes, or in garden beds where outdoor cats defecate.
T. gondii has a complex life cycle that involves multiple hosts. The T. gondii life cycle begins when unsporulated oocysts are shed in the cat's feces. These oocysts take 1–5 days to sporulate in the environment and become infective. Intermediate hosts in nature include birds and rodents, which become infected after ingesting soil, water, or plant material contaminated with the infective oocysts. Once ingested , the oocysts transform into tachyzoites that localize in the bird or rodent neural and muscle tissue, where they develop into tissue cysts. Cats may become infected after consuming birds and rodents harboring tissue cysts. Cats and other animals may also become infected directly by ingestion of sporulated oocysts in the environment. Interestingly, Toxoplasma infection appears to be able to modify the host's behavior. Mice infected by Toxoplasma lose their fear of cat pheromones. As a result, they become easier prey for cats, facilitating the transmission of the parasite to the cat definitive host ( [link] ).