Over time, chronic gingivitis can develop into the more serious condition of periodontitis ( [link] ). When this happens, the gums recede and expose parts of the tooth below the crown . This newly exposed area is relatively unprotected, so bacteria can grow on it and spread underneath the enamel of the crown and cause cavities . Bacteria in the gingival space can also erode the cementum , which helps to hold the teeth in place. If not treated, erosion of cementum can lead to the movement or loss of teeth. The bones of the jaw can even erode if the infection spreads. This condition can be associated with bleeding and halitosis (bad breath). Cleaning and appropriate dental hygiene may be sufficient to treat periodontitis. However, in cases of severe periodontitis, an antibiotic may be given. Antibiotics may be given in pill form or applied directly to the gum (local treatment). Antibiotics given can include tetracycline , doxycycline , macrolides or β-lactams . Because periodontitis can be caused by a mix of microbes, a combination of antibiotics may be given.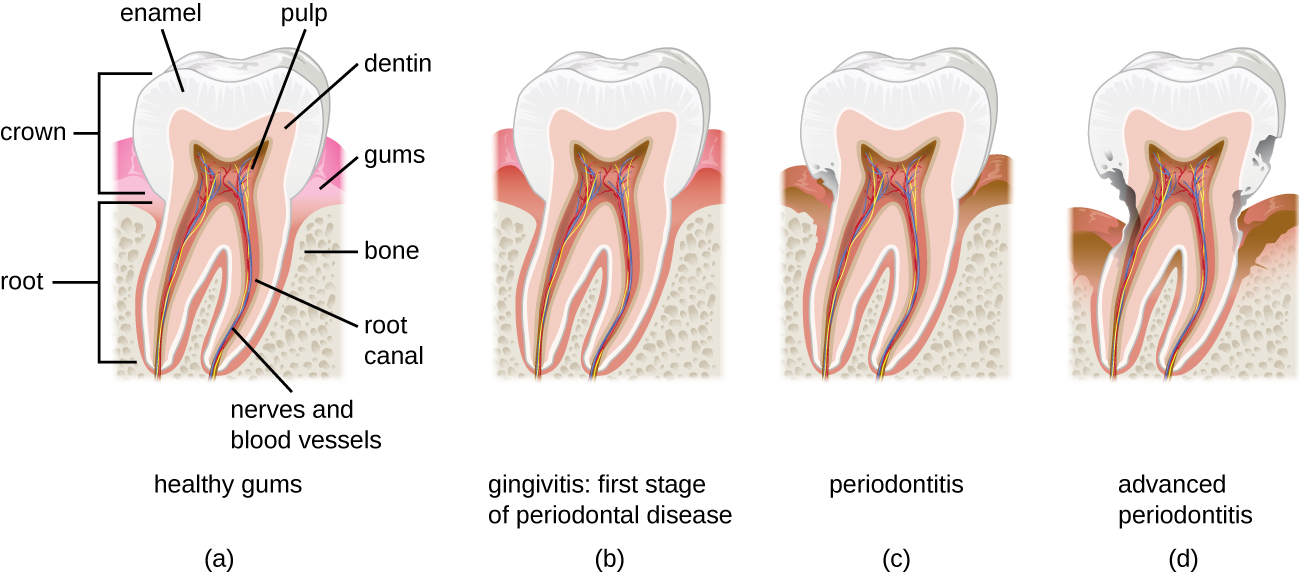 Trench mouth
When certain bacteria, such as Prevotella intermedia , Fusobacterium species, and Treponema vicentii , are involved and periodontal disease progresses, acute necrotizing ulcerative gingivitis or trench mouth , also called Vincent's disease, can develop. This is severe periodontitis characterized by erosion of the gums, ulcers, substantial pain with chewing, and halitosis ( [link] ) that can be diagnosed by visual examination and X-rays. In countries with good medical and dental care, it is most common in individuals with weakened immune systems, such as patients with AIDS. In addition to cleaning and pain medication, patients may be prescribed antibiotics such as amoxicillin , amoxicillin clavulanate , clindamycin , or doxycycline .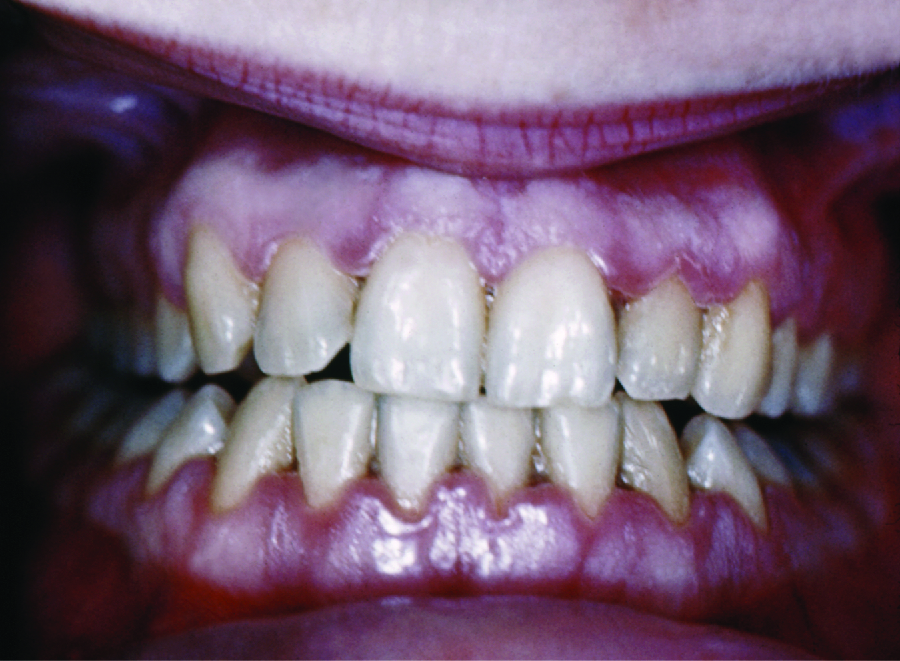 How does gingivitis progress to periodontitis?
Healthy mouth, healthy body
Good oral health promotes good overall health, and the reverse is also true. Poor oral health can lead to difficulty eating, which can cause malnutrition. Painful or loose teeth can also cause a person to avoid certain foods or eat less. Malnutrition due to dental problems is of greatest concern for the elderly, for whom it can worsen other health conditions and contribute to mortality. Individuals who have serious illnesses, especially AIDS, are also at increased risk of malnutrition from dental problems.
Additionally, poor oral health can contribute to the development of disease. Increased bacterial growth in the mouth can cause inflammation and infection in other parts of the body. For example, Streptococcus in the mouth, the main contributor to biofilms on teeth, tartar, and dental caries, can spread throughout the body when there is damage to the tissues inside the mouth, as can happen during dental work. S. mutans produces a surface adhesin known as P1, which binds to salivary agglutinin on the surface of the tooth. P1 can also bind to extracellular matrix proteins including fibronectin and collagen. When Streptococcus enters the bloodstream as a result of tooth brushing or dental cleaning, it causes inflammation that can lead to the accumulation of plaque in the arteries and contribute to the development of atherosclerosis , a condition associated with cardiovascular disease, heart attack, and stroke. In some cases, bacteria that spread through the blood vessels can lodge in the heart and cause endocarditis (an example of a focal infection).