Learning objectives
Identify the signs of inflammation and fever and explain why they occur
Explain the advantages and risks posed by inflammatory responses
The inflammatory response, or inflammation , is triggered by a cascade of chemical mediators and cellular responses that may occur when cells are damaged and stressed or when pathogens successfully breach the physical barriers of the innate immune system. Although inflammation is typically associated with negative consequences of injury or disease, it is a necessary process insofar as it allows for recruitment of the cellular defenses needed to eliminate pathogens, remove damaged and dead cells, and initiate repair mechanisms. Excessive inflammation, however, can result in local tissue damage and, in severe cases, may even become deadly.
Acute inflammation
An early, if not immediate, response to tissue injury is acute inflammation . Immediately following an injury, vasoconstriction of blood vessels will occur to minimize blood loss. The amount of vasoconstriction is related to the amount of vascular injury, but it is usually brief. Vasoconstriction is followed by vasodilation and increased vascular permeability, as a direct result of the release of histamine from resident mast cells. Increased blood flow and vascular permeability can dilute toxins and bacterial products at the site of injury or infection. They also contribute to the five observable signs associated with the inflammatory response: erythema (redness), edema (swelling), heat, pain, and altered function. Vasodilation and increased vascular permeability are also associated with an influx of phagocytes at the site of injury and/or infection. This can enhance the inflammatory response because phagocytes may release proinflammatory chemicals when they are activated by cellular distress signals released from damaged cells, by PAMPs , or by opsonins on the surface of pathogens. Activation of the complement system can further enhance the inflammatory response through the production of the anaphylatoxin C5a. [link] illustrates a typical case of acute inflammation at the site of a skin wound.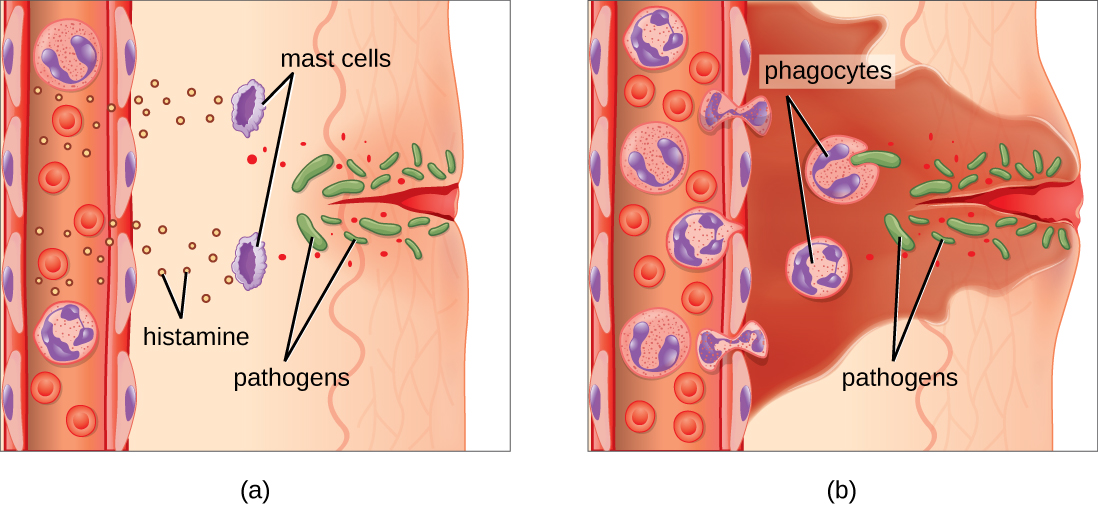 During the period of inflammation, the release of bradykinin causes capillaries to remain dilated, flooding tissues with fluids and leading to edema. Increasing numbers of neutrophils are recruited to the area to fight pathogens. As the fight rages on, pus forms from the accumulation of neutrophils, dead cells, tissue fluids, and lymph. Typically, after a few days, macrophages will help to clear out this pus. Eventually, tissue repair can begin in the wounded area.