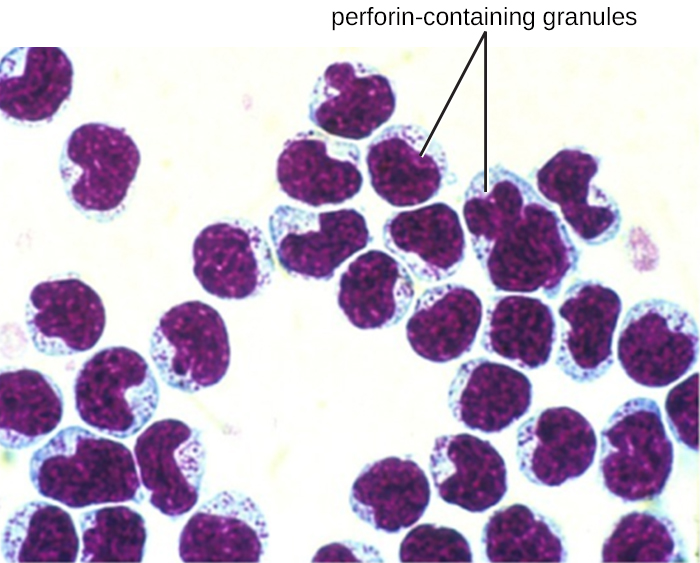 Monocytes
The largest of the white blood cells, monocytes have a nucleus that lacks lobes, and they also lack granules in the cytoplasm ( [link] ). Nevertheless, they are effective phagocytes, engulfing pathogens and apoptotic cells to help fight infection.
When monocytes leave the bloodstream and enter a specific body tissue, they differentiate into tissue-specific phagocytes called macrophages and dendritic cells . They are particularly important residents of lymphoid tissue, as well as nonlymphoid sites and organs. Macrophages and dendritic cells can reside in body tissues for significant lengths of time. Macrophages in specific body tissues develop characteristics suited to the particular tissue. Not only do they provide immune protection for the tissue in which they reside but they also support normal function of their neighboring tissue cells through the production of cytokines. Macrophages are given tissue-specific names, and a few examples of tissue-specific macrophages are listed in [link] . Dendritic cells are important sentinels residing in the skin and mucous membranes, which are portals of entry for many pathogens. Monocytes, macrophages, and dendritic cells are all highly phagocytic and important promoters of the immune response through their production and release of cytokines. These cells provide an essential bridge between innate and adaptive immune responses, as discussed in the next section as well as the next chapter.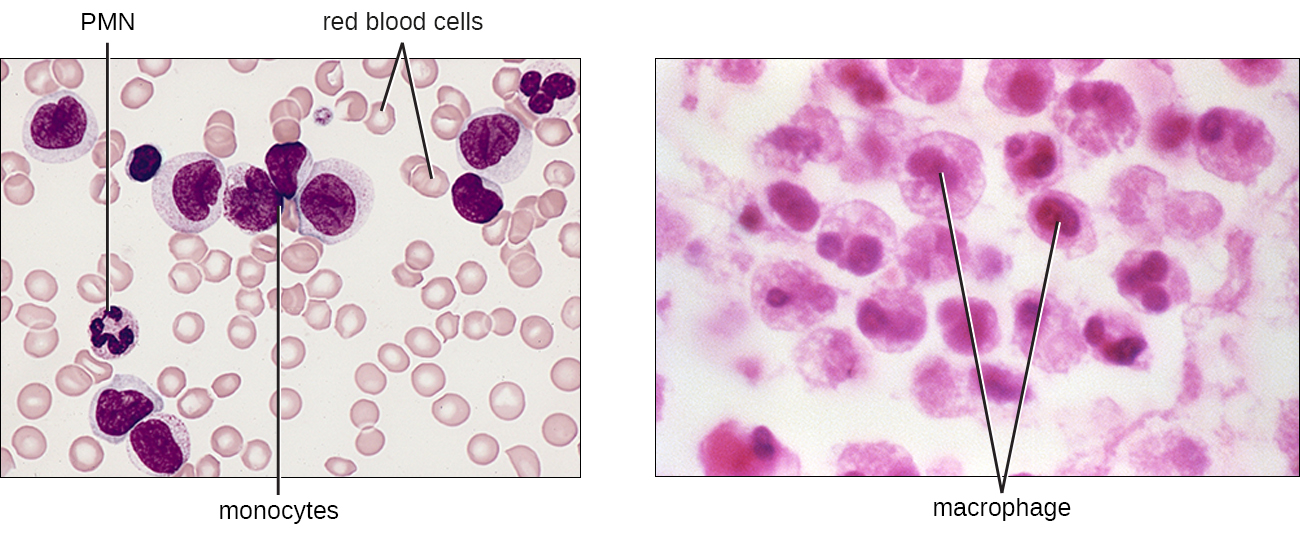 Macrophages Found in Various Body Tissues
Tissue
Macrophage
Brain and central nervous system
Microglial cells
Liver
Kupffer cells
Lungs
Alveolar macrophages (dust cells)
Peritoneal cavity
Peritoneal macrophages
Describe the signals that activate natural killer cells.
What is the difference between monocytes and macrophages?
Key concepts and summary
The formed elements of the blood include red blood cells ( erythrocytes ), white blood cells ( leukocytes ), and platelets (thrombocytes ). Of these, leukocytes are primarily involved in the immune response.
All formed elements originate in the bone marrow as stem cells (HSCs) that differentiate through hematopoiesis .
Granulocytes are leukocytes characterized by a lobed nucleus and granules in the cytoplasm. These include neutrophils (PMNs) , eosinophils , and basophils .
Neutrophils are the leukocytes found in the largest numbers in the bloodstream and they primarily fight bacterial infections.
Eosinophils target parasitic infections. Eosinophils and basophils are involved in allergic reactions. Both release histamine and other proinflammatory compounds from their granules upon stimulation.
Mast cells function similarly to basophils but can be found in tissues outside the bloodstream.
Natural killer ( NK ) cells are lymphocytes that recognize and kill abnormal or infected cells by releasing proteins that trigger apoptosis.
Monocytes are large, mononuclear leukocytes that circulate in the bloodstream. They may leave the bloodstream and take up residence in body tissues, where they differentiate and become tissue-specific macrophages and dendritic cells .
Matching
Match each cell type with its description.
| | |
| --- | --- |
| ___natural killer cell | A. stains with basic dye methylene blue, has large amounts of histamine in granules, and facilitates allergic responses and inflammation |
| ___basophil | B. stains with acidic dye eosin, has histamine and major basic protein in granules, and facilitates responses to protozoa and helminths |
| ___macrophage | C. recognizes abnormal cells, binds to them, and releases perforin and granzyme molecules, which induce apoptosis |
| ___eosinophil | D. large agranular phagocyte that resides in tissues such as the brain and lungs |
Got questions? Get instant answers now!
Match each cellular defense with the infection it would most likely target.
| | |
| --- | --- |
| ___natural killer cell | A. virus-infected cell |
| ___neutrophil | B. tapeworm in the intestines |
| ___eosinophil | C. bacteria in a skin lesion |
Got questions? Get instant answers now!
Fill in the blank
Short answer
Questions & Answers
Receive real-time job alerts and never miss the right job again
Source:  OpenStax, Microbiology. OpenStax CNX. Nov 01, 2016 Download for free at http://cnx.org/content/col12087/1.4
Google Play and the Google Play logo are trademarks of Google Inc.
Notification Switch
Would you like to follow the 'Microbiology' conversation and receive update notifications?