The chemokines are chemotactic factors that recruit leukocytes to sites of infection, tissue damage, and inflammation. In contrast to more general chemotactic factors, like complement factor C5a, chemokines are very specific in the subsets of leukocytes they recruit.
Interferons are a diverse group of immune signaling molecules and are especially important in our defense against viruses. Type I interferons (interferon-α and interferon-β) are produced and released by cells infected with virus. These interferons stimulate nearby cells to stop production of mRNA, destroy RNA already produced, and reduce protein synthesis. These cellular changes inhibit viral replication and production of mature virus, slowing the spread of the virus. Type I interferons also stimulate various immune cells involved in viral clearance to more aggressively attack virus-infected cells. Type II interferon (interferon-γ) is an important activator of immune cells ( [link] ).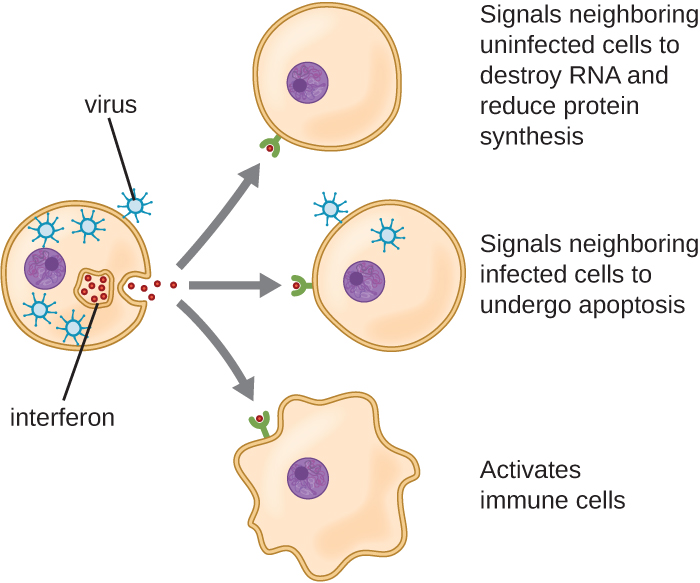 Many of the chemical mediators discussed in this section contribute in some way to inflammation and fever, which are nonspecific immune responses discussed in more detail in Inflammation and Fever . Cytokines stimulate the production of acute-phase proteins such as C-reactive protein and mannose-binding lectin in the liver. These acute-phase proteins act as opsonins , activating complement cascades through the lectin pathway.
Some cytokines also bind mast cells and basophils , inducing them to release histamine , a proinflammatory compound. Histamine receptors are found on a variety of cells and mediate proinflammatory events, such as bronchoconstriction (tightening of the airways) and smooth muscle contraction.
In addition to histamine, mast cells may release other chemical mediators, such as leukotrienes . Leukotrienes are lipid-based proinflammatory mediators that are produced from the metabolism of arachidonic acid in the cell membrane of leukocytes and tissue cells. Compared with the proinflammatory effects of histamine, those of leukotrienes are more potent and longer lasting. Together, these chemical mediators can induce coughing, vomiting, and diarrhea, which serve to expel pathogens from the body.
Certain cytokines also stimulate the production of prostaglandins , chemical mediators that promote the inflammatory effects of kinins and histamines. Prostaglandins can also help to set the body temperature higher, leading to fever , which promotes the activities of white blood cells and slightly inhibits the growth of pathogenic microbes (see Inflammation and Fever ).