Quarantining
Individuals suspected or known to have been exposed to certain contagious pathogens may be quarantined , or isolated to prevent transmission of the disease to others. Hospitals and other health-care facilities generally set up special wards to isolate patients with particularly hazardous diseases such as tuberculosis or Ebola ( [link] ). Depending on the setting, these wards may be equipped with special air-handling methods, and personnel may implement special protocols to limit the risk of transmission, such as personal protective equipment or the use of chemical disinfectant sprays upon entry and exit of medical personnel.
The duration of the quarantine depends on factors such as the incubation period of the disease and the evidence suggestive of an infection. The patient may be released if signs and symptoms fail to materialize when expected or if preventive treatment can be administered in order to limit the risk of transmission. If the infection is confirmed, the patient may be compelled to remain in isolation until the disease is no longer considered contagious.
In the United States, public health authorities may only quarantine patients for certain diseases, such as cholera , diphtheria , infectious tuberculosis , and strains of influenza capable of causing a pandemic . Individuals entering the United States or moving between states may be quarantined by the CDC if they are suspected of having been exposed to one of these diseases. Although the CDC routinely monitors entry points to the United States for crew or passengers displaying illness, quarantine is rarely implemented.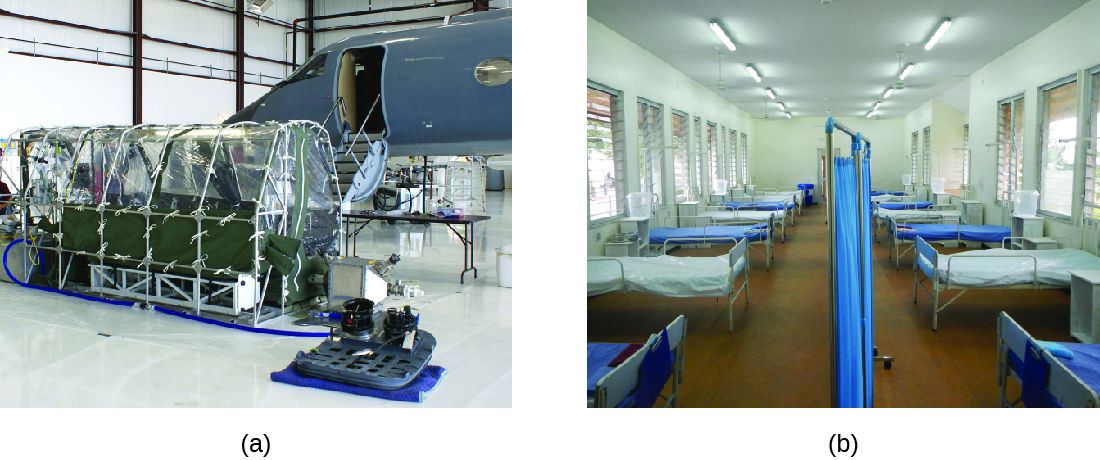 Healthcare-associated (nosocomial) infections
Hospitals, retirement homes, and prisons attract the attention of epidemiologists because these settings are associated with increased incidence of certain diseases. Higher rates of transmission may be caused by characteristics of the environment itself, characteristics of the population, or both. Consequently, special efforts must be taken to limit the risks of infection in these settings.
Infections acquired in health-care facilities, including hospitals, are called nosocomial infections or healthcare-associated infections (HAI) . HAIs are often connected with surgery or other invasive procedures that provide the pathogen with access to the portal of infection. For an infection to be classified as an HAI, the patient must have been admitted to the health-care facility for a reason other than the infection. In these settings, patients suffering from primary disease are often afflicted with compromised immunity and are more susceptible to secondary infection and opportunistic pathogens.
In 2011, more than 720,000 HAIs occurred in hospitals in the United States, according to the CDC. About 22% of these HAIs occurred at a surgical site, and cases of pneumonia accounted for another 22%; urinary tract infections accounted for an additional 13%, and primary bloodstream infections 10%. Such HAIs often occur when pathogens are introduced to patients' bodies through contaminated surgical or medical equipment, such as catheters and respiratory ventilators. Health-care facilities seek to limit nosocomial infections through training and hygiene protocols such as those described in Control of Microbial Growth .
Give some reasons why HAIs occur.
Key concepts and summary
Reservoirs of human disease can include the human and animal populations, soil, water, and inanimate objects or materials.
Contact transmission can be direct or indirect through physical contact with either an infected host (direct) or contact with a fomite that an infected host has made contact with previously (indirect).
Vector transmission occurs when a living organism carries an infectious agent on its body ( mechanical ) or as an infection host itself ( biological ), to a new host.
Vehicle transmission occurs when a substance, such as soil, water, or air, carries an infectious agent to a new host.
Healthcare-associated infections (HAI) , or nosocomial infections , are acquired in a clinical setting. Transmission is facilitated by medical interventions and the high concentration of susceptible, immunocompromised individuals in clinical settings.
Fill in the blank
A patient in the hospital with a urinary catheter develops a bladder infection. This is an example of a(n) ________ infection.
nosocomial or healthcare-associated
Got questions? Get instant answers now!
Short answer