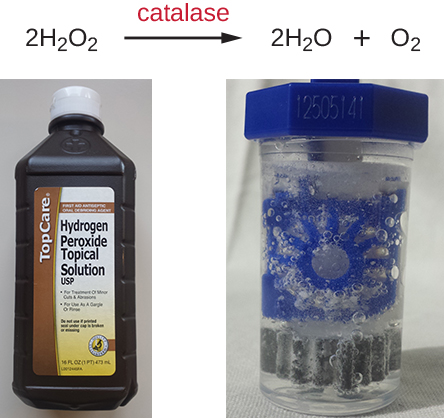 Plasma, a hot, ionized gas, described as the fourth state of matter, is useful for sterilizing equipment because it penetrates surfaces and kills vegetative cells and endospores. Hydrogen peroxide and peracetic acid , another commonly used peroxygen, each may be introduced as a plasma. Peracetic acid can be used as a liquid or plasma sterilant insofar as it readily kills endospores, is more effective than hydrogen peroxide even at rather low concentrations, and is immune to inactivation by catalases and peroxidases. It also breaks down to environmentally innocuous compounds; in this case, acetic acid and oxygen.
Other examples of peroxygens include benzoyl peroxide and carbamide peroxide . Benzoyl peroxide is a peroxygen that used in acne medication solutions. It kills the bacterium Propionibacterium acnes , which is associated with acne. Carbamide peroxide, an ingredient used in toothpaste, is a peroxygen that combats oral biofilms that cause tooth discoloration and halitosis (bad breath). Last, ozone gas is a peroxygen with disinfectant qualities and is used to clean air or water supplies. Overall, peroxygens are highly effective and commonly used, with no associated environmental hazard.
How do peroxides kill cells?
Supercritical fluids
Within the last 15 years, the use of supercritical fluids , especially supercritical carbon dioxide (scCO 2 ), has gained popularity for certain sterilizing applications. When carbon dioxide is brought to approximately 10 times atmospheric pressure, it reaches a supercritical state that has physical properties between those of liquids and gases. Materials put into a chamber in which carbon dioxide is pressurized in this way can be sterilized because of the ability of scCO 2 to penetrate surfaces.
Supercritical carbon dioxide works by penetrating cells and forming carbonic acid , thereby lowering the cell pH considerably. This technique is effective against vegetative cells and is also used in combination with peracetic acid to kill endospores. Its efficacy can also be augmented with increased temperature or by rapid cycles of pressurization and depressurization, which more likely produce cell lysis.
Benefits of scCO 2 include the nonreactive, nontoxic, and nonflammable properties of carbon dioxide, and this protocol is effective at low temperatures. Unlike other methods, such as heat and irradiation, that can degrade the object being sterilized, the use of scCO 2 preserves the object's integrity and is commonly used for treating foods (including spices and juices) and medical devices such as endoscopes. It is also gaining popularity for disinfecting tissues such as skin, bones, tendons, and ligaments prior to transplantation. scCO 2 can also be used for pest control because it can kill insect eggs and larvae within products.