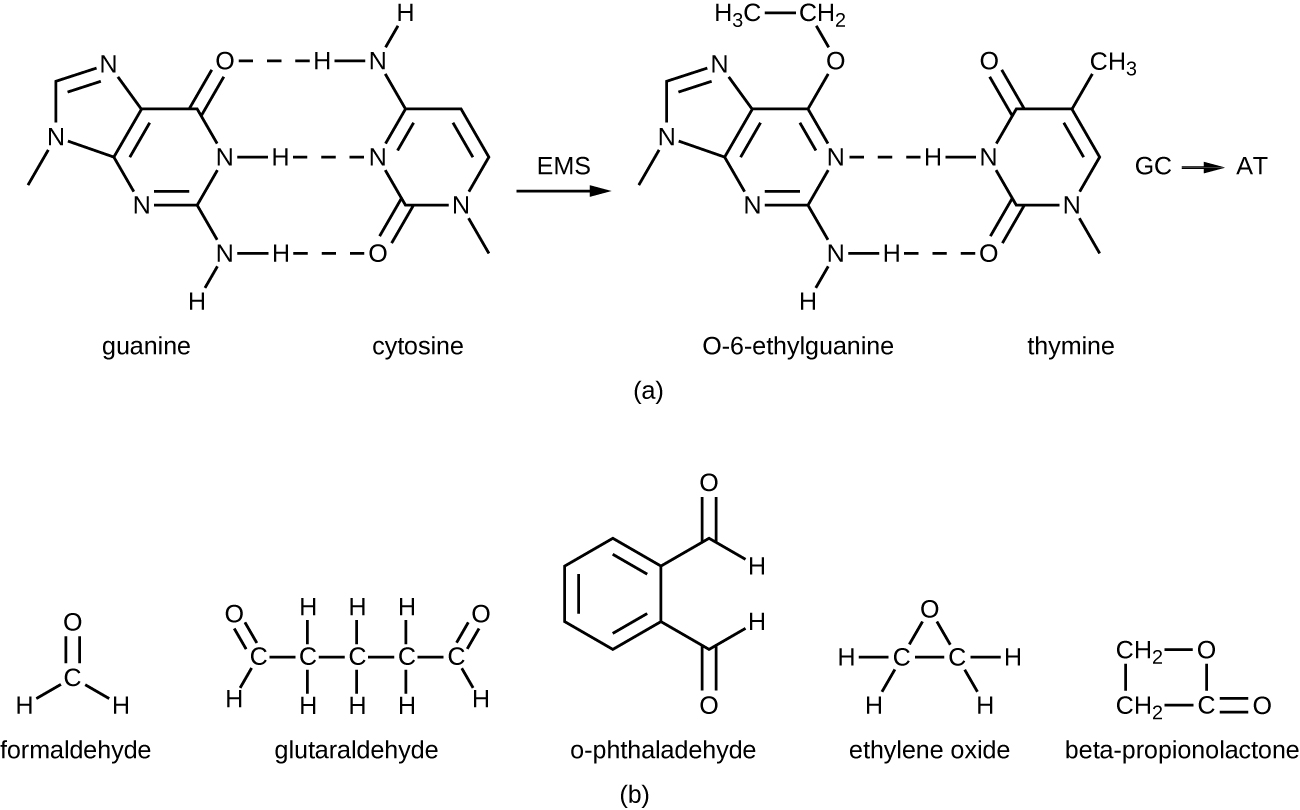 What chemical reaction do alkylating agents participate in?
Why are alkylating agents not used as antiseptics?
Diehard prions
Prions, the acellular, misfolded proteins responsible for incurable and fatal diseases such as kuru and Creutzfeldt-Jakob disease (see Viroids, Virusoids, and Prions ), are notoriously difficult to destroy. Prions are extremely resistant to heat, chemicals, and radiation. They are also extremely infectious and deadly; thus, handling and disposing of prion-infected items requires extensive training and extreme caution.
Typical methods of disinfection can reduce but not eliminate the infectivity of prions. Autoclaving is not completely effective, nor are chemicals such as phenol, alcohols, formalin, and β-propiolactone. Even when fixed in formalin, affected brain and spinal cord tissues remain infectious.
Personnel who handle contaminated specimens or equipment or work with infected patients must wear a protective coat, face protection, and cut-resistant gloves. Any contact with skin must be immediately washed with detergent and warm water without scrubbing. The skin should then be washed with 1 N NaOH or a 1:10 dilution of bleach for 1 minute. Contaminated waste must be incinerated or autoclaved in a strong basic solution, and instruments must be cleaned and soaked in a strong basic solution.
For more information on the handling of animals and prion-contaminated materials, visit the guidelines published on the CDC and WHO websites.
Peroxygens
Peroxygens are strong oxidizing agents that can be used as disinfectants or antiseptics. The most widely used peroxygen is hydrogen peroxide (H 2 O 2 ), which is often used in solution to disinfect surfaces and may also be used as a gaseous agent. Hydrogen peroxide solutions are inexpensive skin antiseptics that break down into water and oxygen gas, both of which are environmentally safe. This decomposition is accelerated in the presence of light, so hydrogen peroxide solutions typically are sold in brown or opaque bottles. One disadvantage of using hydrogen peroxide as an antiseptic is that it also causes damage to skin that may delay healing or lead to scarring. Contact lens cleaners often include hydrogen peroxide as a disinfectant.
Hydrogen peroxide works by producing free radicals that damage cellular macromolecules. Hydrogen peroxide has broad-spectrum activity, working against gram-positive and gram-negative bacteria (with slightly greater efficacy against gram-positive bacteria), fungi, viruses, and endospores. However, bacteria that produce the oxygen-detoxifying enzymes catalase or peroxidase may have inherent tolerance to low hydrogen peroxide concentrations ( [link] ). To kill endospores, the length of exposure or concentration of solutions of hydrogen peroxide must be increased. Gaseous hydrogen peroxide has greater efficacy and can be used as a sterilant for rooms or equipment.
Questions & Answers
Receive real-time job alerts and never miss the right job again
Source:  OpenStax, Microbiology. OpenStax CNX. Nov 01, 2016 Download for free at http://cnx.org/content/col12087/1.4
Google Play and the Google Play logo are trademarks of Google Inc.
Notification Switch
Would you like to follow the 'Microbiology' conversation and receive update notifications?