By the end of this section, you will be able to:
Predict shifts in the demand and supply curves of the labor market
Explain the impact of new technology on the demand and supply curves of the labor market
Explain price floors in the labor market such as minimum wage or a living wage
Markets for labor have demand and supply curves, just like markets for goods. The law of demand applies in labor markets this way: A higher salary or wage —that is, a higher price in the labor market—leads to a decrease in the quantity of labor demanded by employers, while a lower salary or wage leads to an increase in the quantity of labor demanded. The law of supply functions in labor markets, too: A higher price for labor leads to a higher quantity of labor supplied; a lower price leads to a lower quantity supplied.
Equilibrium in the labor market
In 2013, about 34,000 registered nurses worked in the Minneapolis-St. Paul-Bloomington, Minnesota-Wisconsin metropolitan area, according to the BLS. They worked for a variety of employers: hospitals, doctors' offices, schools, health clinics, and nursing homes. [link] illustrates how demand and supply determine equilibrium in this labor market. The demand and supply schedules in [link] list the quantity supplied and quantity demanded of nurses at different salaries.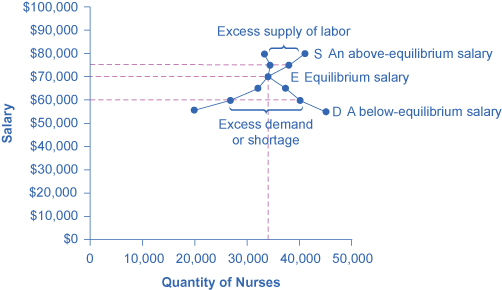 Demand and supply of nurses in minneapolis-st. paul-bloomington

| Annual Salary | Quantity Demanded | Quantity Supplied |
| --- | --- | --- |
| $55,000 | 45,000 | 20,000 |
| $60,000 | 40,000 | 27,000 |
| $65,000 | 37,000 | 31,000 |
| $70,000 | 34,000 | 34,000 |
| $75,000 | 33,000 | 38,000 |
| $80,000 | 32,000 | 41,000 |
The horizontal axis shows the quantity of nurses hired. In this example, labor is measured by number of workers, but another common way to measure the quantity of labor is by the number of hours worked. The vertical axis shows the price for nurses' labor—that is, how much they are paid. In the real world, this "price" would be total labor compensation: salary plus benefits. It is not obvious, but benefits are a significant part (as high as 30 percent) of labor compensation. In this example, the price of labor is measured by salary on an annual basis, although in other cases the price of labor could be measured by monthly or weekly pay, or even the wage paid per hour. As the salary for nurses rises, the quantity demanded will fall. Some hospitals and nursing homes may cut back on the number of nurses they hire, or they may lay off some of their existing nurses, rather than pay them higher salaries. Employers who face higher nurses' salaries may also try to replace some nursing functions by investing in physical equipment, like computer monitoring and diagnostic systems to monitor patients, or by using lower-paid health care aides to reduce the number of nurses they need.