Third, money serves as a unit of account , which means that it is the ruler by which other values are measured. For example, an accountant may charge $100 to file your tax return. That $100 can purchase two pair of shoes at $50 a pair. Money acts as a common denominator, an accounting method that simplifies thinking about trade-offs.
Finally, another function of money is that money must serve as a standard of deferred payment . This means that if money is usable today to make purchases, it must also be acceptable to make purchases today that will be paid in the future . Loans and future agreements are stated in monetary terms and the standard of deferred payment is what allows us to buy goods and services today and pay in the future. So money serves all of these functions— it is a medium of exchange, store of value, unit of account, and standard of deferred payment.
Commodity versus fiat money
Money has taken a wide variety of forms in different cultures. Gold, silver, cowrie shells, cigarettes, and even cocoa beans have been used as money. Although these items are used as commodity money , they also have a value from use as something other than money. Gold, for example, has been used throughout the ages as money although today it is not used as money but rather is valued for its other attributes. Gold is a good conductor of electricity and is used in the electronics and aerospace industry. Gold is also used in the manufacturing of energy efficient reflective glass for skyscrapers and is used in the medical industry as well. Of course, gold also has value because of its beauty and malleability in the creation of jewelry.
As commodity money, gold has historically served its purpose as a medium of exchange, a store of value, and as a unit of account. Commodity-backed currencies are dollar bills or other currencies with values backed up by gold or other commodity held at a bank. During much of its history, the money supply in the United States was backed by gold and silver. Interestingly, antique dollars dated as late as 1957, have "Silver Certificate" printed over the portrait of George Washington, as shown in [link] . This meant that the holder could take the bill to the appropriate bank and exchange it for a dollar's worth of silver.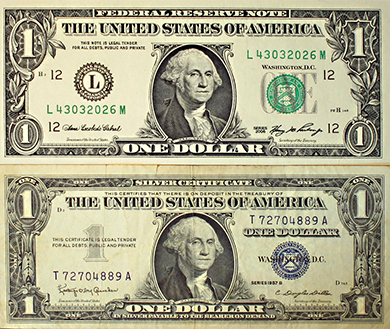 As economies grew and became more global in nature, the use of commodity monies became more cumbersome. Countries moved towards the use of fiat money . Fiat money has no intrinsic value, but is declared by a government to be the legal tender of a country. The United States' paper money, for example, carries the statement: "THIS NOTE IS LEGAL TENDER FOR ALL DEBTS, PUBLIC AND PRIVATE." In other words, by government decree, if you owe a debt, then legally speaking, you can pay that debt with the U.S. currency, even though it is not backed by a commodity. The only backing of our money is universal faith and trust that the currency has value, and nothing more.
Watch this video on the "History of Money."
Key concepts and summary
Money is what people in a society regularly use when purchasing or selling goods and services. If money were not available, people would need to barter with each other, meaning that each person would need to identify others with whom they have a double coincidence of wants—that is, each party has a specific good or service that the other desires. Money serves several functions: a medium of exchange, a unit of account, a store of value, and a standard of deferred payment. There are two types of money: commodity money, which is an item used as money, but which also has value from its use as something other than money; and fiat money, which has no intrinsic value, but is declared by a government to be the legal tender of a country.
References
Hogendorn, Jan and Marion Johnson. The Shell Money of the Slave Trade . Cambridge University Press, 2003. 6.