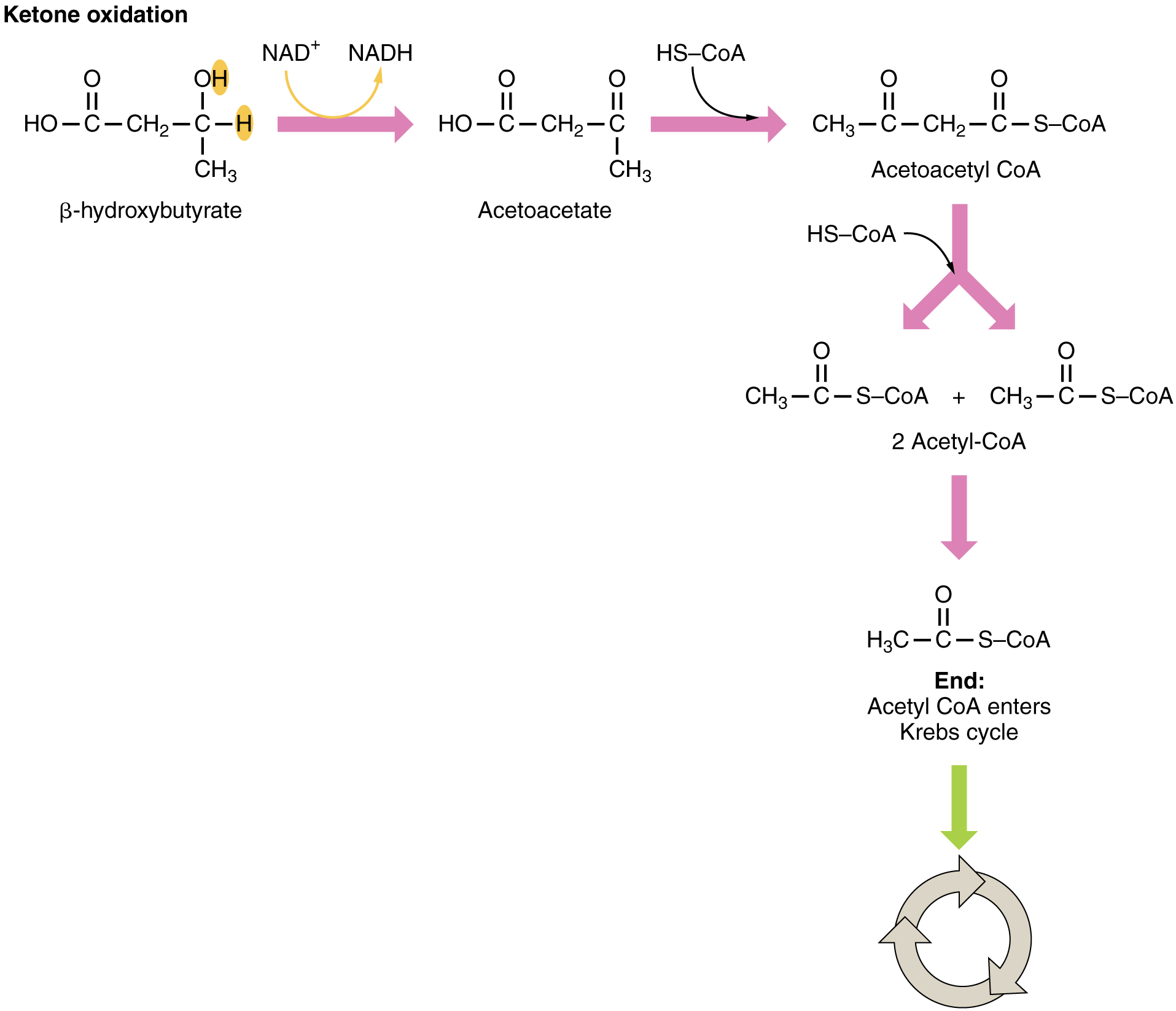 Lipogenesis
When glucose levels are plentiful, the excess acetyl CoA generated by glycolysis can be converted into fatty acids, triglycerides, cholesterol, steroids, and bile salts. This process, called lipogenesis , creates lipids (fat) from the acetyl CoA and takes place in the cytoplasm of adipocytes (fat cells) and hepatocytes (liver cells). When you eat more glucose or carbohydrates than your body needs, your system uses acetyl CoA to turn the excess into fat. Although there are several metabolic sources of acetyl CoA, it is most commonly derived from glycolysis. Acetyl CoA availability is significant, because it initiates lipogenesis. Lipogenesis begins with acetyl CoA and advances by the subsequent addition of two carbon atoms from another acetyl CoA; this process is repeated until fatty acids are the appropriate length. Because this is a bond-creating anabolic process, ATP is consumed. However, the creation of triglycerides and lipids is an efficient way of storing the energy available in carbohydrates. Triglycerides and lipids, high-energy molecules, are stored in adipose tissue until they are needed.
Although lipogenesis occurs in the cytoplasm, the necessary acetyl CoA is created in the mitochondria and cannot be transported across the mitochondrial membrane. To solve this problem, pyruvate is converted into both oxaloacetate and acetyl CoA. Two different enzymes are required for these conversions. Oxaloacetate forms via the action of pyruvate carboxylase, whereas the action of pyruvate dehydrogenase creates acetyl CoA. Oxaloacetate and acetyl CoA combine to form citrate, which can cross the mitochondrial membrane and enter the cytoplasm. In the cytoplasm, citrate is converted back into oxaloacetate and acetyl CoA. Oxaloacetate is converted into malate and then into pyruvate. Pyruvate crosses back across the mitochondrial membrane to wait for the next cycle of lipogenesis. The acetyl CoA is converted into malonyl CoA that is used to synthesize fatty acids. [link] summarizes the pathways of lipid metabolism.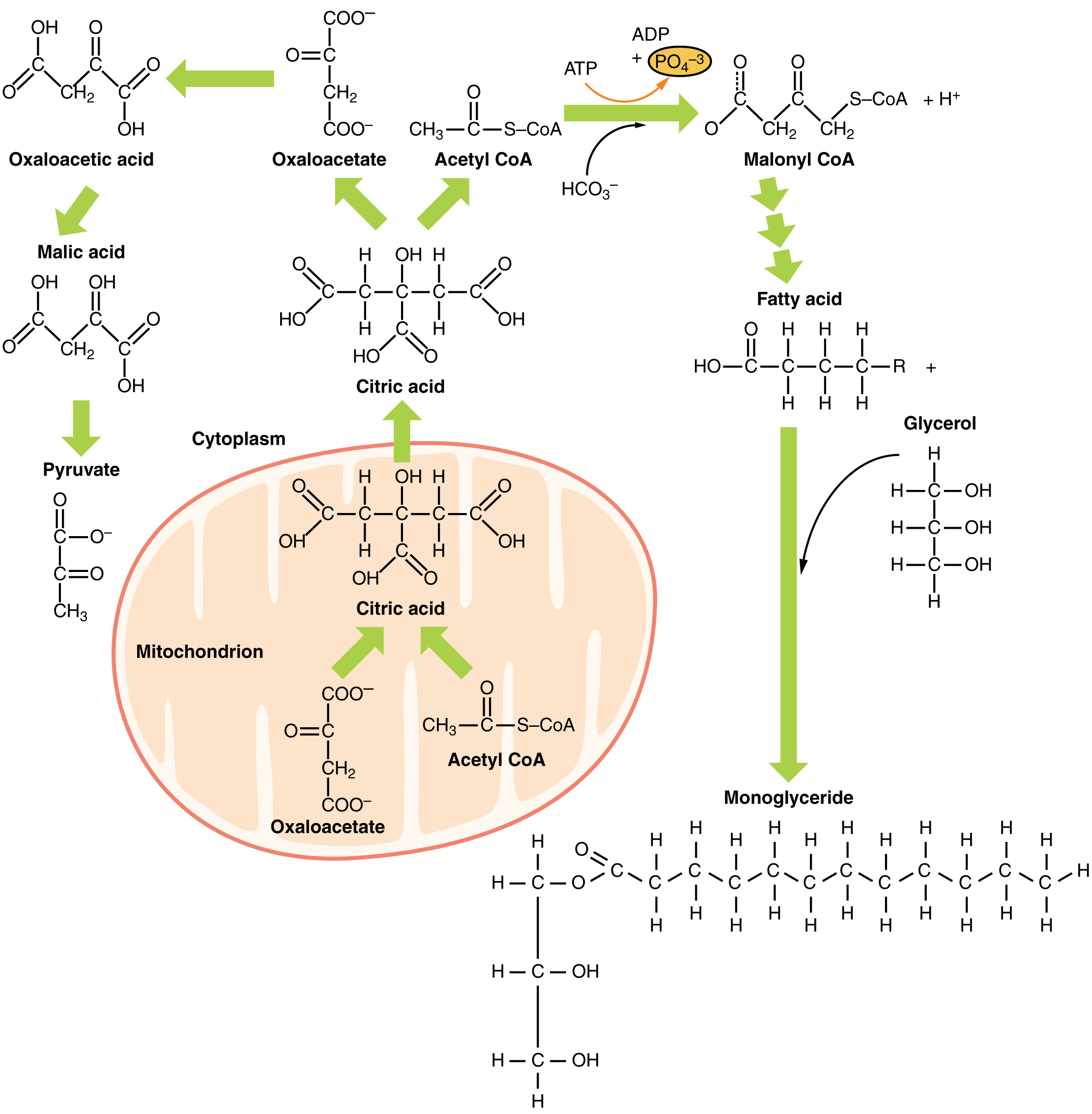 Chapter review
Lipids are available to the body from three sources. They can be ingested in the diet, stored in the adipose tissue of the body, or synthesized in the liver. Fats ingested in the diet are digested in the small intestine. The triglycerides are broken down into monoglycerides and free fatty acids, then imported across the intestinal mucosa. Once across, the triglycerides are resynthesized and transported to the liver or adipose tissue. Fatty acids are oxidized through fatty acid or β-oxidation into two-carbon acetyl CoA molecules, which can then enter the Krebs cycle to generate ATP. If excess acetyl CoA is created and overloads the capacity of the Krebs cycle, the acetyl CoA can be used to synthesize ketone bodies. When glucose is limited, ketone bodies can be oxidized and used for fuel. Excess acetyl CoA generated from excess glucose or carbohydrate ingestion can be used for fatty acid synthesis or lipogenesis. Acetyl CoA is used to create lipids, triglycerides, steroid hormones, cholesterol, and bile salts. Lipolysis is the breakdown of triglycerides into glycerol and fatty acids, making them easier for the body to process.