Changes in allele frequencies that are identified in a population can shed light on how it is evolving. In addition to natural selection, there are other evolutionary forces that could be in play: genetic drift, gene flow, mutation, nonrandom mating, and environmental variances.
Genetic drift
The theory of natural selection stems from the observation that some individuals in a population are more likely to survive longer and have more offspring than others; thus, they will pass on more of their genes to the next generation. A big, powerful male gorilla, for example, is much more likely than a smaller, weaker one to become the population's silverback, the pack's leader who mates far more than the other males of the group. The pack leader will father more offspring, who share half of his genes, and are likely to also grow bigger and stronger like their father. Over time, the genes for bigger size will increase in frequency in the population, and the population will, as a result, grow larger on average. That is, this would occur if this particular selection pressure , or driving selective force, were the only one acting on the population. In other examples, better camouflage or a stronger resistance to drought might pose a selection pressure.
Another way a population's allele and genotype frequencies can change is genetic drift ( [link] ), which is simply the effect of chance. By chance, some individuals will have more offspring than others—not due to an advantage conferred by some genetically-encoded trait, but just because one male happened to be in the right place at the right time (when the receptive female walked by) or because the other one happened to be in the wrong place at the wrong time (when a fox was hunting).
Art connection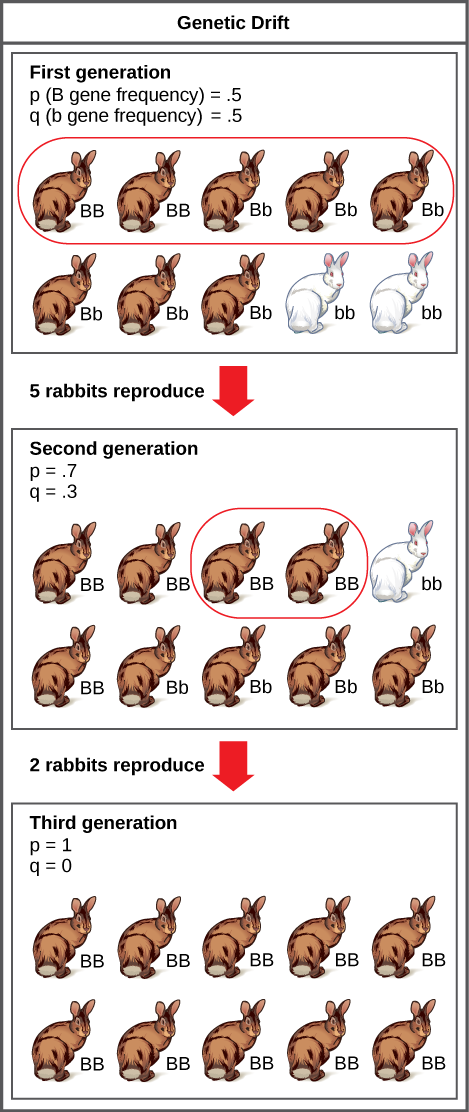 Do you think genetic drift would happen more quickly on an island or on the mainland?
Small populations are more susceptible to the forces of genetic drift. Large populations, on the other hand, are buffered against the effects of chance. If one individual of a population of 10 individuals happens to die at a young age before it leaves any offspring to the next generation, all of its genes—1/10 of the population's gene pool—will be suddenly lost. In a population of 100, that's only 1 percent of the overall gene pool; therefore, it is much less impactful on the population's genetic structure.