Wilson's new freedom
When Wilson took office in March 1913, he immediately met with Congress to outline his New Freedom agenda for how progressive interests could be best preserved. His plan was simple: regulate the banks and big businesses, and lower tariff rates to increase international trade, increasing competition in the interest of consumers. Wilson took the unusual step of calling a special session of Congress in April 1913 to tackle the tariff question, which resulted in the Revenue Act of 1913, also known as the Underwood Tariff Act. This legislation lowered tariff rates across the board by approximately 15 percent and completely eliminated tariffs on several imports, including steel, iron ore, woolen products, and farm tools. To offset the potential loss of federal revenue, this new law reinstituted the federal income tax, which followed the ratification of the Sixteenth Amendment. This first income tax required married couples who earned $4000 or more, and single people who earned $3000 or more, to pay a 1-percent, graduated income tax, with the tax rate getting progressively higher for those who earned more.
Late in 1913, Wilson signed the Federal Reserve Act to regulate the banking industry and establish a federal banking system ( [link] ). Designed to remove power over interest rates from the hands of private bankers, the new system created twelve privately owned regional reserve banks regulated by a presidentially appointed Federal Reserve Board. The Board, known informally as the Fed, regulated the interest rate at which reserve banks loaned or distributed money to other banks around the country. Thus, when economic times were challenging, such as during a recession, the Fed could lower this "discount rate" and encourage more borrowing, which put more currency in circulation for people to spend or invest. Conversely, the Fed could curb inflationary trends with interest hikes that discouraged borrowing. This system is still the basis for the country's modern banking model.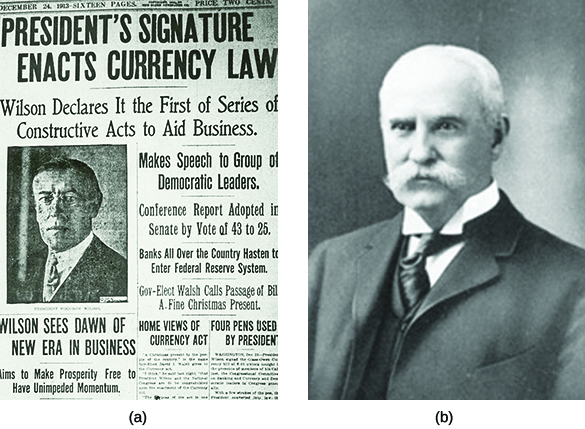 The history of the Federal Reserve Act is explored in The Washington Post , reflecting back on the act one hundred years later.
In early 1914, Wilson completed his New Freedom agenda with the passage of the Clayton Antitrust Act. This law expanded the power of the original Sherman Antitrust Act in order to allow the investigation and dismantling of more monopolies. The new act also took on the "interlocking directorates"—competing companies that still operated together in a form of oligopoly or conspiracy to restrain trade. His New Freedom agenda complete, Wilson turned his attention to foreign affairs, as war was quickly encompassing Europe.