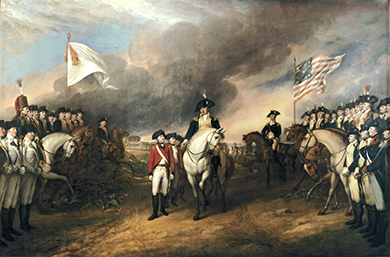 "the world turned upside down"
"The World Turned Upside Down," reputedly played during the surrender of the British at Yorktown, was a traditional English ballad from the seventeenth century. It was also the theme of a popular British print that circulated in the 1790s ( [link] ).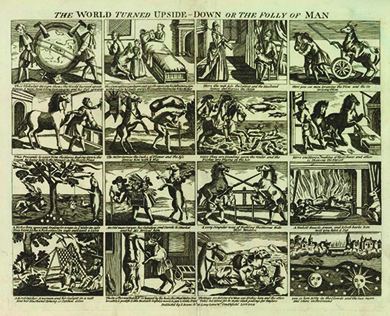 Why do you think these images were popular in Great Britain in the decade following the Revolutionary War? What would these images imply to Americans?
Visit the Public Domain Review to explore the images in an eighteenth-century British chapbook (a pamphlet for tracts or ballads) titled "The World Turned Upside Down." The chapbook is illustrated with woodcuts similar to those in the popular print mentioned above.
The treaty of paris
The British defeat at Yorktown made the outcome of the war all but certain. In light of the American victory, the Parliament of Great Britain voted to end further military operations against the rebels and to begin peace negotiations. Support for the war effort had come to an end, and British military forces began to evacuate the former American colonies in 1782. When hostilities had ended, Washington resigned as commander in chief and returned to his Virginia home.
In April 1782, Benjamin Franklin, John Adams, and John Jay had begun informal peace negotiations in Paris. Officials from Great Britain and the United States finalized the treaty in 1783, signing the Treaty of Paris ( [link] ) in September of that year. The treaty recognized the independence of the United States; placed the western, eastern, northern, and southern boundaries of the nation at the Mississippi River, the Atlantic Ocean, Canada, and Florida, respectively; and gave New Englanders fishing rights in the waters off Newfoundland. Under the terms of the treaty, individual states were encouraged to refrain from persecuting Loyalists and to return their confiscated property.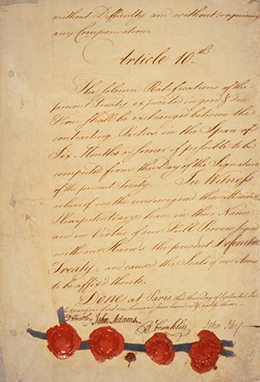 Section summary
The British gained momentum in the war when they turned their military efforts against the southern colonies. They scored repeated victories in the coastal towns, where they found legions of supporters, including slaves escaping bondage. As in other colonies, however, control of major seaports did not mean the British could control the interior. Fighting in the southern colonies devolved into a merciless civil war as the Revolution opened the floodgates of pent-up anger and resentment between frontier residents and those along the coastal regions. The southern campaign came to an end at Yorktown when Cornwallis surrendered to American forces.