By the end of this section, you will be able to:
Describe the causes and consequences of the War of 1812
Identify the important events of the War of 1812 and explain their significance
The origins of the War of 1812, often called the Second War of American Independence, are found in the unresolved issues between the United States and Great Britain. One major cause was the British practice of impressment, whereby American sailors were taken at sea and forced to fight on British warships; this issue was left unresolved by Jay's Treaty in 1794. In addition, the British in Canada supported Indians in their fight against further U.S. expansion in the Great Lakes region. Though Jefferson wanted to avoid what he called "entangling alliances," staying neutral proved impossible.
The embargo of 1807
France and England, engaged in the Napoleonic Wars, which raged between 1803 and 1815, both declared open season on American ships, which they seized on the high seas. England was the major offender, since the Royal Navy, following a time-honored practice, "impressed" American sailors by forcing them into its service. The issue came to a head in 1807 when the HMS Leopard , a British warship, fired on a U.S. naval ship, the Chesapeake , off the coast of Norfolk, Virginia. The British then boarded the ship and took four sailors. Jefferson chose what he thought was the best of his limited options and responded to the crisis through the economic means of a sweeping ban on trade, the Embargo Act of 1807 . This law prohibited American ships from leaving their ports until Britain and France stopped seizing them on the high seas. As a result of the embargo, American commerce came to a near-total halt.
The logic behind the embargo was that cutting off all trade would so severely hurt Britain and France that the seizures at sea would end. However, while the embargo did have some effect on the British economy, it was American commerce that actually felt the brunt of the impact ( [link] ). The embargo hurt American farmers, who could no longer sell their goods overseas, and seaport cities experienced a huge increase in unemployment and an uptick in bankruptcies. All told, American business activity declined by 75 percent from 1808 to 1809.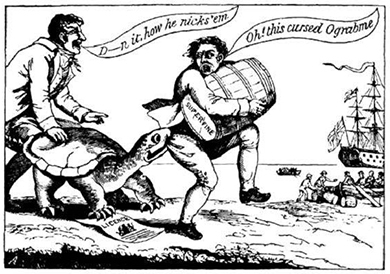 Enforcement of the embargo proved very difficult, especially in the states bordering British Canada. Smuggling was widespread; Smugglers' Notch in Vermont, for example, earned its name from illegal trade with British Canada. Jefferson attributed the problems with the embargo to lax enforcement.
At the very end of his second term, Jefferson signed the Non-Intercourse Act of 1808, lifting the unpopular embargoes on trade except with Britain and France. In the election of 1808, American voters elected another Democratic-Republican, James Madison. Madison inherited Jefferson's foreign policy issues involving Britain and France. Most people in the United States, especially those in the West, saw Great Britain as the major problem.