By the end of this section, you will be able to:
Identify the shared perceptions and ideals of each social class
Assess different social classes' views of slavery
The profound economic changes sweeping the United States led to equally important social and cultural transformations. The formation of distinct classes, especially in the rapidly industrializing North, was one of the most striking developments. The unequal distribution of newly created wealth spurred new divisions along class lines. Each class had its own specific culture and views on the issue of slavery.
The economic elite
Economic elites gained further social and political ascendance in the United States due to a fast-growing economy that enhanced their wealth and allowed distinctive social and cultural characteristics to develop among different economic groups. In the major northern cities of Boston, New York, and Philadelphia, leading merchants formed an industrial capitalist elite. Many came from families that had been deeply engaged in colonial trade in tea, sugar, pepper, slaves, and other commodities and that were familiar with trade networks connecting the United States with Europe, the West Indies, and the Far East. These colonial merchants had passed their wealth to their children.
After the War of 1812, the new generation of merchants expanded their economic activities. They began to specialize in specific types of industry, spearheading the development of industrial capitalism based on factories they owned and on specific commercial services such as banking, insurance, and shipping. Junius Spencer Morgan ( [link] ), for example, rose to prominence as a banker. His success began in Boston, where he worked in the import business in the 1830s. He then formed a partnership with a London banker, George Peabody, and created Peabody, Morgan&Co. In 1864, he renamed the enterprise J. S. Morgan&Co. His son, J. P. Morgan, became a noted financier in the later nineteenth and early twentieth century.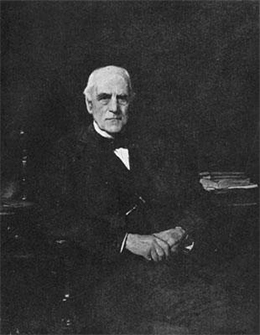 Visit the Internet Archive to see scanned pages from Hunt's Merchant's Magazine and Commercial Review . This monthly business review provided the business elite with important information about issues pertaining to trade and finance: commodity prices, new laws affecting business, statistics regarding imports and exports, and similar content. Choose three articles and decide how they might have been important to the northern business elite.
Members of the northern business elite forged close ties with each other to protect and expand their economic interests. Marriages between leading families formed a crucial strategy to advance economic advantage, and the homes of the northern elite became important venues for solidifying social bonds. Exclusive neighborhoods started to develop as the wealthy distanced themselves from the poorer urban residents, and cities soon became segregated by class.