Read firsthand accounts of U.S. soldiers who served in Korea, including prisoners of war.
As the war in Korea came to an end, so did one of the most frightening anti-Communist campaigns in the United States. After charging the U.S. State Department with harboring Communists, Senator Joseph McCarthy had continued to make similar accusations against other government agencies. Prominent Republicans like Senator Robert Taft and Congressman Richard Nixon regarded McCarthy as an asset who targeted Democratic politicians, and they supported his actions. In 1953, as chair of the Senate Committee on Government Operations, McCarthy investigated the Voice of America, which broadcast news and pro-U.S. propaganda to foreign countries, and the State Department's overseas libraries. After an aborted effort to investigate Protestant clergy, McCarthy turned his attention to the U.S. Army. This proved to be the end of the senator's political career. From April to June 1954, the Army-McCarthy Hearings were televised, and the American public, able to witness his use of intimidation and innuendo firsthand, rejected McCarthy's approach to rooting out Communism in the United States ( [link] ). In December 1954, the U.S. Senate officially condemned his actions with a censure, ending his prospects for political leadership.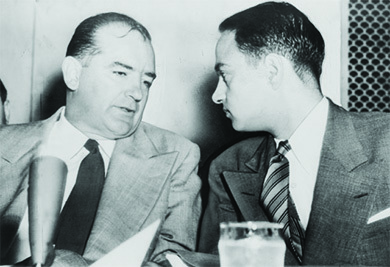 One particularly heinous aspect of the hunt for Communists in the United States, likened by playwright Arthur Miller to the witch hunts of old, was its effort to root out gay men and lesbians employed by the government. Many anti-Communists, including McCarthy, believed that gay men, referred to by Senator Everett Dirksen as "lavender lads," were morally weak and thus were particularly likely to betray their country. Many also believed that lesbians and gay men were prone to being blackmailed by Soviet agents because of their sexual orientation, which at the time was regarded by psychiatrists as a form of mental illness.
Section summary
Joy at the ending of World War II was quickly replaced by fears of conflict with the Soviet Union. The Cold War heated up as both the United States and Soviet Union struggled for world dominance. Fearing Soviet expansion, the United States committed itself to assisting countries whose governments faced overthrow by Communist forces and gave billions of dollars to war-torn Europe to help it rebuild. While the United States achieved victory in its thwarting of Soviet attempts to cut Berlin off from the West, the nation was less successful in its attempts to prevent Communist expansion in Korea. The development of atomic weapons by the Soviet Union and the arrest of Soviet spies in the United States and Britain roused fears in the United States that Communist agents were seeking to destroy the nation from within. Loyalty board investigations and hearings before House and Senate committees attempted to root out Soviet sympathizers in the federal government and in other sectors of American society, including Hollywood and the military.