Francisco Vásquez de Coronado was born into a noble family and went to Mexico, then called New Spain, in 1535. He presided as governor over the province of Nueva Galicia, where he heard rumors of wealth to the north: a golden city called Quivira. Between 1540 and 1542, Coronado led a large expedition of Spaniards and native allies to the lands north of Mexico City, and for the next several years, they explored the area that is now the southwestern United States ( [link] ). During the winter of 1540–41, the explorers waged war against the Tiwa in present-day New Mexico. Rather than leading to the discovery of gold and silver, however, the expedition simply left Coronado bankrupt.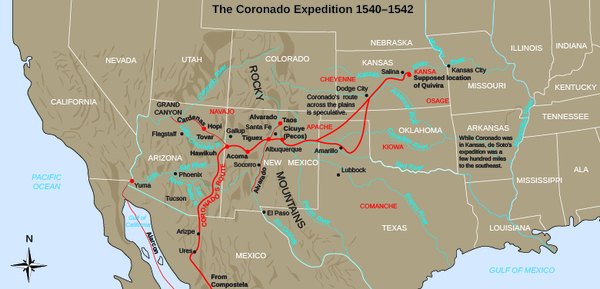 The spanish golden age
The exploits of European explorers had a profound impact both in the Americas and back in Europe. An exchange of ideas, fueled and financed in part by New World commodities, began to connect European nations and, in turn, to touch the parts of the world that Europeans conquered. In Spain, gold and silver from the Americas helped to fuel a golden age, the Siglo de Oro, when Spanish art and literature flourished. Riches poured in from the colonies, and new ideas poured in from other countries and new lands. The Hapsburg dynasty, which ruled a collection of territories including Austria, the Netherlands, Naples, Sicily, and Spain, encouraged and financed the work of painters, sculptors, musicians, architects, and writers, resulting in a blooming of Spanish Renaissance culture. One of this period's most famous works is the novel The Ingenious Gentleman Don Quixote of La Mancha , by Miguel de Cervantes. This two-volume book (1605 and 1618) told a colorful tale of an hidalgo (gentleman) who reads so many tales of chivalry and knighthood that he becomes unable to tell reality from fiction. With his faithful sidekick Sancho Panza, Don Quixote leaves reality behind and sets out to revive chivalry by doing battle with what he perceives as the enemies of Spain.
Explore the collection at The Cervantes Project for images, complete texts, and other resources relating to Cervantes's works.
Spain attracted innovative foreign painters such as El Greco, a Greek who had studied with Italian Renaissance masters like Titian and Michelangelo before moving to Toledo. Native Spaniards created equally enduring works. Las Meninas (The Maids of Honor) , painted by Diego Velázquez in 1656, is one of the best-known paintings in history. Velázquez painted himself into this imposingly large royal portrait (he's shown holding his brush and easel on the left) and boldly placed the viewer where the king and queen would stand in the scene ( [link] ).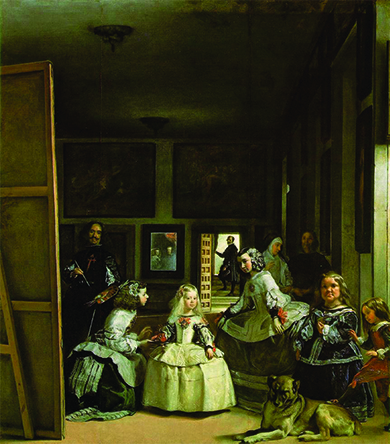 Section summary
Although Portugal opened the door to exploration of the Atlantic World, Spanish explorers quickly made inroads into the Americas. Spurred by Christopher Columbus's glowing reports of the riches to be found in the New World, throngs of Spanish conquistadors set off to find and conquer new lands. They accomplished this through a combination of military strength and strategic alliances with native peoples. Spanish rulers Ferdinand and Isabella promoted the acquisition of these new lands in order to strengthen and glorify their own empire. As Spain's empire expanded and riches flowed in from the Americas, the Spanish experienced a golden age of art and literature.