With a call for gay men and women to "come out"—a consciousness-raising campaign that shared many principles with the counterculture, gay and lesbian communities moved from the urban underground into the political sphere. Gay rights activists protested strongly against the official position of the American Psychiatric Association (APA), which categorized homosexuality as a mental illness and often resulted in job loss, loss of custody, and other serious personal consequences. By 1974, the APA had ceased to classify homosexuality as a form of mental illness but continued to consider it a "sexual orientation disturbance." Nevertheless, in 1974, Kathy Kozachenko became the first openly lesbian woman voted into office in Ann Arbor, Michigan. In 1977, Harvey Milk became California's first openly gay man elected to public office, although his service on San Francisco's board of supervisors, along with that of San Francisco mayor George Moscone, was cut short by the bullet of disgruntled former city supervisor Dan White.
Maybe not now
The feminist push for greater rights continued through the 1970s ( [link] ). The media often ridiculed feminists as "women's libbers" and focused on more radical organizations like W.I.T.C.H. (Women's International Terrorist Conspiracy from Hell), a loose association of activist groups. Many reporters stressed the most unusual goals of the most radical women—calls for the abolition of marriage and demands that manholes be renamed "personholes."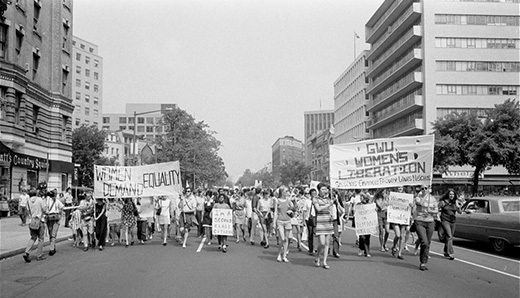 The majority of feminists, however, sought meaningful accomplishments. In the 1970s, they opened battered women's shelters and successfully fought for protection from employment discrimination for pregnant women, reform of rape laws (such as the abolition of laws requiring a witness to corroborate a woman's report of rape), criminalization of domestic violence, and funding for schools that sought to counter sexist stereotypes of women. In 1973, the U.S. Supreme Court in Roe v. Wade affirmed a number of state laws under which abortions obtained during the first three months of pregnancy were legal. This made a nontherapeutic abortion a legal medical procedure nationwide.
Many advances in women's rights were the result of women's greater engagement in politics. For example, Patsy Mink, the first Asian American woman elected to Congress, was the co-author of the Education Amendments Act of 1972, Title IX of which prohibits sex discrimination in education. Mink had been interested in fighting discrimination in education since her youth, when she opposed racial segregation in campus housing while a student at the University of Nebraska. She went to law school after being denied admission to medical school because of her gender. Like Mink, many other women sought and won political office, many with the help of the National Women's Political Caucus (NWPC). In 1971, the NWPC was formed by Bella Abzug, Gloria Steinem, Shirley Chisholm, and other leading feminists to encourage women's participation in political parties, elect women to office, and raise money for their campaigns ( [link] ).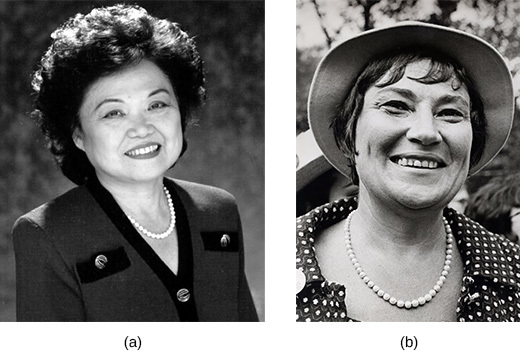 The ultimate political goal of the National Organization for Women (NOW) was the passage of an Equal Rights Amendment (ERA). The amendment passed Congress in March 1972, and was sent to the states for ratification with a deadline of seven years for passage; if the amendment was not ratified by thirty-eight states by 1979, it would die. Twenty-two states ratified the ERA in 1972, and eight more in 1973. In the next two years, only four states voted for the amendment. In 1979, still four votes short, the amendment received a brief reprieve when Congress agreed to a three-year extension, but it never passed, as the result of the well-organized opposition of Christian and other socially conservative, grassroots organizations.
Section summary
In the late 1960s and 1970s, Indians, gays and lesbians, and women organized to change discriminatory laws and pursue government support for their interests, a strategy known as identity politics. Others, disenchanted with the status quo, distanced themselves from white, middle-class America by forming their own countercultures centered on a desire for peace, the rejection of material goods and traditional morality, concern for the environment, and drug use in pursuit of spiritual revelations. These groups, whose aims and tactics posed a challenge to the existing state of affairs, often met with hostility from individuals, local officials, and the U.S. government alike. Still, they persisted, determined to further their goals and secure for themselves the rights and privileges to which they were entitled as American citizens.