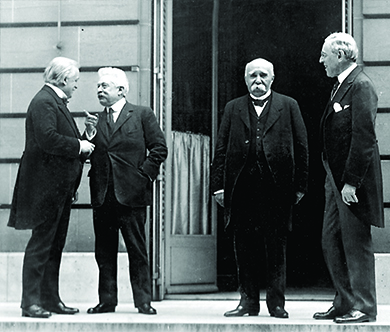 In the end, the Treaty of Versailles that officially concluded World War I resembled little of Wilson's original Fourteen Points. The Japanese, French, and British succeeded in carving up many of Germany's colonial holdings in Africa and Asia. The dissolution of the Ottoman Empire created new nations under the quasi-colonial rule of France and Great Britain, such as Iraq and Palestine. France gained much of the disputed territory along their border with Germany, as well as passage of a "war guilt clause" that demanded Germany take public responsibility for starting and prosecuting the war that led to so much death and destruction. Great Britain led the charge that resulted in Germany agreeing to pay reparations in excess of $33 billion to the Allies. As for Bolshevik Russia, Wilson had agreed to send American troops to their northern region to protect Allied supplies and holdings there, while also participating in an economic blockade designed to undermine Lenin's power. This move would ultimately have the opposite effect of galvanizing popular support for the Bolsheviks.
The sole piece of the original Fourteen Points that Wilson successfully fought to keep intact was the creation of a League of Nations. At a covenant agreed to at the conference, all member nations in the League would agree to defend all other member nations against military threats. Known as Article X, this agreement would basically render each nation equal in terms of power, as no member nation would be able to use its military might against a weaker member nation. Ironically, this article would prove to be the undoing of Wilson's dream of a new world order.
Ratification of the treaty of versailles
Although the other nations agreed to the final terms of the Treaty of Versailles, Wilson's greatest battle lay in the ratification debate that awaited him upon his return. As with all treaties, this one would require two-thirds approval by the U.S. Senate for final ratification, something Wilson knew would be difficult to achieve. Even before Wilson's return to Washington, Senator Henry Cabot Lodge, chairman of the Senate Foreign Relations Committee that oversaw ratification proceedings, issued a list of fourteen reservations he had regarding the treaty, most of which centered on the creation of a League of Nations. An isolationist in foreign policy issues, Cabot feared that Article X would require extensive American intervention, as more countries would seek her protection in all controversial affairs. But on the other side of the political spectrum, interventionists argued that Article X would impede the United States from using her rightfully attained military power to secure and protect America's international interests.
Wilson's greatest fight was with the Senate, where most Republicans opposed the treaty due to the clauses surrounding the creation of the League of Nations. Some Republicans, known as Irreconcilables , opposed the treaty on all grounds, whereas others, called Reservationists , would support the treaty if sufficient amendments were introduced that could eliminate Article X. In an effort to turn public support into a weapon against those in opposition, Wilson embarked on a cross-country railway speaking tour. He began travelling in September 1919, and the grueling pace, after the stress of the six months in Paris, proved too much. Wilson fainted following a public event on September 25, 1919, and immediately returned to Washington. There he suffered a debilitating stroke, leaving his second wife Edith Wilson in charge as de facto president for a period of about six months.
Frustrated that his dream of a new world order was slipping away—a frustration that was compounded by the fact that, now an invalid, he was unable to speak his own thoughts coherently—Wilson urged Democrats in the Senate to reject any effort to compromise on the treaty. As a result, Congress voted on, and defeated, the originally worded treaty in November. When the treaty was introduced with "reservations," or amendments, in March 1920, it again fell short of the necessary margin for ratification. As a result, the United States never became an official signatory of the Treaty of Versailles. Nor did the country join the League of Nations, which shattered the international authority and significance of the organization. Although Wilson received the Nobel Peace Prize in October 1919 for his efforts to create a model of world peace, he remained personally embarrassed and angry at his country's refusal to be a part of that model. As a result of its rejection of the treaty, the United States technically remained at war with Germany until July 21, 1921, when it formally came to a close with Congress's quiet passage of the Knox-Porter Resolution.
Read about the Treaty of Versailles here, particularly how it sowed the seeds for Hitler's rise to power and World War II.
Section summary
American involvement in World War I came late. Compared to the incredible carnage endured by Europe, the United States' battles were brief and successful, although the appalling fighting conditions and significant casualties made it feel otherwise to Americans, both at war and at home. For Wilson, victory in the fields of France was not followed by triumphs in Versailles or Washington, DC, where his vision of a new world order was summarily rejected by his allied counterparts and then by the U.S. Congress. Wilson had hoped that America's political influence could steer the world to a place of more open and tempered international negotiations. His influence did lead to the creation of the League of Nations, but concerns at home impeded the process so completely that the United States never signed the treaty that Wilson worked so hard to create.