By the end of this section, you will be able to:
Explain political partisanship, antigovernment movements, and economic developments during the Clinton administration
Discuss President Clinton's foreign policy
Explain how George W. Bush won the election of 2000
By 1992, many had come to doubt that President George H. W. Bush could solve America's problems. He had alienated conservative Republicans by breaking his pledge not to raise taxes, and some faulted him for failing to remove Saddam Hussein from power during Operation Desert Storm. Furthermore, despite living much of his adult life in Texas, he could not overcome the stereotypes associated with his privileged New England and Ivy League background, which hurt him among working-class Reagan Democrats.
The road to the white house
The contrast between George H. W. Bush and William Jefferson Clinton could not have been greater. Bill Clinton was a baby boomer born in 1946 in Hope, Arkansas. His biological father died in a car wreck three months before he was born. When he was a boy, his mother married Roger Clinton, an alcoholic who abused his family. However, despite a troubled home life, Clinton was an excellent student. He took an interest in politics from an early age. On a high school trip to Washington, DC, he met his political idol, President John F. Kennedy. As a student at Georgetown University, he supported both the civil rights and antiwar movements and ran for student council president ( [link] ).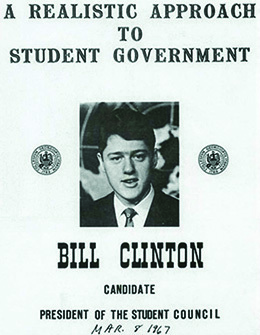 In 1968, Clinton received a prestigious Rhodes scholarship to Oxford University. From Oxford he moved on to Yale, where he earned his law degree in 1973. He returned to Arkansas and became a professor at the University of Arkansas's law school. The following year, he tried his hand at state politics, running for Congress, and was narrowly defeated. In 1977, he became attorney general of Arkansas and was elected governor in 1978. Losing the office to his Republican opponent in 1980, he retook the governor's mansion in 1982 and remained governor of Arkansas until 1992, when he announced his candidacy for president.
During his campaign, Bill Clinton described himself as a New Democrat, a member of a faction of the Democratic Party that, like the Republicans, favored free trade and deregulation. He tried to appeal to the middle class by promising higher taxes on the rich and reform of the welfare system. Although Clinton garnered only 43 percent of the popular vote, he easily won in the Electoral College with 370 votes to President Bush's 188. Texas billionaire H. Ross Perot won 19 percent of the popular vote, the best showing by any third-party candidate since 1912. The Democrats took control of both houses of Congress.
"it's the economy, stupid"
Clinton took office towards the end of a recession. His administration's plans for fixing the economy included limiting spending and cutting the budget to reduce the nation's $60 billion deficit, keeping interest rates low to encourage private investment, and eliminating protectionist tariffs. Clinton also hoped to improve employment opportunities by allocating more money for education. In his first term, he expanded the Earned Income Tax Credit, which lowered the tax obligations of working families who were just above the poverty line. Addressing the budget deficit, the Democrats in Congress passed the Omnibus Budget Reconciliation Act of 1993 without a single Republican vote. The act raised taxes for the top 1.2 percent of the American people, lowered them for fifteen million low-income families, and offered tax breaks to 90 percent of small businesses.