The schools that the Freedmen's Bureau and the AMA established inspired great dismay and resentment among the white populations in the South and were sometimes targets of violence. Indeed, the Freedmen's Bureau's programs and its very existence were sources of controversy. Racists and others who resisted this type of federal government activism denounced it as both a waste of federal money and a foolish effort that encouraged laziness among blacks. Congress renewed the bureau's charter in 1866, but President Johnson, who steadfastly believed that the work of restoring the Union had been completed, vetoed the re-chartering. Radical Republicans continued to support the bureau, igniting a contest between Congress and the president that intensified during the next several years. Part of this dispute involved conflicting visions of the proper role of the federal government. Radical Republicans believed in the constructive power of the federal government to ensure a better day for freed people. Others, including Johnson, denied that the government had any such role to play.
The freedmen's bureau
The image below ( [link] ) shows a campaign poster for Hiester Clymer, who ran for governor of Pennsylvania in 1866 on a platform of white supremacy.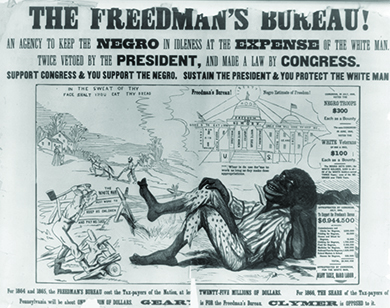 The image in the foreground shows an indolent black man wondering, "Whar is de use for me to work as long as dey make dese appropriations." White men toil in the background, chopping wood and plowing a field. The text above them reads, "In the sweat of thy face shall thou eat bread. . . . The white man must work to keep his children and pay his taxes." In the middle background, the Freedmen's Bureau looks like the Capitol, and the pillars are inscribed with racist assumptions of things blacks value, like "rum," "idleness," and "white women." On the right are estimates of the costs of the Freedmen's Bureau and the bounties (fees for enlistment) given to both white and black Union soldiers.
What does this poster indicate about the political climate of the Reconstruction era? How might different people have received this image?
In 1865 and 1866, as Johnson announced the end of Reconstruction, southern states began to pass a series of discriminatory state laws collectively known as black codes . While the laws varied in both content and severity from state to state, the goal of the laws remained largely consistent. In effect, these codes were designed to maintain the social and economic structure of racial slavery in the absence of slavery itself. The laws codified white supremacy by restricting the civic participation of freed slaves—depriving them of the right to vote, the right to serve on juries, the right to own or carry weapons, and, in some cases, even the right to rent or lease land.