In the Battle of Little Bighorn, perhaps the most famous battle of the American West, a Sioux chieftain, Sitting Bull, urged Indians from all neighboring tribes to join his men in defense of their lands ( [link] ). At the Little Bighorn River, the U.S. Army's Seventh Cavalry, led by Colonel George Custer, sought a showdown. Driven by his own personal ambition, on June 25, 1876, Custer foolishly attacked what he thought was a minor Indian encampment. Instead, it turned out to be the main Sioux force. The Sioux warriors—nearly three thousand in strength—surrounded and killed Custer and 262 of his men and support units, in the single greatest loss of U.S. troops to an Indian attack in the era of westward expansion. Eyewitness reports of the attack indicated that the victorious Sioux bathed and wrapped Custer's body in the tradition of a chieftain burial; however, they dismembered many other soldiers' corpses in order for a few distant observers from Major Marcus Reno's wounded troops and Captain Frederick Benteen's company to report back to government officials about the ferocity of the Sioux enemy.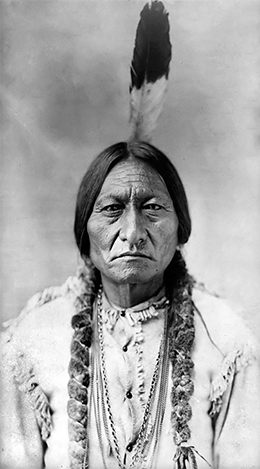 American indian submission
Despite their success at Little Bighorn, neither the Sioux nor any other Plains tribe followed this battle with any other armed encounter. Rather, they either returned to tribal life or fled out of fear of remaining troops, until the U.S. Army arrived in greater numbers and began to exterminate Indian encampments and force others to accept payment for forcible removal from their lands. Sitting Bull himself fled to Canada, although he later returned in 1881 and subsequently worked in Buffalo Bill's Wild West show. In Montana, the Blackfoot and Crow were forced to leave their tribal lands. In Colorado, the Utes gave up their lands after a brief period of resistance. In Idaho, most of the Nez Perce gave up their lands peacefully, although in an incredible episode, a band of some eight hundred Indians sought to evade U.S. troops and escape into Canada.
I will fight no more: chief joseph's capitulation
Chief Joseph, known to his people as "Thunder Traveling to the Loftier Mountain Heights," was the chief of the Nez Perce tribe, and he had realized that they could not win against the whites. In order to avoid a war that would undoubtedly lead to the extermination of his people, he hoped to lead his tribe to Canada, where they could live freely. He led a full retreat of his people over fifteen hundred miles of mountains and harsh terrain, only to be caught within fifty miles of the Canadian border in late 1877. His speech has remained a poignant and vivid reminder of what the tribe had lost.
Tell General Howard I know his heart. What he told me before, I have it in my heart. I am tired of fighting. Our Chiefs are killed; Looking Glass is dead, Ta Hool Hool Shute is dead. The old men are all dead. It is the young men who say yes or no. He who led on the young men is dead. It is cold, and we have no blankets; the little children are freezing to death. My people, some of them, have run away to the hills, and have no blankets, no food. No one knows where they are—perhaps freezing to death. I want to have time to look for my children, and see how many of them I can find. Maybe I shall find them among the dead. Hear me, my Chiefs! I am tired; my heart is sick and sad. From where the sun now stands I will fight no more forever.
—Chief Joseph, 1877