The outbreak of fighting
Throughout late 1774 and into 1775, tensions in New England continued to mount. General Gage knew that a powder magazine was stored in Concord, Massachusetts, and on April 19, 1775, he ordered troops to seize these munitions. Instructions from London called for the arrest of rebel leaders Samuel Adams and John Hancock. Hoping for secrecy, his troops left Boston under cover of darkness, but riders from Boston let the militias know of the British plans. (Paul Revere was one of these riders, but the British captured him and he never finished his ride. Henry Wadsworth Longfellow memorialized Revere in his 1860 poem, "Paul Revere's Ride," incorrectly implying that he made it all the way to Concord.) Minutemen met the British troops and skirmished with them, first at Lexington and then at Concord ( [link] ). The British retreated to Boston, enduring ambushes from several other militias along the way. Over four thousand militiamen took part in these skirmishes with British soldiers. Seventy-three British soldiers and forty-nine Patriots died during the British retreat to Boston. The famous confrontation is the basis for Emerson's "Concord Hymn" (1836), which begins with the description of the "shot heard round the world." Although propagandists on both sides pointed fingers, it remains unclear who fired that shot.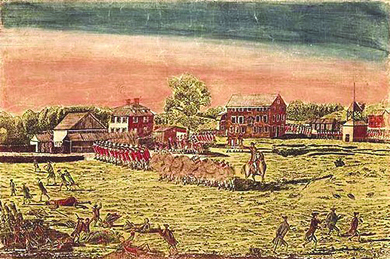 After the battles of Lexington and Concord, New England fully mobilized for war. Thousands of militias from towns throughout New England marched to Boston, and soon the city was besieged by a sea of rebel forces ( [link] ). In May 1775, Ethan Allen and Colonel Benedict Arnold led a group of rebels against Fort Ticonderoga in New York. They succeeded in capturing the fort, and cannons from Ticonderoga were brought to Massachusetts and used to bolster the Siege of Boston.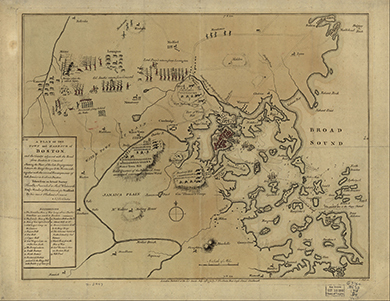 In June, General Gage resolved to take Breed's Hill and Bunker Hill , the high ground across the Charles River from Boston, a strategic site that gave the rebel militias an advantage since they could train their cannons on the British. In the Battle of Bunker Hill ( [link] ), on June 17, the British launched three assaults on the hills, gaining control only after the rebels ran out of ammunition. British losses were very high—over two hundred were killed and eight hundred wounded—and, despite his victory, General Gage was unable to break the colonial forces' siege of the city. In August, King George III declared the colonies to be in a state of rebellion. Parliament and many in Great Britain agreed with their king. Meanwhile, the British forces in Boston found themselves in a terrible predicament, isolated in the city and with no control over the countryside.