Joining the boycott
Many British colonists in Virginia, as in the other colonies, disapproved of the destruction of the tea in Boston Harbor. However, after the passage of the Coercive Acts, the Virginia House of Burgesses declared its solidarity with Massachusetts by encouraging Virginians to observe a day of fasting and prayer on May 24 in sympathy with the people of Boston. Almost immediately thereafter, Virginia's colonial governor dissolved the House of Burgesses, but many of its members met again in secret on May 30 and adopted a resolution stating that "the Colony of Virginia will concur with the other Colonies in such Measures as shall be judged most effectual for the preservation of the Common Rights and Liberty of British America."
After the First Continental Congress in Philadelphia, Virginia's Committee of Safety ensured that all merchants signed the non-importation agreements that the Congress had proposed. This British cartoon ( [link] ) shows a Virginian signing the Continental Association boycott agreement.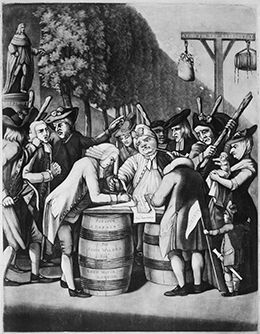 Note the tar and feathers hanging from the gallows in the background of this image and the demeanor of the people surrounding the signer. What is the message of this engraving? Where are the sympathies of the artist? What is the meaning of the title "The Alternative of Williams-Burg?"
In an effort to restore law and order in Boston, the British dispatched General Thomas Gage to the New England seaport. He arrived in Boston in May 1774 as the new royal governor of the Province of Massachusetts, accompanied by several regiments of British troops. As in 1768, the British again occupied the town. Massachusetts delegates met in a Provincial Congress and published the Suffolk Resolves, which officially rejected the Coercive Acts and called for the raising of colonial militias to take military action if needed. The Suffolk Resolves signaled the overthrow of the royal government in Massachusetts.
Both the British and the rebels in New England began to prepare for conflict by turning their attention to supplies of weapons and gunpowder. General Gage stationed thirty-five hundred troops in Boston, and from there he ordered periodic raids on towns where guns and gunpowder were stockpiled, hoping to impose law and order by seizing them. As Boston became the headquarters of British military operations, many residents fled the city.
Gage's actions led to the formation of local rebel militias that were able to mobilize in a minute's time. These minutemen , many of whom were veterans of the French and Indian War, played an important role in the war for independence. In one instance, General Gage seized munitions in Cambridge and Charlestown, but when he arrived to do the same in Salem, his troops were met by a large crowd of minutemen and had to leave empty-handed. In New Hampshire, minutemen took over Fort William and Mary and confiscated weapons and cannons there. New England readied for war.