By the end of this section, you will be able to:
Analyze the causes and consequences of the Restoration
Identify the Restoration colonies and their role in the expansion of the Empire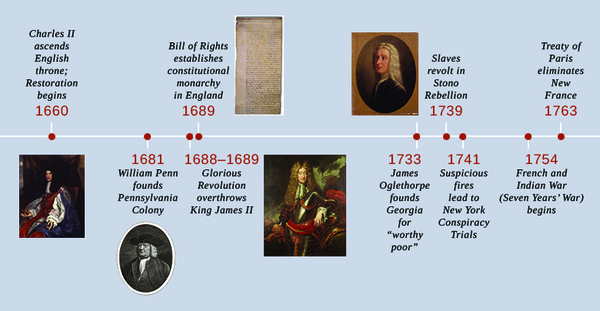 When Charles II ascended the throne in 1660, English subjects on both sides of the Atlantic celebrated the restoration of the English monarchy after a decade of living without a king as a result of the English Civil Wars. Charles II lost little time in strengthening England's global power. From the 1660s to the 1680s, Charles II added more possessions to England's North American holdings by establishing the Restoration colonies of New York and New Jersey (taking these areas from the Dutch) as well as Pennsylvania and the Carolinas. In order to reap the greatest economic benefit from England's overseas possessions, Charles II enacted the mercantilist Navigation Acts, although many colonial merchants ignored them because enforcement remained lax.
Charles ii
The chronicle of Charles II begins with his father, Charles I. Charles I ascended the English throne in 1625 and soon married a French Catholic princess, Henrietta Maria, who was not well liked by English Protestants because she openly practiced Catholicism during her husband's reign. The most outspoken Protestants, the Puritans, had a strong voice in Parliament in the 1620s, and they strongly opposed the king's marriage and his ties to Catholicism. When Parliament tried to contest his edicts, including the king's efforts to impose taxes without Parliament's consent, Charles I suspended Parliament in 1629 and ruled without one for the next eleven years.
The ensuing struggle between the king and Parliament led to the outbreak of war. The English Civil War lasted from 1642 to 1649 and pitted the king and his Royalist supporters against Oliver Cromwell and his Parliamentary forces. After years of fighting, the Parliamentary forces gained the upper hand, and in 1649, they charged Charles I with treason and beheaded him. The monarchy was dissolved, and England became a republic: a state without a king. Oliver Cromwell headed the new English Commonwealth, and the period known as the English interregnum , or the time between kings, began.
Though Cromwell enjoyed widespread popularity at first, over time he appeared to many in England to be taking on the powers of a military dictator. Dissatisfaction with Cromwell grew. When he died in 1658 and control passed to his son Richard, who lacked the political skills of his father, a majority of the English people feared an alternate hereditary monarchy in the making. They had had enough and asked Charles II to be king. In 1660, they welcomed the son of the executed king Charles I back to the throne to resume the English monarchy and bring the interregnum to an end ( [link] ). The return of Charles II is known as the Restoration.