By the end of this section, you will be able to:
Explain why Gerald Ford lost the election of 1976
Describe Jimmy Carter's domestic and foreign policy achievements
Discuss how the Iranian hostage crisis affected the Carter presidency
At his inauguration in January 1977, President Jimmy Carter began his speech by thanking outgoing president Gerald Ford for all he had done to "heal" the scars left by Watergate. American gratitude had not been great enough to return Ford to the Oval Office, but enthusiasm for the new president was not much greater in the new atmosphere of disillusionment with political leaders. Indeed, Carter won his party's nomination and the presidency largely because the Democratic leadership had been decimated by assassination and the taint of Vietnam, and he had carefully positioned himself as an outsider who could not be blamed for current policies. Ultimately, Carter's presidency proved a lackluster one that was marked by economic stagnation at home and humiliation overseas.
The election of 1976
President Ford won the Republican nomination for the presidency in 1976, narrowly defeating former California governor Ronald Reagan, but he lost the election to his Democratic opponent Jimmy Carter. Carter ran on an "anti-Washington" ticket, making a virtue of his lack of experience in what was increasingly seen as the corrupt politics of the nation's capital. Accepting his party's nomination, the former governor of Georgia pledged to combat racism and sexism as well as overhaul the tax structure. He openly proclaimed his faith as a born-again Christian and promised to change the welfare system and provide comprehensive healthcare coverage for neglected citizens who deserved compassion. Most importantly, Jimmy Carter promised that he would "never lie."
Ford's pardon of Richard Nixon had alienated many Republicans. That, combined with the stagnant economy, cost him votes, and Jimmy Carter, an engineer and former naval officer who portrayed himself as a humble peanut farmer, prevailed, carrying all the southern states, except Virginia and Oklahoma ( [link] ). Ford did well in the West, but Carter received 50 percent of the popular vote to Ford's 48 percent, and 297 electoral votes to Ford's 240.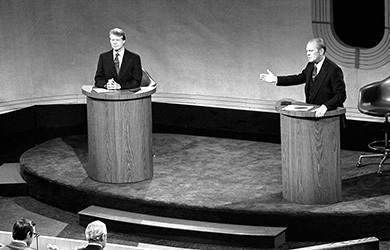 In the mid-1970s, the United States celebrated the two-hundredth anniversary of its independence from Great Britain. Peruse the collection of patriotic bicentennial memorabilia at the Gerald R. Ford Presidential Library.
On the inside
Making a virtue of his lack of political experience, especially in Washington, Jimmy Carter took office with less practical experience in executive leadership and the workings of the national government than any president since Calvin Coolidge. His first executive act was to fulfill a campaign pledge to grant unconditional amnesty to young men who had evaded the draft during the Vietnam War. Despite the early promise of his rhetoric, within a couple of years of his taking office, liberal Democrats claimed Carter was the most conservative Democratic president since Grover Cleveland.