By the end of this section, you will be able to:
Describe the events that fueled antiwar sentiment in the Vietnam era
Explain Nixon's steps to withdraw the United States from the conflict in South Vietnam
As early as 1967, critics of the war in Vietnam had begun to call for the repeal of the Gulf of Tonkin Resolution, which gave President Johnson the authority to conduct military operations in Vietnam in defense of an ally, South Vietnam. Nixon initially opposed the repeal efforts, claiming that doing so might have consequences that reached far beyond Vietnam. Nevertheless, by 1969, he was beginning troop withdrawals from Vietnam while simultaneously looking for a "knockout blow" against the North Vietnamese. In sum, the Nixon administration was in need of an exit strategy.
The escalation of the war, however, made an easy withdrawal increasingly difficult. Officially, the United States was the ally and partner of the South Vietnamese, whose "hearts and minds" it was trying to win through a combination of military assistance and economic development. In reality, however, U.S. soldiers, who found themselves fighting in an inhospitable environment thousands of miles from home to protect people who often resented their presence and aided their enemies, came to regard the Vietnamese as backward, cowardly people and the government of South Vietnam as hopelessly inefficient and corrupt. Instead of winning "hearts and minds," U.S. warfare in Vietnam cost the lives and limbs of U.S. troops and millions of Vietnamese combatants and civilians ( [link] ).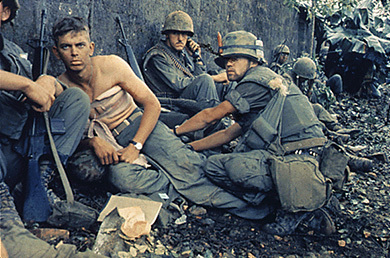 For their part, the North Vietnamese forces and the National Liberation Front in South Vietnam also used brutal tactics to terrorize and kill their opponents or effectively control their territory. Political assassinations and forced indoctrination were common. Captured U.S. soldiers frequently endured torture and imprisonment.
My lai
Racism on the part of some U.S. soldiers and a desire to retaliate against those they perceived to be responsible for harming U.S. troops affected the conduct of the war. A war correspondent who served in Vietnam noted, "In motivating the GI to fight by appealing to his racist feelings, the United States military discovered that it had liberated an emotion over which it was to lose control." It was not unusual for U.S. soldiers to evacuate and burn villages suspected of shielding Viet Cong fighters, both to deprive the enemy of potential support and to enact revenge for enemy brutality. Troops shot at farmers' water buffalo for target practice. American and South Vietnamese use of napalm, a jellied gasoline that sticks to the objects it burns, was common. Originally developed to burn down structures during World War II, in Vietnam, it was directed against human beings as well, as had occurred during the Korean War.