A more direct political threat to Roosevelt came from muckraker Upton Sinclair, who pursued the California governorship in 1934 through a campaign based upon criticism of the New Deal's shortcomings. In his "End Poverty in California" program, Sinclair called for a progressive income tax, a pension program for the elderly, and state seizure of factories and farms where property taxes remained unpaid. The state would then offer jobs to the unemployed to work those farms and factories in a cooperative mode. Although Sinclair lost the election to his Republican opponent, he did draw local and national attention to several of his ideas.
The biggest threat to the president, however, came from corrupt but beloved Louisiana senator Huey "Kingfish" Long ( [link] ). His disapproval of Roosevelt came in part from his own ambitions for higher office; Long stated that the president was not doing enough to help people and proposed his own Share Our Wealth program. Under this plan, Long recommended the liquidation of all large personal fortunes in order to fund direct payments to less fortunate Americans. He foresaw giving $5,000 to every family, $2,500 to every worker, as well as a series of elderly pensions and education funds. Despite his questionable math, which numerous economists quickly pointed out rendered his program unworkable, by 1935, Long had a significant following of over four million people. If he had not been assassinated by the son-in-law of a local political rival, he may well have been a contender against Roosevelt for the 1936 presidential nomination.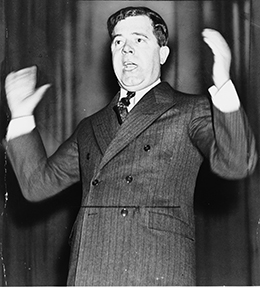 Answering the challenge
Roosevelt recognized that some of the criticisms of the New Deal were valid. Although he was still reeling from the Supreme Court's invalidation of key statutes, he decided to face his re-election bid in 1936 by unveiling another wave of legislation that he dubbed the Second New Deal. In the first week of June 1935, Roosevelt called congressional leaders into the White House and gave them a list of "must-pass" legislation that he wanted before they adjourned for the summer. Whereas the policies of the first hundred days may have shored up public confidence and stopped the most drastic of the problems, the second hundred days changed the face of America for the next sixty years.
The Banking Act of 1935 was the most far-reaching revision of banking laws since the creation of the Federal Reserve System in 1914. Previously, regional reserve banks, particularly the New York Reserve Bank—controlled by the powerful Morgan and Rockefeller families—had dominated policy-making at the Federal Reserve. Under the new system, there would be a seven-member board of governors to oversee regional banks. They would have control over reserve requirements, discount rates, board member selection, and more. Not surprisingly, this new board kept initial interest rates quite low, allowing the federal government to borrow billions of dollars of additional cash to fund major relief and recovery programs.