Intracity transportation
As cities grew and sprawled outward, a major challenge was efficient travel within the city—from home to factories or shops, and then back again. Most transportation infrastructure was used to connect cities to each other, typically by rail or canal. Prior to the 1880s, the most common form of transportation within cities was the omnibus. This was a large, horse-drawn carriage, often placed on iron or steel tracks to provide a smoother ride. While omnibuses worked adequately in smaller, less congested cities, they were not equipped to handle the larger crowds that developed at the close of the century. The horses had to stop and rest, and horse manure became an ongoing problem.
In 1887, Frank Sprague invented the electric trolley, which worked along the same concept as the omnibus, with a large wagon on tracks, but was powered by electricity rather than horses. The electric trolley could run throughout the day and night, like the factories and the workers who fueled them. But it also modernized less important industrial centers, such as the southern city of Richmond, Virginia. As early as 1873, San Francisco engineers adopted pulley technology from the mining industry to introduce cable cars and turn the city's steep hills into elegant middle-class communities. However, as crowds continued to grow in the largest cities, such as Chicago and New York, trolleys were unable to move efficiently through the crowds of pedestrians ( [link] ). To avoid this challenge, city planners elevated the trolley lines above the streets, creating elevated trains, or L-trains, as early as 1868 in New York City, and quickly spreading to Boston in 1887 and Chicago in 1892. Finally, as skyscrapers began to dominate the air, transportation evolved one step further to move underground as subways. Boston's subway system began operating in 1897, and was quickly followed by New York and other cities.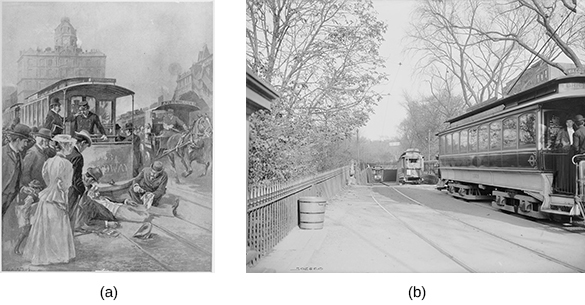 The rise of skyscrapers
The last limitation that large cities had to overcome was the ever-increasing need for space. Eastern cities, unlike their midwestern counterparts, could not continue to grow outward, as the land surrounding them was already settled. Geographic limitations such as rivers or the coast also hampered sprawl. And in all cities, citizens needed to be close enough to urban centers to conveniently access work, shops, and other core institutions of urban life. The increasing cost of real estate made upward growth attractive, and so did the prestige that towering buildings carried for the businesses that occupied them. Workers completed the first skyscraper in Chicago, the ten-story Home Insurance Building, in 1885 ( [link] ). Although engineers had the capability to go higher, thanks to new steel construction techniques, they required another vital invention in order to make taller buildings viable: the elevator. In 1889, the Otis Elevator Company, led by inventor James Otis, installed the first electric elevator. This began the skyscraper craze, allowing developers in eastern cities to build and market prestigious real estate in the hearts of crowded eastern metropoles.