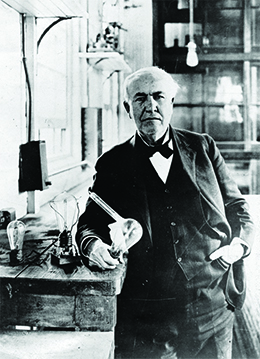 In 1879, Edison invented the item that has led to his greatest fame: the incandescent light bulb. He allegedly explored over six thousand different materials for the filament, before stumbling upon tungsten as the ideal substance. By 1882, with financial backing largely from financier J. P. Morgan, he had created the Edison Electric Illuminating Company, which began supplying electrical current to a small number of customers in New York City. Morgan guided subsequent mergers of Edison's other enterprises, including a machine works firm and a lamp company, resulting in the creation of the Edison General Electric Company in 1889.
The next stage of invention in electric power came about with the contribution of George Westinghouse. Westinghouse was responsible for making electric lighting possible on a national scale. While Edison used "direct current" or DC power, which could only extend two miles from the power source, in 1886, Westinghouse invented "alternating current" or AC power, which allowed for delivery over greater distances due to its wavelike patterns. The Westinghouse Electric Company delivered AC power, which meant that factories, homes, and farms—in short, anything that needed power—could be served, regardless of their proximity to the power source. A public relations battle ensued between the Westinghouse and Edison camps, coinciding with the invention of the electric chair as a form of prisoner execution. Edison publicly proclaimed AC power to be best adapted for use in the chair, in the hope that such a smear campaign would result in homeowners becoming reluctant to use AC power in their houses. Although Edison originally fought the use of AC power in other devices, he reluctantly adapted to it as its popularity increased.
Not all of Edison's ventures were successful. Read about Edison's Folly to learn the story behind his greatest failure. Was there some benefit to his efforts? Or was it wasted time and money?
Section summary
Inventors in the late nineteenth century flooded the market with new technological advances. Encouraged by Great Britain's Industrial Revolution, and eager for economic development in the wake of the Civil War, business investors sought the latest ideas upon which they could capitalize, both to transform the nation as well as to make a personal profit. These inventions were a key piece of the massive shift towards industrialization that followed. For both families and businesses, these inventions eventually represented a fundamental change in their way of life. Although the technology spread slowly, it did spread across the country. Whether it was a company that could now produce ten times more products with new factories, or a household that could communicate with distant relations, the old way of doing things was disappearing.
Communication technologies, electric power production, and steel production were perhaps the three most significant developments of the time. While the first two affected both personal lives and business development, the latter influenced business growth first and foremost, as the ability to produce large steel elements efficiently and cost-effectively led to permanently changes in the direction of industrial growth.