One of the greatest advancements was the telephone, which Alexander Graham Bell patented in 1876 ( [link] ). While he was not the first to invent the concept, Bell was the first one to capitalize on it; after securing the patent, he worked with financiers and businessmen to create the National Bell Telephone Company. Western Union, which had originally turned down Bell's machine, went on to commission Thomas Edison to invent an improved version of the telephone. It is actually Edison's version that is most like the modern telephone used today. However, Western Union, fearing a costly legal battle they were likely to lose due to Bell's patent, ultimately sold Edison's idea to the Bell Company. With the communications industry now largely in their control, along with an agreement from the federal government to permit such control, the Bell Company was transformed into the American Telephone and Telegraph Company, which still exists today as AT&T. By 1880, fifty thousand telephones were in use in the United States, including one at the White House. By 1900, that number had increased to 1.35 million, and hundreds of American cities had obtained local service for their citizens. Quickly and inexorably, technology was bringing the country into closer contact, changing forever the rural isolation that had defined America since its beginnings.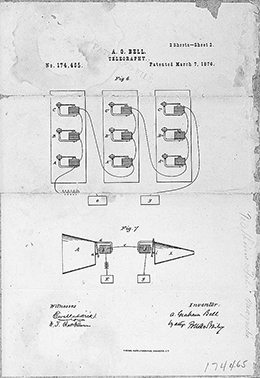 Visit the Library of Congress to examine the controversy over the invention of the telephone. While Alexander Graham Bell is credited with the invention, several other inventors played a role in its development; however, Bell was the first to patent the device.
Thomas edison and electric lighting
Although Thomas Alva Edison ( [link] ) is best known for his contributions to the electrical industry, his experimentation went far beyond the light bulb. Edison was quite possibly the greatest inventor of the turn of the century, saying famously that he "hoped to have a minor invention every ten days and a big thing every month or so." He registered 1,093 patents over his lifetime and ran a world-famous laboratory, Menlo Park, which housed a rotating group of up to twenty-five scientists from around the globe.
Edison became interested in the telegraph industry as a boy, when he worked aboard trains selling candy and newspapers. He soon began tinkering with telegraph technology and, by 1876, had devoted himself full time to lab work as an inventor. He then proceeded to invent a string of items that are still used today: the phonograph, the mimeograph machine, the motion picture projector, the dictaphone, and the storage battery, all using a factory-oriented assembly line process that made the rapid production of inventions possible.