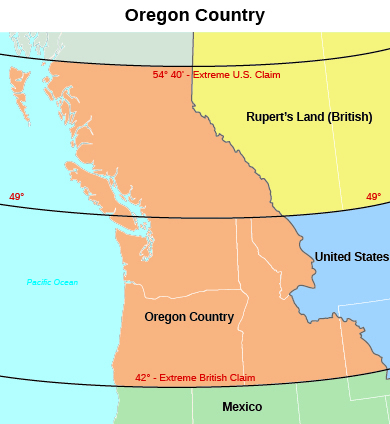 In contrast to the diplomatic solution with Great Britain over Oregon, when it came to Mexico, Polk and the American people proved willing to use force to wrest more land for the United States. In keeping with voters' expectations, President Polk set his sights on the Mexican state of California. After the mistaken capture of Monterey, negotiations about purchasing the port of San Francisco from Mexico broke off until September 1845. Then, following a revolt in California that left it divided in two, Polk attempted to purchase Upper California and New Mexico as well. These efforts went nowhere. The Mexican government, angered by U.S. actions, refused to recognize the independence of Texas.
Finally, after nearly a decade of public clamoring for the annexation of Texas, in December 1845 Polk officially agreed to the annexation of the former Mexican state, making the Lone Star Republic an additional slave state. Incensed that the United States had annexed Texas, however, the Mexican government refused to discuss the matter of selling land to the United States. Indeed, Mexico refused even to acknowledge Polk's emissary, John Slidell, who had been sent to Mexico City to negotiate. Not to be deterred, Polk encouraged Thomas O. Larkin, the U.S. consul in Monterey, to assist any American settlers and any Californios , the Mexican residents of the state, who wished to proclaim their independence from Mexico. By the end of 1845, having broken diplomatic ties with the United States over Texas and having grown alarmed by American actions in California, the Mexican government warily anticipated the next move. It did not have long to wait.
War with mexico, 1846–1848
Expansionistic fervor propelled the United States to war against Mexico in 1846. The United States had long argued that the Rio Grande was the border between Mexico and the United States, and at the end of the Texas war for independence Santa Anna had been pressured to agree. Mexico, however, refused to be bound by Santa Anna's promises and insisted the border lay farther north, at the Nueces River ( [link] ). To set it at the Rio Grande would, in effect, allow the United States to control land it had never occupied. In Mexico's eyes, therefore, President Polk violated its sovereign territory when he ordered U.S. troops into the disputed lands in 1846. From the Mexican perspective, it appeared the United States had invaded their nation.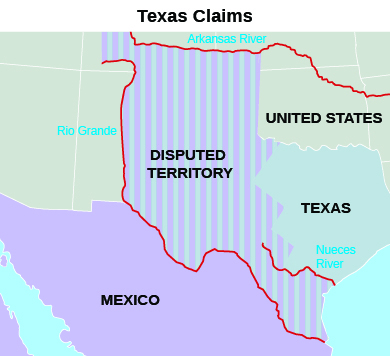 In January 1846, the U.S. force that was ordered to the banks of the Rio Grande to build a fort on the "American" side encountered a Mexican cavalry unit on patrol. Shots rang out, and sixteen U.S. soldiers were killed or wounded. Angrily declaring that Mexico "has invaded our territory and shed American blood upon American soil," President Polk demanded the United States declare war on Mexico. On May 12, Congress obliged.