By the end of this section, you will be able to:
Describe the key points of the election of 1828
Explain the scandals of Andrew Jackson's first term in office
A turning point in American political history occurred in 1828, which witnessed the election of Andrew Jackson over the incumbent John Quincy Adams. While democratic practices had been in ascendance since 1800, the year also saw the further unfolding of a democratic spirit in the United States. Supporters of Jackson called themselves Democrats or the Democracy, giving birth to the Democratic Party. Political authority appeared to rest with the majority as never before.
The campaign and election of 1828
During the 1800s, democratic reforms made steady progress with the abolition of property qualifications for voting and the birth of new forms of political party organization. The 1828 campaign pushed new democratic practices even further and highlighted the difference between the Jacksonian expanded electorate and the older, exclusive Adams style. A slogan of the day, "Adams who can write/Jackson who can fight," captured the contrast between Adams the aristocrat and Jackson the frontiersman.
The 1828 campaign differed significantly from earlier presidential contests because of the party organization that promoted Andrew Jackson. Jackson and his supporters reminded voters of the "corrupt bargain" of 1824. They framed it as the work of a small group of political elites deciding who would lead the nation, acting in a self-serving manner and ignoring the will of the majority ( [link] ). From Nashville, Tennessee, the Jackson campaign organized supporters around the nation through editorials in partisan newspapers and other publications. Pro-Jackson newspapers heralded the "hero of New Orleans" while denouncing Adams. Though he did not wage an election campaign filled with public appearances, Jackson did give one major campaign speech in New Orleans on January 8, the anniversary of the defeat of the British in 1815. He also engaged in rounds of discussion with politicians who came to his home, the Hermitage, in Nashville.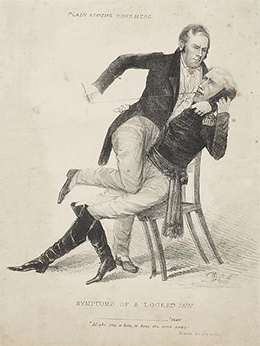 At the local level, Jackson's supporters worked to bring in as many new voters as possible. Rallies, parades, and other rituals further broadcast the message that Jackson stood for the common man against the corrupt elite backing Adams and Clay. Democratic organizations called Hickory Clubs, a tribute to Jackson's nickname, Old Hickory, also worked tirelessly to ensure his election.
In November 1828, Jackson won an overwhelming victory over Adams, capturing 56 percent of the popular vote and 68 percent of the electoral vote. As in 1800, when Jefferson had won over the Federalist incumbent John Adams, the presidency passed to a new political party, the Democrats. The election was the climax of several decades of expanding democracy in the United States and the end of the older politics of deference.