The implications of polarization
The past thirty years have brought a dramatic change in the relationship between the two parties as fewer conservative Democrats and liberal Republicans have been elected to office. As political moderate s , or individuals with ideologies in the middle of the ideological spectrum, leave the political parties at all levels, the parties have grown farther apart ideologically, a result called party polarization . In other words, at least organizationally and in government, Republicans and Democrats have become increasingly dissimilar from one another ( [link] ). In the party-in-government, this means fewer members of Congress have mixed voting records; instead they vote far more consistently on issues and are far more likely to side with their party leadership.

Drew Desilver, "The Polarized Congress of Today Has Its Roots in the 1970s," 12 June 2014, http://www.pewresearch.org/fact-tank/2014/06/12/polarized-politics-in-congress-began-in-the-1970s-and-has-been-getting-worse-ever-since/ (March 16, 2016).

It also means a growing number of moderate voters aren't participating in party politics. Either they are becoming independents, or they are participating only in the general election and are therefore not helping select party candidates in primaries.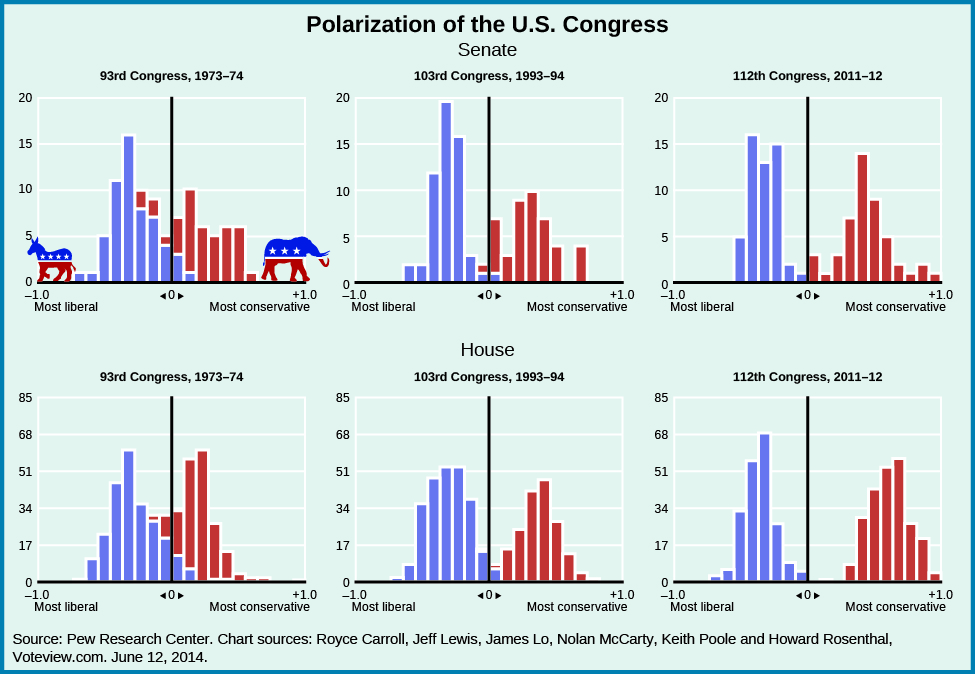 What is most interesting about this shift to increasingly polarized parties is that it does not appear to have happened as a result of the structural reforms recommended by APSA. Rather, it has happened because moderate politicians have simply found it harder and harder to win elections. There are many conflicting theories about the causes of polarization, some of which we discuss below. But whatever its origin, party polarization in the United States does not appear to have had the net positive effects that the APSA committee was hoping for. With the exception of providing voters with more distinct choices, positives of polarization are hard to find. The negative impacts are many. For one thing, rather than reducing interparty conflict, polarization appears to have only amplified it. For example, the Republican Party (or the GOP, standing for Grand Old Party) has historically been a coalition of two key and overlapping factions: pro-business rightists and social conservatives. The GOP has held the coalition of these two groups together by opposing programs designed to redistribute wealth (and advocating small government) while at the same time arguing for laws preferred by conservative Christians. But it was also willing to compromise with pro-business Democrats, often at the expense of social issues, if it meant protecting long-term business interests.

Recently, however, a new voice has emerged that has allied itself with the Republican Party. Born in part from an older third-party movement known as the Libertarian Party, the Tea Party is more hostile to government and views government intervention in all forms, and especially taxation and the regulation of business, as a threat to capitalism and democracy. It is less willing to tolerate interventions in the market place, even when they are designed to protect the markets themselves. Although an anti-tax faction within the Republican Party has existed for some time, some factions of the Tea Party movement are also active at the intersection of religious liberty and social issues, especially in opposing such initiatives as same-sex marriage and abortion rights.

"The Tea Party and Religion," 23 February 2011, http://www.pewforum.org/2011/02/23/tea-party-and-religion/ (March 16, 2016).

The Tea Party has argued that government, both directly and by neglect, is threatening the ability of evangelicals to observe their moral obligations, including practices some perceive as endorsing social exclusion.