The governmental design of the United States is unusual; most countries do not have a federal structure. Aside from the United States, how many other countries have a federal system?
Division of power can also occur via a unitary structure or confederation ( [link] ). In contrast to federalism, a unitary system makes subnational governments dependent on the national government, where significant authority is concentrated. Before the late 1990s, the United Kingdom's unitary system was centralized to the extent that the national government held the most important levers of power. Since then, power has been gradually decentralized through a process of devolution , leading to the creation of regional governments in Scotland, Wales, and Northern Ireland as well as the delegation of specific responsibilities to them. Other democratic countries with unitary systems, such as France, Japan, and Sweden, have followed a similar path of decentralization.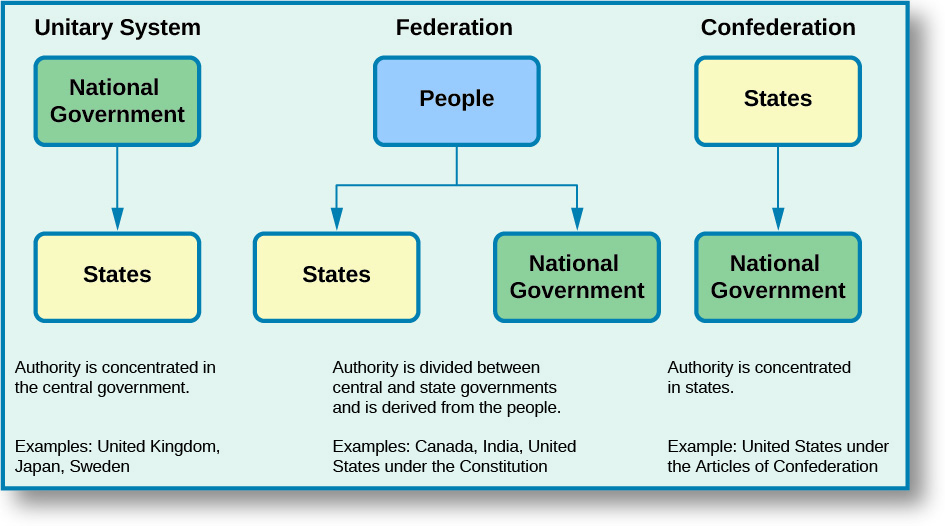 In a confederation, authority is decentralized, and the central government's ability to act depends on the consent of the subnational governments. Under the Articles of Confederation (the first constitution of the United States), states were sovereign and powerful while the national government was subordinate and weak. Because states were reluctant to give up any of their power, the national government lacked authority in the face of challenges such as servicing the war debt, ending commercial disputes among states, negotiating trade agreements with other countries, and addressing popular uprisings that were sweeping the country. As the brief American experience with confederation clearly shows, the main drawback with this system of government is that it maximizes regional self-rule at the expense of effective national governance.
Federalism and the constitution
The Constitution contains several provisions that direct the functioning of U.S. federalism . Some delineate the scope of national and state power, while others restrict it. The remaining provisions shape relationships among the states and between the states and the federal government.
The enumerated powers of the national legislature are found in Article I, Section 8. These powers define the jurisdictional boundaries within which the federal government has authority. In seeking not to replay the problems that plagued the young country under the Articles of Confederation, the Constitution's framers granted Congress specific powers that ensured its authority over national and foreign affairs. To provide for the general welfare of the populace, it can tax, borrow money, regulate interstate and foreign commerce, and protect property rights, for example. To provide for the common defense of the people, the federal government can raise and support armies and declare war. Furthermore, national integration and unity are fostered with the government's powers over the coining of money, naturalization, postal services, and other responsibilities.