Learning objectives
By the end of this section, you will be able to:
Compare campaign methods for elections
Identify strategies campaign managers use to reach voters
Analyze the factors that typically affect a voter's decision
Campaign managers know that to win an election, they must do two things: reach voters with their candidate's information and get voters to show up at the polls. To accomplish these goals, candidates and their campaigns will often try to target those most likely to vote. Unfortunately, these voters change from election to election and sometimes from year to year. Primary and caucus voters are different from voters who vote only during presidential general elections. Some years see an increase in younger voters turning out to vote. Elections are unpredictable, and campaigns must adapt to be effective.
Fundraising
Even with a carefully planned and orchestrated presidential run, early fundraising is vital for candidates. Money helps them win, and the ability to raise money identifies those who are viable. In fact, the more money a candidate raises, the more he or she will continue to raise. EMILY's List , a political action group, was founded on this principle; its name is an acronym for "Early Money Is Like Yeast" (it makes the dough rise). This group helps progressive women candidates gain early campaign contributions, which in turn helps them get further donations ( [link] ).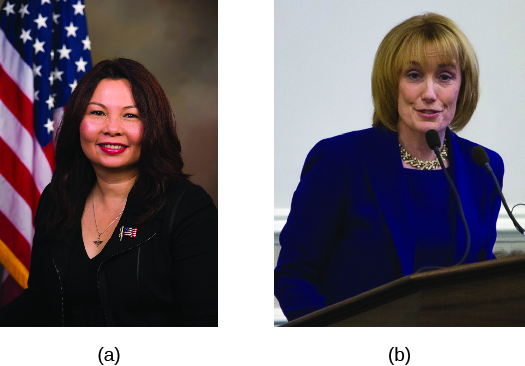 Early in the 2016 election season, several candidates had fundraised well ahead of their opponents. Hillary Clinton , Jeb Bush , and Ted Cruz were the top fundraisers by July 2015. Clinton reported $47 million, Cruz with $14 million, and Bush with $11 million in contributions. In comparison, Bobby Jindal and George Pataki (who both dropped out relatively early) each reported less than $1 million in contributions during the same period. Bush later reported over $100 million in contributions, while the other Republican candidates continued to report lower contributions. Media stories about Bush's fundraising discussed his powerful financial networking, while coverage of the other candidates focused on their lack of money. Donald Trump, the eventual Republican nominee and president, showed a comparatively low fundraising amount in the primary phase as he enjoyed much free press coverage because of his notoriety. He also flirted with the idea of being an entirely self-funded candidate.
Comparing primary and general campaigns
Although candidates have the same goal for primary and general elections, which is to win, these elections are very different from each other and require a very different set of strategies. Primary elections are more difficult for the voter. There are more candidates vying to become their party's nominee, and party identification is not a useful cue because each party has many candidates rather than just one. In the 2016 presidential election, Republican voters in the early primaries were presented with a number of options, including Mike Huckabee, Donald Trump , Jeb Bush, Ted Cruz, Marco Rubio, John Kasich, Chris Christie, Carly Fiorina, Ben Carson, and more. (Huckabee, Christie, and Fiorina dropped out relatively early.) Democrats had to decide between Hillary Clinton, Bernie Sanders , and Martin O'Malley (who soon dropped out). Voters must find more information about each candidate to decide which is closest to their preferred issue positions. Due to time limitations, voters may not research all the candidates. Nor will all the candidates get enough media or debate time to reach the voters. These issues make campaigning in a primary election difficult, so campaign managers tailor their strategy.