Women were also granted the right to vote on matters involving liquor licenses, in school board elections, and in municipal elections in several states. However, this was often done because of stereotyped beliefs that associated women with moral reform and concern for children, not as a result of a belief in women's equality. Furthermore, voting in municipal elections was restricted to women who owned property.

Keyssar, 175, 186–187.

In 1890, the two suffragist groups united to form the National American Woman Suffrage Association (NAWSA). To call attention to their cause, members circulated petitions, lobbied politicians, and held parades in which hundreds of women and girls marched through the streets ( [link] ).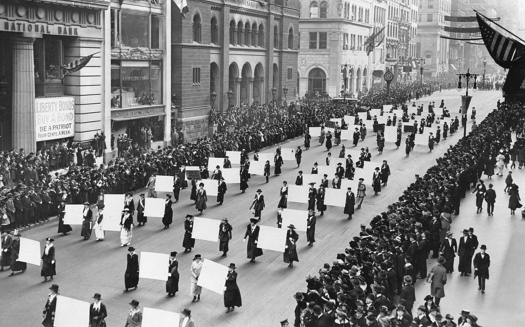 The more radical National Woman's Party (NWP), led by Alice Paul , advocated the use of stronger tactics. The NWP held public protests and picketed outside the White House ( [link] ).

Keyssar, 214.

Demonstrators were often beaten and arrested, and suffragists were subjected to cruel treatment in jail. When some, like Paul, began hunger strikes to call attention to their cause, their jailers force-fed them, an incredibly painful and invasive experience for the women.

"Alice Paul," https://www.nwhm.org/education-resources/biography/biographies/alice-paul/ (April 10, 2016).

Finally, in 1920, the triumphant passage of the Nineteenth Amendment granted all women the right to vote.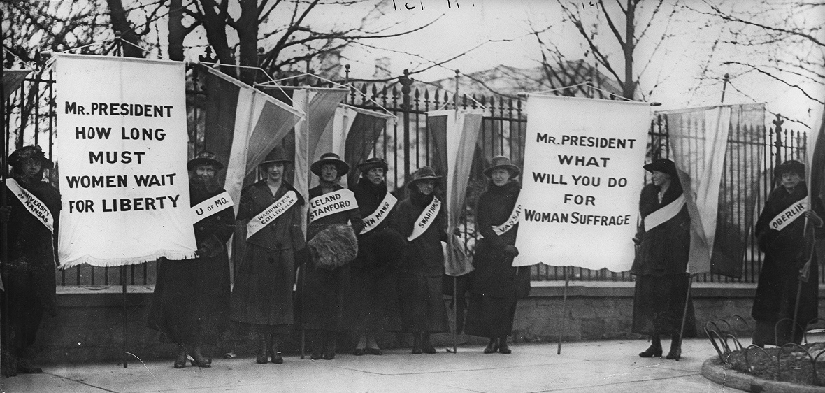 Civil rights and the equal rights amendment
Just as the passage of the Thirteenth, Fourteenth, and Fifteenth Amendments did not result in equality for African Americans, the Nineteenth Amendment did not end discrimination against women in education, employment, or other areas of life, which continued to be legal. Although women could vote, they very rarely ran for or held public office. Women continued to be underrepresented in the professions, and relatively few sought advanced degrees. Until the mid-twentieth century, the ideal in U.S. society was typically for women to marry, have children, and become housewives. Those who sought work for pay outside the home were routinely denied jobs because of their sex and, when they did find employment, were paid less than men. Women who wished to remain childless or limit the number of children they had in order to work or attend college found it difficult to do so. In some states it was illegal to sell contraceptive devices, and abortions were largely illegal and difficult for women to obtain.
A second women's rights movement emerged in the 1960s to address these problems. Title VII of the Civil Rights Act of 1964 prohibited discrimination in employment on the basis of sex as well as race, color, national origin, and religion. Nevertheless, women continued to be denied jobs because of their sex and were often sexually harassed at the workplace. In 1966, feminists who were angered by the lack of progress made by women and by the government's lackluster enforcement of Title VII organized the National Organization for Women (NOW). NOW promoted workplace equality, including equal pay for women, and also called for the greater presence of women in public office, the professions, and graduate and professional degree programs.