Regardless of where we get our information, the various media avenues available today, versus years ago, make it much easier for everyone to be engaged. The question is: Who controls the media we rely on? Most media are controlled by a limited number of conglomerates. A conglomerate is a corporation made up of a number of companies, organizations, and media networks. In the 1980s, more than fifty companies owned the majority of television and radio stations and networks. Now, only six conglomerates control most of the broadcast media in the United States: CBS Corporation, Comcast, Time Warner, 21st Century Fox (formerly News Corporation), Viacom, and The Walt Disney Company ( [link] ).

Vanna Le, "Global 2000: The World's Largest Media Companies of 2014," Forbes , 7 May 2014.

The Walt Disney Company, for example, owns the ABC Television Network, ESPN, A&E, and Lifetime, in addition to the Disney Channel. Viacom owns BET, Comedy Central, MTV, Nickelodeon, and VH1. Time Warner owns Cartoon Network, CNN, HBO, and TNT, among others. While each of these networks has its own programming, in the end, the conglomerate can make a policy that affects all stations and programming under its control.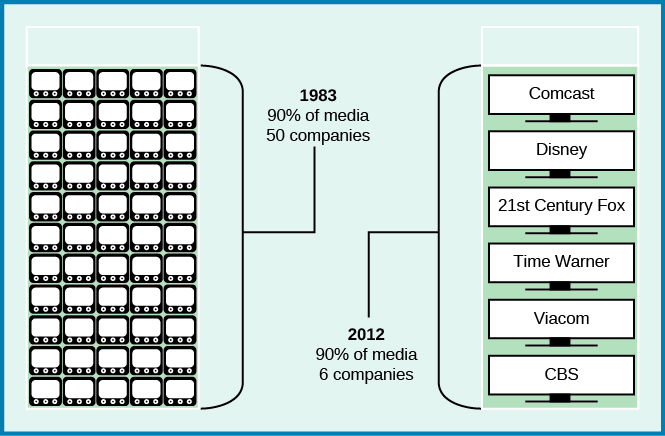 Conglomerates can create a monopoly on information by controlling a sector of a market. When a media conglomerate has policies or restrictions, they will apply to all stations or outlets under its ownership, potentially limiting the information citizens receive. Conglomerate ownership also creates circumstances in which censorship may occur. iHeartMedia (formerly Clear Channel Media) owns music, radio, and billboards throughout the United States, and in 2010, the company refused to run several billboard ads for the St. Pete Pride Festival and Promenade in St. Petersburg, Florida. The festival organizers said the content of two ads, a picture of same-sex couples in close contact with one another, was the reason the ads were not run. Because iHeartMedia owns most of the billboards in the area, this limitation was problematic for the festival and decreased awareness of the event. Those in charge of the festival viewed the refusal as censorship.
Stephanie Hayes, "Clear Channel Rejects St. Pete Pride Billboards, Organizers Say," Tampa Bay Times , 11 June 2010.
Newspapers too have experienced the pattern of concentrated ownership. Gannett Company, while also owning television media, holds a large number of newspapers and news magazines in its control. Many of these were acquired quietly, without public notice or discussion. Gannett's 2013 acquisition of publishing giant A.H. Belo Corporation caused some concern and news coverage, however. The sale would have allowed Gannett to own both an NBC and a CBS affiliate in St. Louis, Missouri, giving it control over programming and advertising rates for two competing stations. The U.S. Department of Justice required Gannett to sell the station owned by Belo to ensure market competition and multi-ownership in St. Louis.
Meg James, "DOJ Clears Gannett-Belo Deal but Demands Sale of St. Louis TV Station," Los Angeles Times , 16 December 2013.